NBC Insider Exclusive
Create a free profile to get unlimited access to exclusive show news, updates, and more!
Sign Up For Free to View
See Holly Brand's 'Crazy' Knockout That Included Yodeling and a Whistle Note
Coaches agreed that Brand's version of "Blue Moon Of Kentucky" was a tough act to follow, though one of them stole Rachel Christine anyway.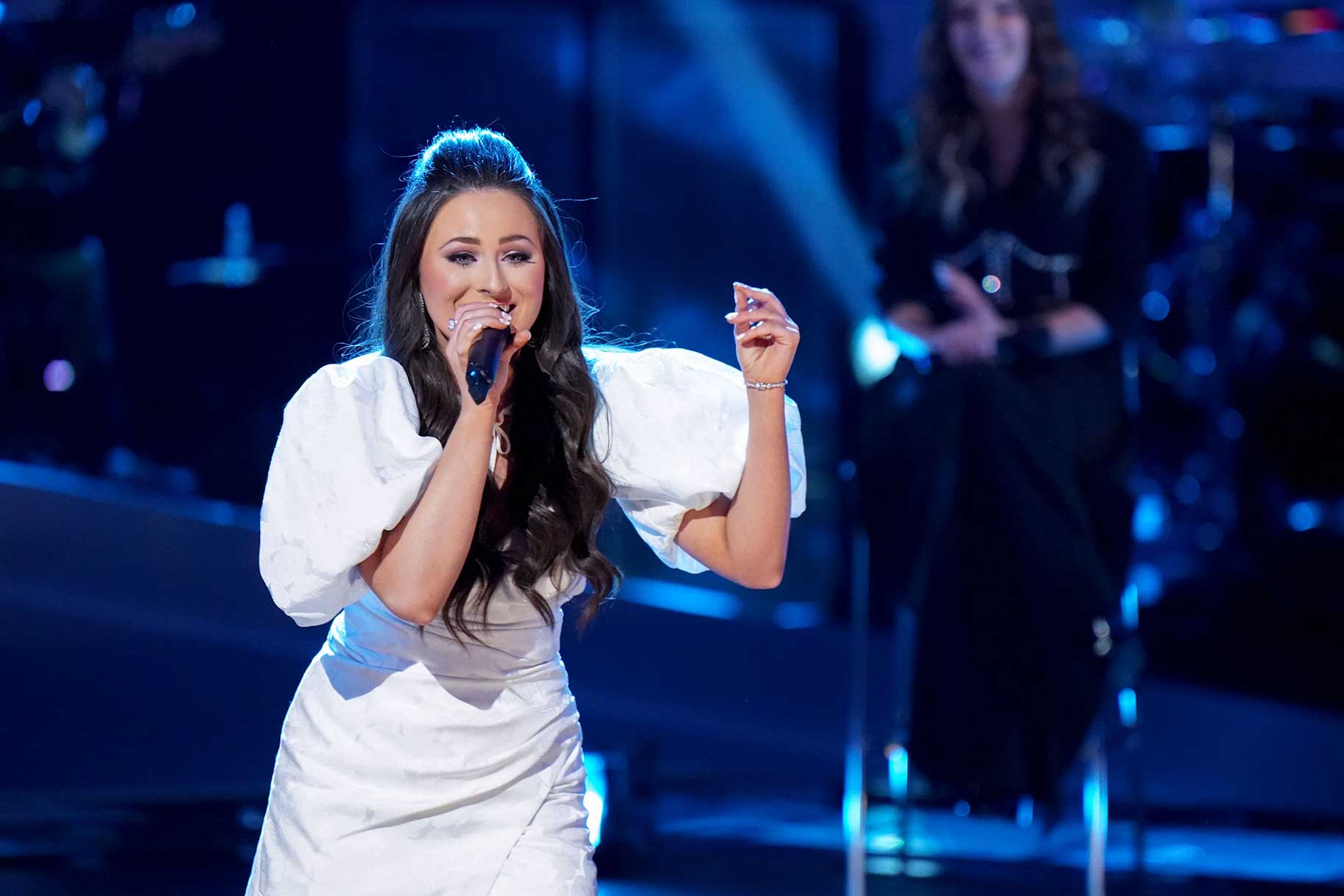 Mississippi contestant Holly Brand pulled out all the stops on The Voice when performing against Team Kelly opponent Rachel Christine during The Knockouts.
Both 22-year-old singers were left speechless when learning this season's Mega Mentor was none other than country music legend Reba McEntire, who was familiar with the pair's performances from The Voice's Blind Auditions and Battles.
During rehearsals with McEntire and Coach Kelly Clarkson, Brand chose to sing the LeAnn Rimes version of Patsy Cline's "Blue Moon of Kentucky." Having been raised on bluegrass music, Brand said yodeling as part of the song was "really fun" and "a cool party trick." The song contrasted the more modern country hits she sang for the Coaches, including Ingrid Andress' "Lady Like" and Faith Hill's "Mississippi Girl."
"In country music, Patsy Cline, that's the ultimate," said McEntire. "And Holly took the song to different places that I never heard before."
Christine opted to sing Fleetwood Mac's 1975 hit song "Rhiannon (Will You Ever Win)," claiming she was "100% inspired" by her mom, who, like Clarkson, had Stevie Nicks vibes. Clarkson said she "loved" Christine in the Blinds when she sang Alanis Morissette's "Uninvited" and that she "fell madly in love" with Christine during the Battles with Maggie Rogers' "Light On."
"After working with all four teams, it is mind-boggling how many talented people y'all have here at The Voice," McEntire told producers. "It's a shame you can only pick one."
Brand and Christine sang their hearts out for Clarkson, O.G. Coach Blake Shelton, and freshman Coaches Chance the Rapper and Niall Horan, dueling for a chance to move into The Playoffs. Watching along were fellow contestants Manasseh Samone, D. Smooth, Ryley Tate Wilson, and Mary Kate Connor, who were granted safe passage to the Playoffs — skipping the Knockouts — thanks to this season's all-new Playoffs Pass.
"That was crazy," Chance said of the women's acts. "That was just crazy."
RELATED: Who Are Blake Shelton's Most Frequent Songwriting Partners?
Following Christine's performance, each Coach gave their thoughts on who should go into the next round.
"Holly, you have a great yodel and really have awesome control of it," Shelton said. He agreed that Christine had some big shoes to fill following Brand but that Christine "did an awesome job" by singing "the crap out of it."
Chance said Christine put on a "great performance" but had more to say about Brand.
"Holly, you completely blew me away," said Chance. "The whistle note at the end was just a crazy cherry on top; you had already killed the whole thing, and I was just like, 'He's dead already!'"
Horan leaned toward Brand for the Playoffs, commenting on the "whistle tone" at the end and how difficult it is to execute. But that didn't stop him from praising Christine's performance of "Rhiannon," one of Horan's favorite songs of all time.
"Your ability to change things up was really impressive," said Horan. "You smashed it out of the park; it was bulletproof."
Clarkson, who'd get the ultimate say over who would enter The Playoffs, said Christine was a "gifted singer" who reminded Clarkson of herself, applauding her for following up with a "mysterious" performance after Brand's whistle notes.
In the end, Clarkson went with Brand, despite the choice being her "toughest one."
"She's like a country girl that hits many Riperton, Mariah whistle notes," Clarkson told producers, referencing singers Minnie Riperton and Mariah Carey. "I think she just stands out. I would be afraid of her in the finale if I were all the other singers."
But before Host Carson Daly could pass the mic to Christine for her final farewell, Shelton pressed his button to take her for Team Blake, prompting Christine to fall to her knees.
It would be Shelton's last steal before he retires from The Voice.
Circling back to his belief that Brand was a difficult act to follow, he hoped that by taking Christine for Team Blake, she could "do something just as incredible."
"I never thought that Blake would save me because I don't do any country music, so that meant the world," Christine later told producers. "And to hear it was his last save, I'm putting that on a resumé."
Tune in to more of The Voice as Season 23 continues, Mondays at 8/7c on NBC and streaming the next day on Peacock.