NBC Insider Exclusive
Create a free profile to get unlimited access to exclusive show news, updates, and more!
Sign Up For Free to View
Every Winner From The Voice Season 23 Knockouts, By Team
NBC Insider has a recap of the results for every Knockout Round this season.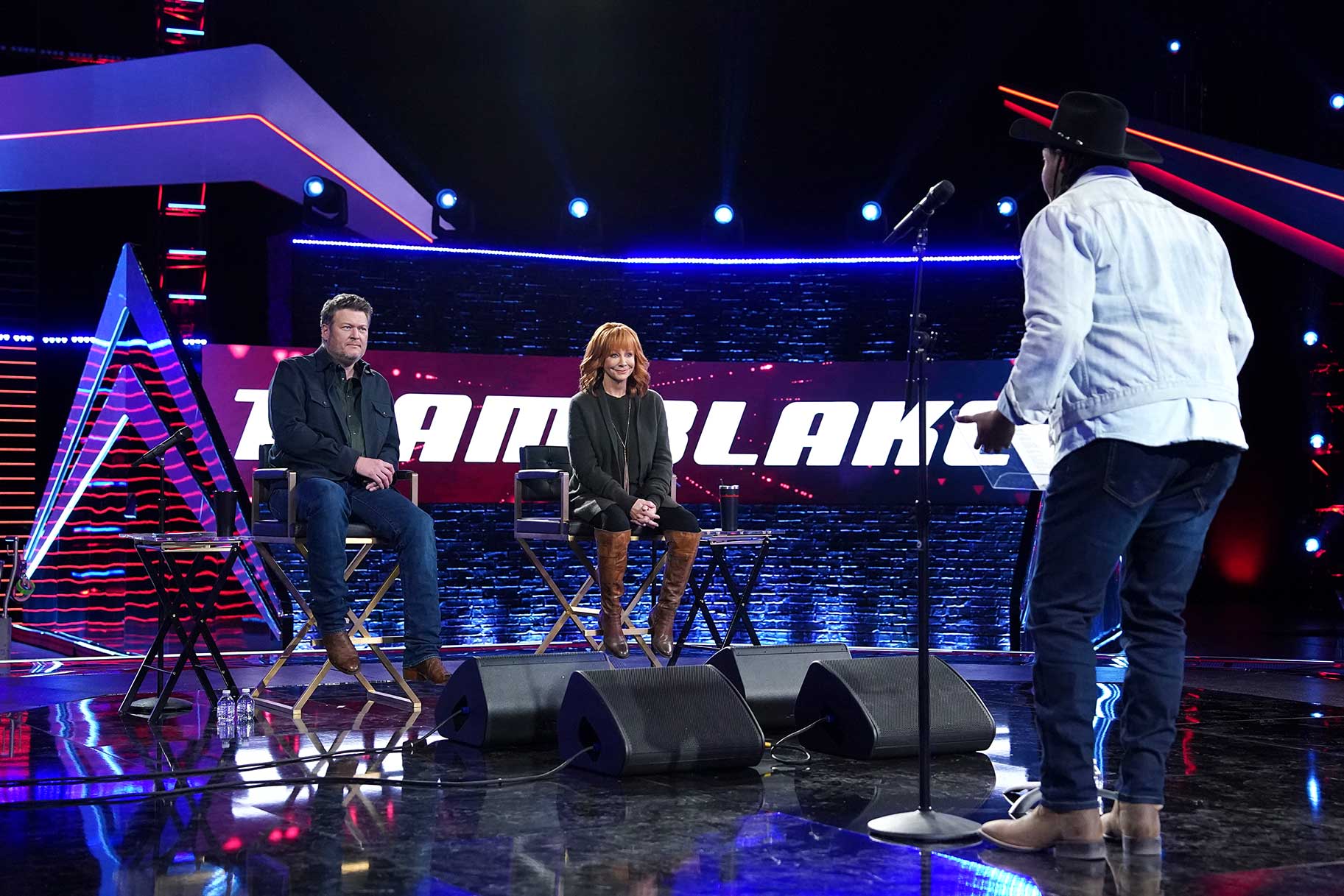 Knockouts are officially underway for The Voice Season 23 as two Artists each from Blake Shelton, Kelly Clarkson, Chance the Rapper, and Niall Horan's teams face-off in various rounds to vie for a spot in the Playoffs.
For the next two weeks the contestants will choose the song they feel plays to their strengths as they receive advice from their respective Coaches and this year's Mega Mentor, Reba McEntire. "Our Mega Mentor this season is one of the greatest country artists of all time," Shelton said in preview for the show, while Chance added: "She's a legend in the industry."
To keep up with the Knock Out results after each episode, check back here on NBC Insider every Monday where we will keep you up-to-date on the latest.
Team Blake
Winner: NOIVAS
Knocked Out: Tasha Jessen
Song: "I Put a Spell On You" by Screamin' Jay Hawkins
"NOIVAS kind of has it all; I'm figuring that out," Shelton said. "He's got stage presence, he's not afraid to mean what he's singing, and that goes a long way."
The Coach later added, "The guy can sing circles around anybody, but now I'm realizing he can also out-perform anybody on the show. I really think this guy has a shot of winning this thing."
Winner: Kylee Dayne
Knocked Out: Walker Wilson
Song: "All By Myself" by Eric Carmen
McEntire was brought to tears by Dayne's performance in rehearsals. "You really touched my heart," she said. "That's the biggest thing, is to capture somebody in the audience to where they're sobbing or laughing or crying. Get some emotion out of them, and you did it for me."
Winner: Grace West
Knocked Out: Neil Salsich
Song: "Here You Come Again" by Dolly Parton
"I love Grace's song choice because it shows her tip of the hat to some of the old school country," Shelton said during rehearsals. "This gives Grace a chance to be playful and have fun on stage. Show a side of what she does that we haven't seen yet."
Stollen: Rachel Christine
Knocked Out By: Holly Brand on Team Kelly
Song: "Rhiannon" by Fleetwood Mac
Shelton used his very last Steal of his Voice tenure on Christine. "I never thought that Blake would save me because I don't do any country music so that meant the world, and to hear that it was his last save, like that's a — I'm putting that on a resume."
Team Kelly
Winner: ALI
Knocked Out: Marcos Covos
Song: "Best Part" by Daniel Caesar
"My dad was a drummer. My mom was a singer," ALI said when revealing why she chose "Best Part". "They've believed in me, even at my lowest points. The song is definitely showcasing my range a little bit. It's always been a dream of mine to be at least one person's inspiration." 
Winner: Cait Martin
Knocked Out: Kala Banham
Song: "All the Man That I Need" by Whitney Houston
Though Clarkson confessed that both Martin and Banham "impress the hell out of me", in the end she went with Martin. 
"I'm trying so hard not to curse. I'm just so floored," Chance said, but in the end he agreed with Clarkson because Martin took "that round by the throat. It's Cait all the way."
Winner: Holly Brand
Knocked Out: Rachel Christine
Song: "Blue Moon of Kentucky" by Bill Monroe & the Bluegrass Boys
"She's like a country girl that hits Minnie Riperton, Mariah [Carey] whistle notes," Clarkson told producers. "I think she just stands out. I would be afraid of her in the finale if I were all the other singers."
Stollen: Neil Salsich
Knocked Out By: Grace West on Team Blake
Song: "Takin' It to the Streets" by The Doobie Brothers
"I'm just excited to work with Neil; he can sing anything," Clarkson said after Stealing the Artist from Team Blake. "I think he is sneakily one of the best singers in the competition."
Team Chance
Winner: Ray Uriel
Knocked Out: NariYella
Song: "Lately" by Stevie Wonders
"It's the Knockout Round for a reason, as people give a 'knockout' performance in that moment, and Ray really did that," Chance the Rapper said. "He really showed us his ability to kinda shape shift and take on different songs."
He continued, "He really pays attention to lyrics. [He] brings songs to life through understanding the experience, and I hope he shows off his intentionality and control."
Winner: Jamar Langley
Knocked Out: Magnus
Song: "Cruisin'" by Smokey Robinson
 "You can sing some baby-makin' music, man," Kelly Clarkson told Langley. "I love you playing the guitar. I know it's called The Voice, but it actually enhances your vocal ability."
Winner: Sorelle
Knocked Out: Tiana Goss
Song: "Blame It On the Boogie" by The Jacksons
"The girls got up on stage and were cute as a button," Mega Mentor Reba McEntire said after the rehearsal. "They did the little dance routines and taking turns singing, and that three-part harmony which I absolutely loved. I just fell in love with them."
Stollen: Kala Banham
Knocked Out By: Cait Martin on Team Kelly
Song: "Iris" by Goo Goo Dolls
When Banham was Knocked Out of Team Kelly, both Shelton and Chance attempted to Steal her. In the end, Chance won out. "You remember when Blake turned around for you in the Blinds?" he asked.
"No, I don't remember that," Banham replied. 
"Oh you don't? 'Cause it didn't happen. It didn't happen. I did turn around for you in the Blinds and I tried to steal you at the Battles, so I was playing the long game," he said. "We could win together. Or you could go with Blake." 
The rapper later added, "I've been working that angle for a while. She adds a different, smoother take to my team. A lot of control, but a softer tone and now she's down with the winning team." 
Team Niall
Winner: Gina Miles