NBC Insider Exclusive
Create a free profile to get unlimited access to exclusive show news, updates, and more!
Sign Up For Free to View
Why Blake Shelton Used His Last-Ever Steal on Rachel Christine
Coach Blake Shelton showed no hesitation Monday night on The Voice when he used his last-ever steal on Rachel Christine after her "awesome" performance of "Rhiannon."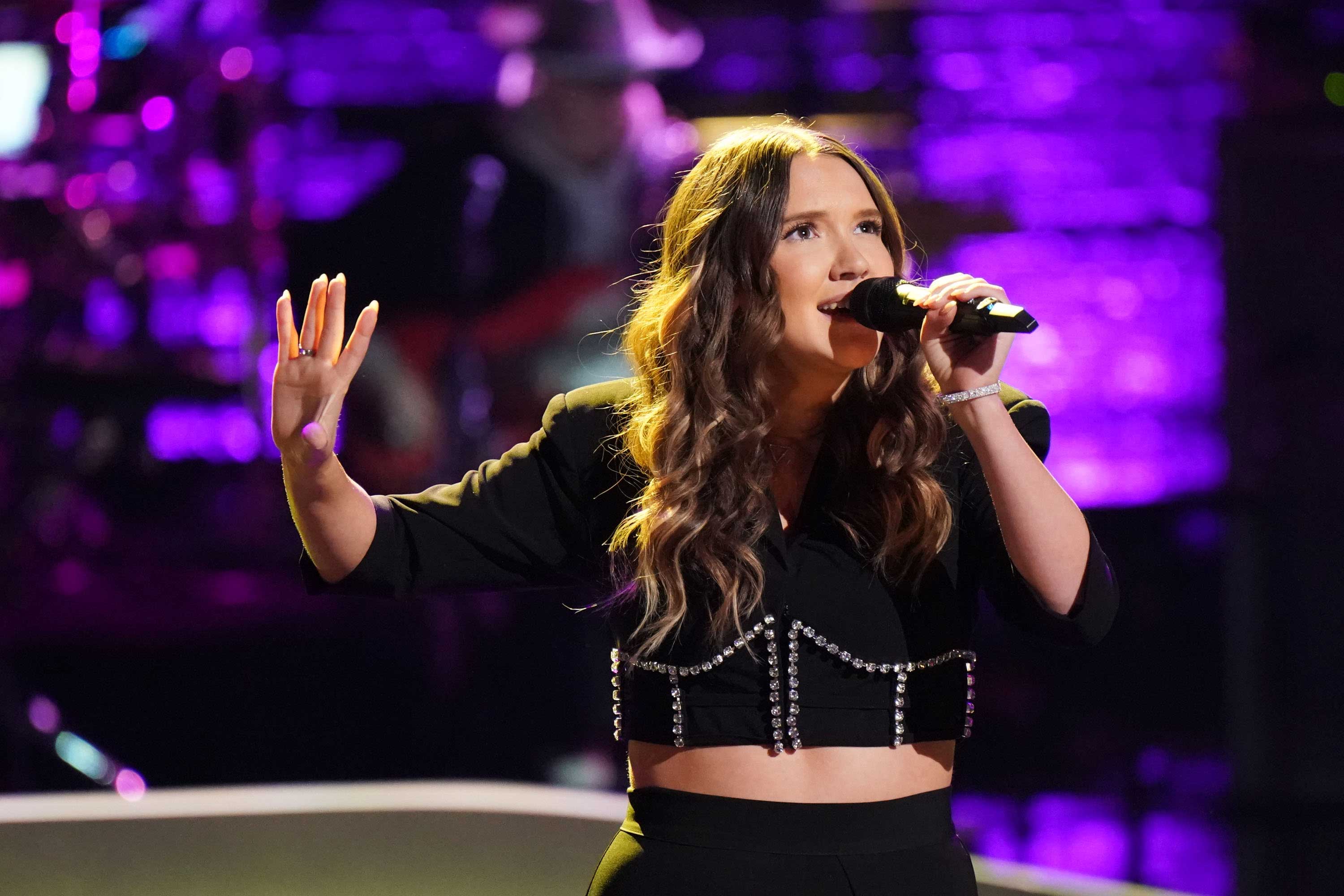 The Voice Artist Rachel Christine's resume just got a bit more interesting. 
The 22-year-old Wisconsin bartender became Coach Blake Shelton's very last-ever steal Monday night on The Voice, marking another milestone in his final season after a 12-year run as a Coach in the singing competition. 
Shelton didn't hesitate to use his final steal after Christine's "awesome" and mysterious performance of Fleetwood Mac's "Rhiannon." 
"I never thought that Blake would save me because I don't do any country music so that meant the world, and to hear that it was his last save, like that's a — I'm putting that on a resume," a stunned Christine said just moments after learning she'd made it to the semi-finals with his help.
Christine was up against country artist Holly Brand in the final night of the Knockouts. Brand went first, delivering a show-stopping performance of "Blue Moon Kentucky" — complete with an awe-inspiring whistle note at the end that blew all four Coaches away and prompted Chance the Rapper to utter, "That was crazy." 
Brand's spot-on performance of the song, once made famous by country legend Patsy Cline, was a hard act to follow, but Christine proved she was up to the challenge, starting slow and moody and building to a high-energy ending.
"My team is so good," Coach Kelly Clarkson exclaimed after Christine finished. 
It was nearly impossible for Clarkson, who called it her "toughest" decision in the Knockouts, to declare a winner in the battle. Before making her decision, the other Coaches weighed in, but they all agreed it wasn't an easy choice. 
"You guys both did great. What's not awesome is Knockout Rounds, they suck," Shelton said. "Holly, you have a great yodel and really have awesome control of it. Rachel, I felt like after what Holly came out here and did, I mean I was just like and now she's gonna do 'Rhiannon,'  like what? But you did an awesome job, I mean, you really sang the crap out of it and finding some notes that are different from the record — nothing but an awesome performance." 
Chance also commended Rachel for doing "a great job of coming back onto my radar," although he admitted it wasn't a song he was familiar with. 
"Holly, you completely blew me away," he continued. "You started off a cappella. You have to have perfect pitch to like start like that and stay in it throughout the song, and yeah, the whistle note at the end was like a crazy cherry on top. You had already, like, killed the whole thing and it was just like, 'He's dead already,' you know what I mean?" 
Coach Niall Horan was not only familiar with Christine's song selection, he deemed it one of his "favorite songs of all time."
"Your ability to change things up was really impressive," he said. "You smashed it out of the park. It was bullet-proof. It was really good." 
RELATED: Who Are Blake Shelton's Most Frequent Songwriting Partners?
Clarkson noted that each artist had picked the "perfect songs" to highlight their vocal abilities. 
She called Brand's performance "killer" and "incredible," while she told Christine her performance reminded her of herself when she was younger. 
"To come after someone singing whistle notes and the crowd is like 'ahh' and then you have to start out so mysterious and all Stevie Nicks, like I don't know that everyone sitting here could do that and not feel a little shaken, you know?" she said. "You're just a really incredibly gifted singer."
Clarkson ultimately declared Brand the winner but just as host Carson Daly was reminding the Coaches that Christine was available to steal, Shelton wheeled his chair around and went into action. 
"Oh!" he said as he pressed his button and Christine screamed and fell to her knees. 
Clarkson was equally elated and leapt from her chair to give Shelton a hug. 
"The last steal that Blake Shelton will ever have was from my team. I'm gonna remember that," she said. 
Shelton chose to save the 22-year-old because he was impressed that she wasn't intimidated by Brand's performance.
"What Holly did was, it was flashy and it's undeniable, and now you get to show everybody that you can do something just as incredible," he told Christine.
Shelton also commended Christine for her vocal abilities. 
"I"m so happy I stole Rachel," he told producers. "She sang flawlessly. I just think she's a very diverse vocalist and I need that on my team." 
As the show wrapped up, Shelton found Christine off-stage. 
"Welcome to Team Blake," he said to an emotional Christine.
To see how Christine and the other artists fare in the upcoming semi-finals, tune in to The Voice Mondays at 8/7c on NBC or available streaming the next day.