NBC Insider Exclusive
Create a free profile to get unlimited access to exclusive show news, updates, and more!
Sign Up For Free to View
Why Chance The Rapper Says Rachel Christine Could Win the Show After Her Battle
Team Kelly contestants Rachel Christine and JB Somers performed Maggie Rogers' 2019 alt-indie hit "Light On" while going head to head in the Battles Rounds.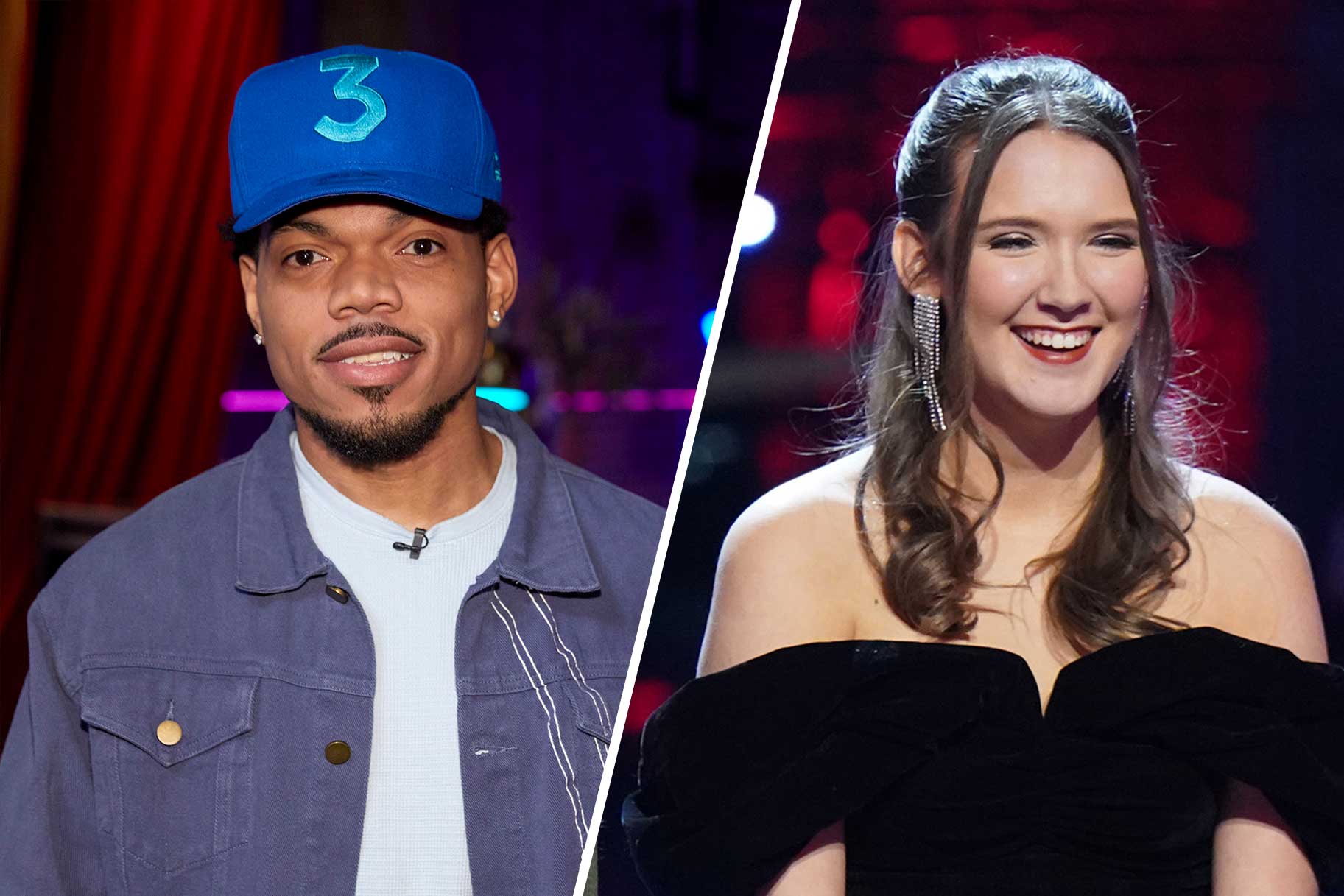 As the Battles continue on The Voice, Coach Chance the Rapper didn't miss his chance to tell one contestant they had what it took to go all the way.
It was nearly impossible to choose between Alabama native JB Somers, 31, and Wisconsin bartender Rachel Christine, 22, when both shared the stage to sing Maggie Rogers' 2018 alt-indie hit, "Light On." For Coach Kelly Clarkson, it made sense to assign the song to both contestants, whom she said had singer-songwriter vibes during their Blind Auditions.
Christine passed her Blind Audition by singing Alanis Morissette's "Uninvited," showcasing vocal moves Clarkson found "incredibly difficult." From the small Wisconsin town of Delavan, Christine — who's struggled with anxiety her entire life — said music helped her overcome many challenges.
"Rachel's tone, it's so open and it's so round," said Clarkson, adding Christine has "the perfect amount of raspy, but also she does this, like angel kind of head voice thing."
During studio rehearsals, Clarkson said she wanted to pair Christine with Somers, whom she said was "equally as gifted." Somers, who now lives in Nashville, won Clarkson over during his Blind Audition by singing an "intimate" version of "A Case of You" by the legendary Joni Mitchell.
"JB has this beautiful tone; it's pure, but it's also a little broken," said Clarkson. "He bears it all, and that's rare."  
Working with Christine and Somers, Clarkson was impressed with how well they honed in on their talents in the studio, including Christine's "crazy runs" and Somers' "crazy range." She called the rehearsals' end result "seamless."
"I do feel like JB and Rachel just complement each other so well," said Clarkson, adding that both singers should sing together even after all is said and done with Season 23 of The Voice.
As soon as Christine and Somers took the stage, Chance reminded Clarkson that, in both the contestants' Blind Auditions, Clarkson beat him to the punch to get them onto her team. But following the performance, Chance said he didn't envy Clarkson since she had to choose who would move forward into the Knockout Rounds of The Voice.
"I would hate to be the one making this decision, but if I was, I think Rachel was a clear winner," said Chance. "I think you have such a strong voice, and I think you could win this entire competition."
RELATED: Why Chance the Rapper Turned at the Literal Last Second for "Unforgettable" Ray Uriel
Newcomer Coach Niall Horan also gave his thoughts on the duo, commenting that he sensed the pair's nervousness at the song's beginning.
"What I would say is I felt the nerves just a little bit," said Horan. "It obviously is a tense scenario, but I definitely could hear it and feel it."
However, he said both singers grew into their apprehension throughout the song and, given the live audience's applause, Horan called the climax "phenomenal." He said if it were up to him to decide which contestant progressed into the Knockouts, he would have chosen Somers.
"What happened in the early part of the song wasn't exactly on the rails at first, and then it got there," said O.G. Coach Blake Shelton. He noted how Somers "did a lot of cool stuff" with his "head voice," but ultimately thought Christine gave an overall better performance.
In the end, Clarkson — looking for a singer to "soar" — chose Christine for being a "consistent singer" with an "incredible tone."
This season, Coaches on The Voice have the opportunity to use the all-new Playoff Pass on one of their own team members, sending them straight to the Playoffs without having to compete in the Knockouts (read here to learn more about how The Voice works).
Though Clarkson didn't take advantage of Playoff Pass, and the other Coaches declined to steal Somers for themselves, Somers was grateful for his opportunity to sing for the world.
Tune in to The Voice, airing Mondays at 8/7c and Tuesdays at 9/8c on NBC and streaming the next day on Peacock.