NBC Insider Exclusive
Create a free profile to get unlimited access to exclusive show news, updates, and more!
Sign Up For Free to View
See Why NOIVAS' 'Wild' Knockouts Performance Scared Blake Shelton — But Led to a Win
NOIVAS used a prop to create an electric stage performance during the Knockout Rounds, frightening his coach Blake Shelton — in a good way.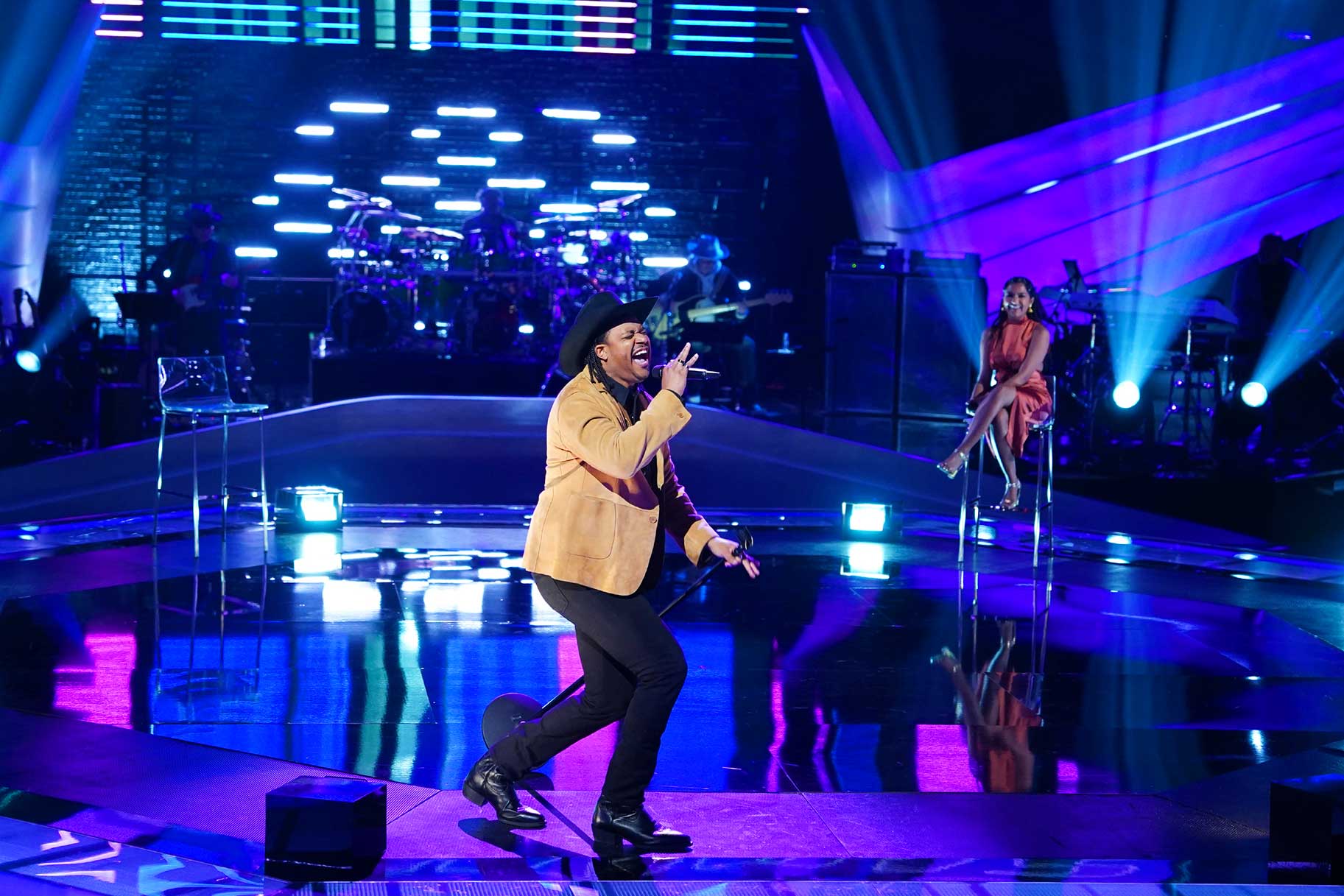 One artist took a second chance received by a steal and turned it into an impressive — literally "knockout" — performance on The Voice.
"NOIVAS, you've got to pay for a floor cleaning bill," Coach Niall Horan said. "You just scraped up that stage with that mic stand. Every time you just bring it — dude, you're impressive."
NOIVAS, a 30-year-old from Hutto, Texas, took on 21-year-old Tasha Jessen from Colorado Springs for Team Blake during the Knockout Round of The Voice.
Coach Blake Shelton described NOIVAS to Mentor Reba McEntire as a soul guy, while saying Tasha can "cover a lot of different ground artistically." Shelton stole NOIVAS from coach Chance The Rapper during the Battle Rounds—giving him life in the competition.
NOIVAS decided to sing "I'll Put A Spell On You" by Screamin' Jay Hawkins with that second chance.
"I am doing one of the most iconic songs of all time, and I chose to do a mixture of both Nina Simone's version and Annie Lennox's version," NOIVAS said. "I grew up listening to Nina Simone. I started to really study Nina Simone. She immersed herself into the music, and that was the challenge that I wanted to try — can I be that vessel in this song and be able to touch everyone? I think it could move me to the Playoff Round."
NOIVAS surprised both McEntire and Shelton during rehearsals with his range.
"NOIVAS kinda has it all, I'm figuring out," Shelton said during rehearsals. "He has stage presence, he's not afraid to mean what he's singing, and that goes a long way."
RELATED: From Battle Advisor to Mega Mentor, Revisit Reba McEntire's History on The Voice
True to form, NOIVAS used his mic stand as a prop during the Knockout performance, dragging it all over the stage. The Coaches were enraptured by his choices.
"NOIVAS, I thought there was a chance that you took the word knockouts literally," Shelton said when it was over. "Got a little bit wild, and it scared me, and I like that. Your talent is shocking and it's fearless."
Shelton chose NOIVAS to win the Knockout Round for Team Blake, but Coach Niall Horan stole Tasha Jessen, keeping her in the competition. Who will keep advancing? We'll have to watch the next rounds to find out!
Watch The Voice on NBC Mondays at 8/7c and the next day on Peacock.