NBC Insider Exclusive
Create a free profile to get unlimited access to exclusive show news, updates, and more!
Sign Up For Free to View
How Blake Shelton Achieved Something He's Always Wanted to on The Voice by Stealing NOIVAS
After being blocked in the Blind Auditions, Blake Shelton said he just brought NOIVAS "back home" Tuesday night, using his only steal to secure the Texas dad of two.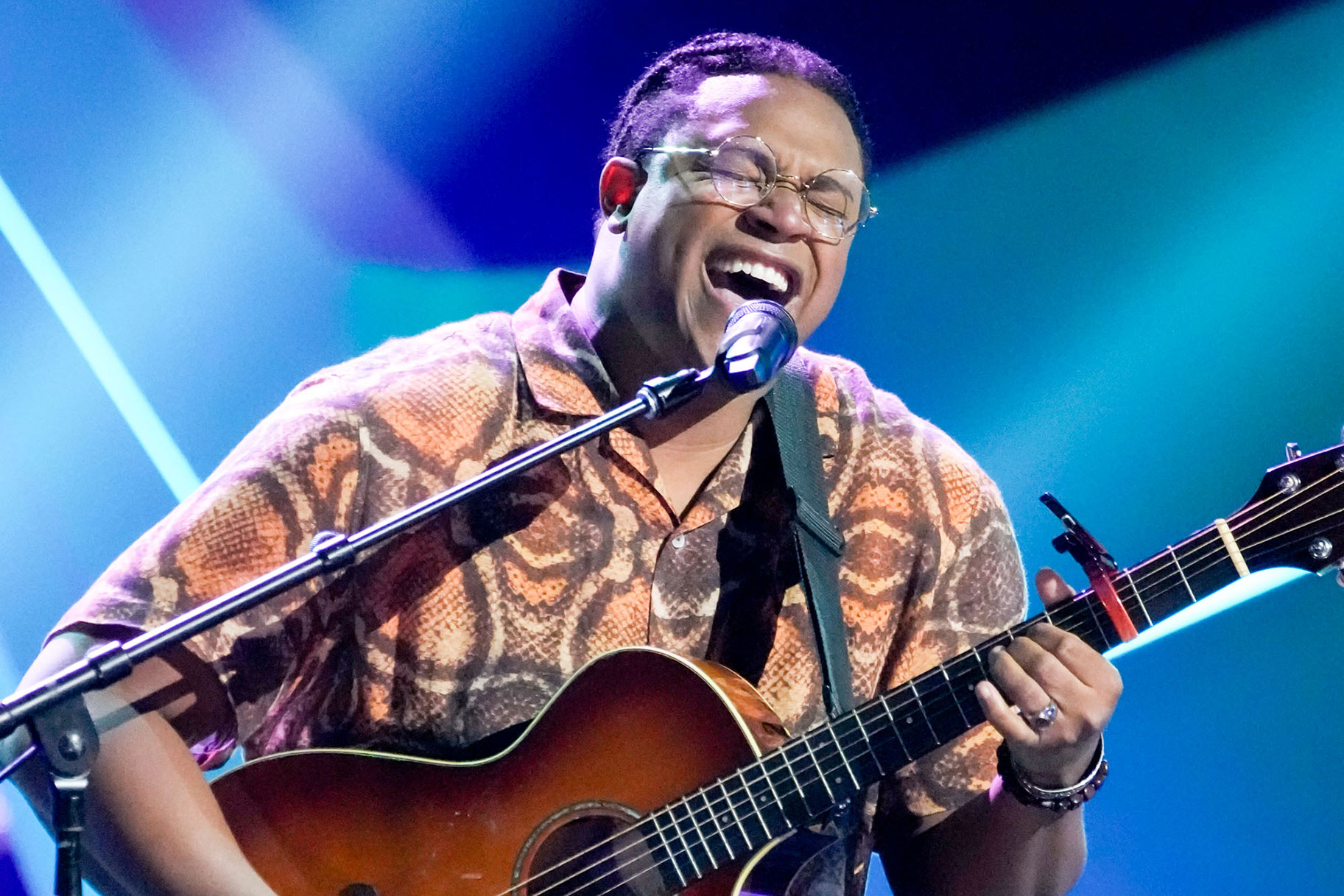 He may have missed out the first time, but The Voice Coach Blake Shelton wasn't about to let NOIVAS get away a second time.
The veteran Coach used his only steal Tuesday night to secure the 30-year-old from Texas during the final night of the battles, after being blocked in the Blind Auditions by Coach Chance the Rapper. It allowed him to make a move he's always wanted on The Voice: Steal someone he was blocked from getting he knew belonged on his team.
"I love the fact that I was blocked from NOIVAS in the Blind Auditions and I was able, for once, to get somebody back on my team that I thought needed to be on my team from the very beginning," Shelton said. "I thought this guy did a great job in the blinds, I thought he did a killer job in the Battles. I mean, the man has a cowboy hat, he belongs on my team."
Shelton made the steal after NOIVAS faced off against Artist Ray Uriel in the final battle of the night. The pair's rendition of "Jealous Guy" got the crowd moving and completely transformed the song once made famous by John Lennon.
"Gentleman, that was phenomenal. To hear one of my favorite songs of all time being sung by two massive voices, something completely different than what the original is, I've never heard a version like that ever," Coach Niall Horan praised the duo from Team Chance. "Coming at it from two completely different places and two different types of energy, it's what the battles are really for." 
Horan then described what thought made each artist unique. 
"Ray, your tone is insane, There's something really distinct about it and its really nice and refreshing and your runs were so cool, and NOIVAS, I mean the size of that voice is just, it's like a wall. I just remember your audition so fondly. It's a tough choice," he said.
Fellow Coach Kelly Clarkson also had a difficult time offering her opinion on who came out on top, telling Chance she felt the two performers were "pretty even" in their skill level.
"NOIVAS, I am going to say your energy is incredible, it's so powerful and it's infectious. It's awesome to get up there and sing a song with your whole body," she said. "Ray, your runs are really cool, man, really smooth — they're sneaky, because I was like, 'Oh, he's not done.' It's a very cool gift. If I was going on the Blinds, I would say NOIVAS, but if I'm going on this performance, I thought Ray shined a bit more on this song."
For Shelton, though, NOIVAS — who donned a black cowboy hat in a nod to his southern roots — came out on top. 
"I feel like I'm looking at one of my old album covers standing up there, man, you've got the hair and the cowboy hat. I like it. I just thought your energy, when you get in people's face like that and you're singing and that's your way of saying, 'Pick me.' It was working for me, so I would go with NOIVAS," he said. 
From the start, Chance knew he'd be faced with an extremely difficult choice. While NOIVAS brought an unprecedented stage presence and powerful voice, Chance saw Uriel as someone who could take "R&B in a different direction." 
RELATED: Why Chance the Rapper Turned at the Literal Last Second for "Unforgettable" Ray Uriel
Uriel grew up in Indianapolis, Indiana, helping his single mother care for his siblings before striking out on his own to Phoenix, Arizona.
"I don't really know who I'm going to pick so I'm probably going to flip a coin or something, I don't know. They are both amazing," Chance said after a successful rehearsal session.
After hearing the performance Tuesday night, Chance admitted his decision hadn't gotten any easier. 
"Sheesh, yeah, this is a very difficult decision for me," he said. "I like that you guys both had your own interpretations of it and that it matched so well on stage. NOVIAS, I mean you were a four-chair turn, I actually blocked Blake." 
"Not cool," Shelton said from his chair.
"Yeah, I'm not sorry for it, though. You have such a passion and control of the stage. Seeing you through this competition, I know that you could end up winning the whole thing and what I noticed about Ray was that you really held your own," he said. "There was no strain or anything, and there were moments where NOIVAS came all the way down stage and was really performing and then when it was your turn, it was like, 'Nah, I could do that too.' I really enjoyed that improvement so this is really tough for me."
Chance ultimately declared Uriel the winner, opening up an opportunity for Shelton to swoop in and steal NOIVAS, a Texas native who just welcomed his second daughter three months ago.
 "Blake, aside from him looking like you on one of your album covers, what is it about NOIVAS that you want on your team?" host Carson Daly asked as the crowd went wild. 
"I didn't steal him, I've just brought him back home," Shelton said. "If Chance hadn't used that stupid block earlier this would have never happened. It doesn't matter now, man, you're home, NOIVAS."
To find out how both NOIVAS and Uriel fare in the weeks ahead, tune in to The Voice Mondays at 8/7c and Tuesdays at 9/8c on NBC. It's available streaming on Peacock the next day.