NBC Insider Exclusive
Create a free profile to get unlimited access to exclusive show news, updates, and more!
Sign Up For Free to View
Why Kelly Clarkson Stole Neil Salsich After His 'Captivating' Knockout Performance
The St. Louis singer went against Grace West with his rendition of The Doobie Brothers' hit "Takin' It to the Streets."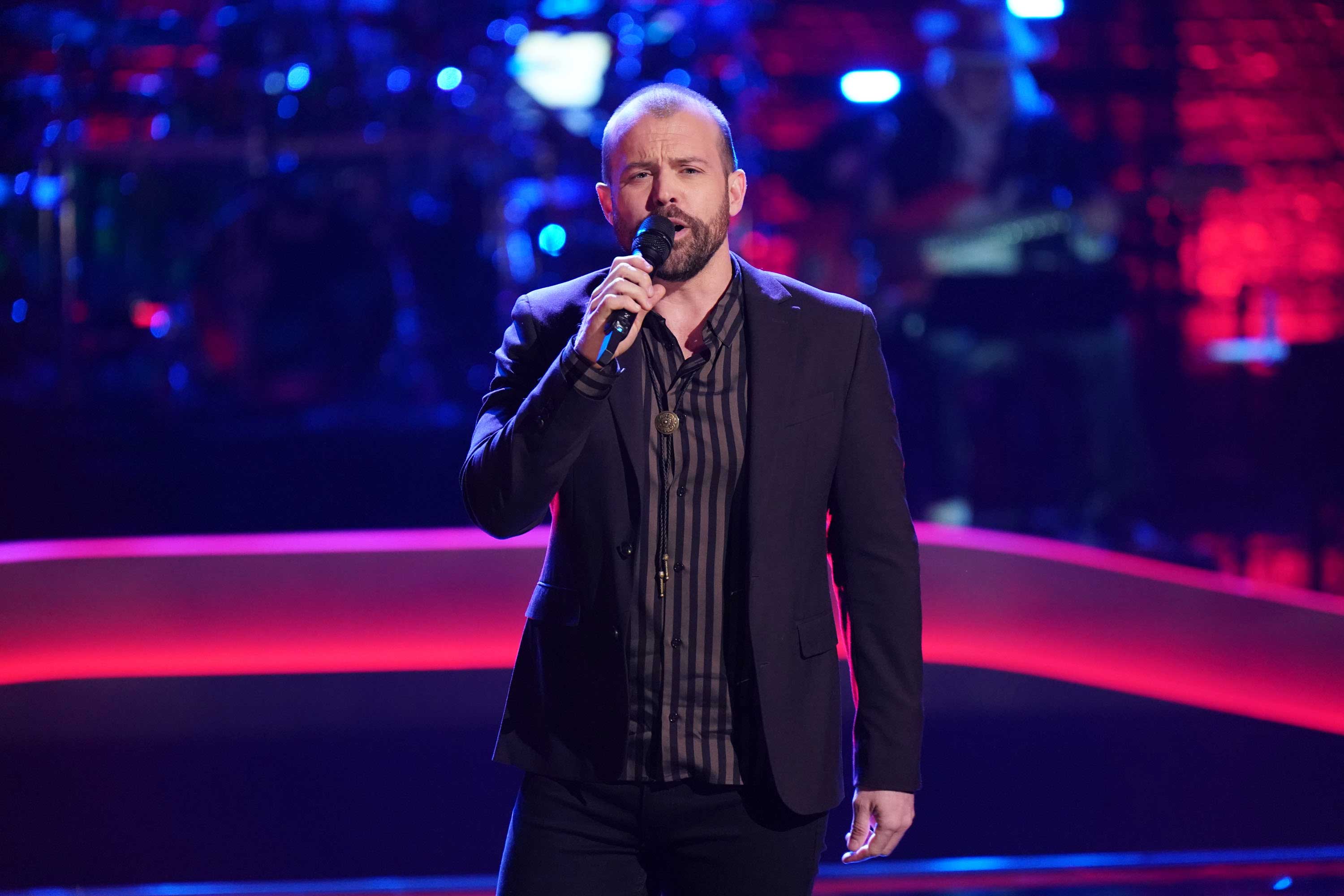 It was a last-second decision on The Voice when Coach Kelly Clarkson used her one-time steal to take contestant Neil Salsich following his performance in The Knockouts.
Salsich, under the guidance of his Coach Blake Shelton and this season's Mega Mentor, Reba McEntire, opted to sing The Doobie Brothers' "Takin' It to the Streets." His rival, fellow Team Blake member Grace West, chose the Grammy Award-winning hit "Here You Come Again" by Dolly Parton for her song.
"I can't imagine I'm gonna have a tougher decision than this one," Shelton told the pair during rehearsals.
McEntire echoed Shelton's sentiment, saying, "I feel for ya."
Sans her signature guitar, West, a 19-year-old Nashville songwriter from Canton, Michigan, said she chose Parton's hit "because it's different than two songs I sang previously." West sang Pam Tillis' "Maybe It Was Memphis" for her Blind Audition and then Randy Travis' "I Told You So" when up against former Team Blake member Carlos Rising on The Battles.
West hoped Parton's song would "showcase" her range, to which Shelton agreed.
RELATED: Who Are Blake Shelton's Most Frequent Songwriting Partners?
"I love Grace's song choice 'cause it shows her tip of the hat to some of the old school country," Shelton told producers. "This [song] gives Grace a chance to be playful and have fun on the stage and show a side of what she does that we haven't seen yet."
Salsich, who said going against West would keep him on his toes, hoped to make it to The Playoffs by singing The Doobie Brothers' 1976 hit. The St. Louis musician referred to the single as "almost like a gospel song disguised as a rock song."
"Neil looks like he's having his own private party when he's performing; it's fun to see," said Shelton. The Coach added the song seemed like "the perfect step for him" as a follow-up of his Battles performance of "I Heard It Through the Grapevine."
Watching the performances from the stands were rival contestants Manasseh Samone, D. Smooth, Ryley Tate Wilson, and Mary Kate Connor, who got to skip the Knockouts, thanks to Season 23's all-new Playoffs Pass.
On stage, West and Salsich performed for Coaches Shelton and Clarkson, as well as newbie Coaches Chance the Rapper and Niall Horan. Each Coach would say who they'd pick to go into The Voice Playoffs, but ultimately, the decision would be left with Coach Shelton.
Horan started by saying both "absolutely smashed it" with their songs. The Irish multi-platinum singer commented that Neil "really, really took it to a different level" toward the end of the song, adding he had "a solid voice." As for West, Horan said she had an "unbelievable performance" and deserved to be moved to the Playoffs.
"You've always been one of my favorites, and I'm really excited to hear you after this show, actually," said Horan. "In my eyes, you'd be one for the future."
Chance said both singers had "awesome performances" but leaned toward Salsich as the stronger contestant.
"Grace, your tone is just super cool to me; [it] has that southern feel to it," said the Grammy Award-winning artist. "And for Neil, what I love is your stage presence, man. It's really just so exciting."
Clarkson loved Neil's versatility in music, calling his energy "captivating" and his voice "crazy."
"That control is why this show exists," said Clarkson.
Although Clarkson called West "a star," the longtime Coach wasn't confident that "Here You Come Again" was the right choice for a song, leaning on Salsich for the next round.
"We're down to the best of the best," Shelton said when choosing between West and Salsich, his last Knockouts decision before retirement. "You both deserve to be here."
Ultimately, Shelton picked West for the win.
"All the potential she has is still out there in front of her," Shelton told producers. "I think she's gonna be a star in country music."
The round seemed to be wrapping up when Salsich thanked the Coaches for their time, calling his experience "a freakin' blast" before walking off stage. Clarkson pondered on her decision, as seen when bringing her hand to her chin, and with the egging of Chance nearby, Clarkson pressed her button to steal Salsich for Team Kelly.
"We got a steal!" shouted Host Carson Daly. "At the last second!"
"I'm just excited to work with Neil; he can sing anything," said Clarkson. "I think he is sneakily one of the best singers in the competition."
The competition continues on The Voice, with new episodes airing Mondays at 8/7c on NBC and available to stream the next day on Peacock.