NBC Insider Exclusive
Create a free profile to get unlimited access to exclusive show news, updates, and more!
Sign Up For Free to View
How D. Smooth Got the Playoff Pass After Chance the Rapper's Almost-Steal
After Team Kelly contestant D. Smooth belted out "Unaware" with passion during the Battle Rounds against ALI, there was a The Voice first.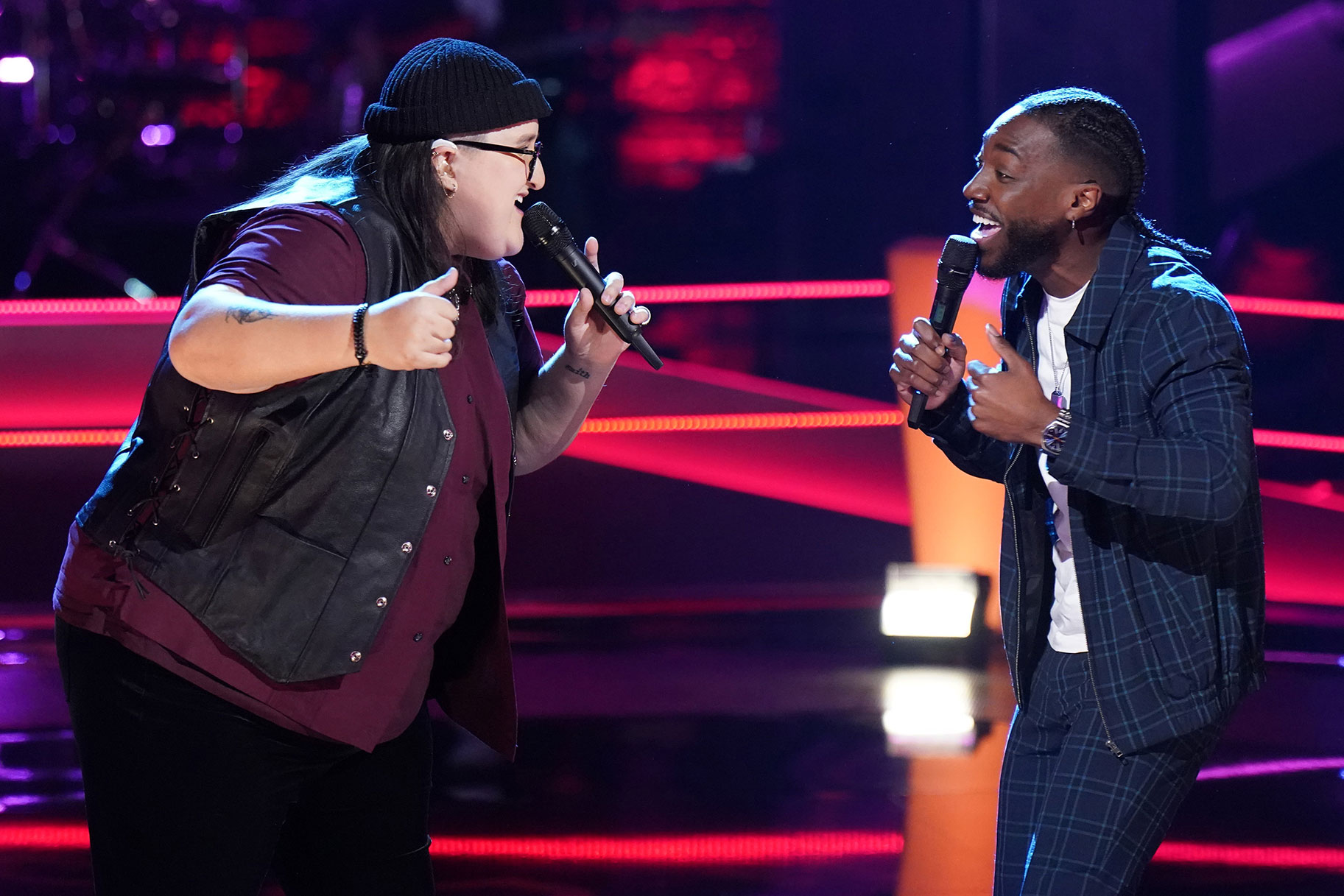 Singer D. Smooth on Team Kelly made The Voice history when he was stolen by Coach Chance The Rapper during the Battle Rounds — only to then be "stolen" back to Team Kelly when coach Kelly Clarkson used her Playoff Pass. 
"He's one of my favorite people I've ever had on my team, ever, and I had to use my Playoff Pass on him because I just want him to advance," Clarkson said. "I just want him to be in the Playoffs, and I want to see what he's going to do. He's hungry for it, y'all. He wants it."
The 25-year-old from Birminham, Alabama competed against 24-year-old ALI from Walnut, California, in the Battle Rounds, singing "Unaware" by Allen Stone.
D. Smooth shared his family struggled financially as he was growing up, so he felt like the song hit home for him personally.
"You can relate it to the relationship aspect, but you can also relate it to life," D. Smooth said during rehearsal for the Battle. "I personally connect with the lyrics. Every day the deficit grows. You spend more than you own. People living paycheck to paycheck. I'm definitely doing this not only for myself, but my family."
Clarkson praised D. Smooth during the rehearsal.
"You can't teach passion like that," Clarkson said. "You can't teach effortless runs like that."
Giving a small preview of what was to come, Clarkson mentioned the brand-new Playoff Pass to D. Smooth and ALI during rehearsal.
"If I feel like you all are both killing it, I can save both of you," Clarkson said, calling the Pass "the highest honor we've ever given on The Voice."
As the Coaches praised both contestants for their epic Battle, Clarkson called them "world-class singers."
"D. Smooth, I haven't heard a dude sing like that since the '90s," Clarkson said. "I don't get to hear someone like you very often."
As what sounded like church music played over the stage, Clarkson added, "That's what you did! You brought us to church! That was incredible."
Faced with a touch decision of who to advance, Clarkson declared ALI the winner of the Battle and sent her to the Knockout Rounds.
"I really want to prove to Kelly that I got it — to take it to the end, and sing my heart out," ALI said after the Battle.
As D. Smooth was thanking Clarkson for his time on The Voice, Chance The Rapper pushed his button to "Steal" him, adding, "Finally, I get to take somebody from Kelly."
RELATED: Blake Shelton Is "Most Comfortable" Here: See Where He Lives
But just when Chance got those words out, Clarkson then pushed her button.
"Can I just say something real quickly? I'm using my Playoff Pass!" Clarkson announced, as confetti fell onto the stage and D. Smooth.
"I kinda feel bad because you might want to work with him [Chance the Rapper], but I just don't care," Clarkson said. "I love you. You have a gift to make it all the way to the finale."
Chance The Rapper lamented it was his second failed "Steal" as a coach so far this season.
"I 100% knew in my bones she was gonna use her Playoff Pass then," Chance said. "I had to try because he's that good, but I know my 'Steal' is coming."
D. Smooth called it a "huge honor" to have Clarkson use her Playoff Pass on him, and send him past the Knockout Round straight to the Playoff Round. 
As Coach Niall Horan remarked on Clarkson's impressive game play, coach Blake Shelton added it was "one of the meanest things I've ever seen."
Watch The Voice on NBC Mondays at 8/7c and Tuesdays at 9/8c and the next day on Peacock.