NBC Insider Exclusive
Create a free profile to get unlimited access to exclusive show news, updates, and more!
Sign Up For Free to View
This Audition Made Blake Shelton Accuse Kelly Clarkson of Calling Niall Horan a 'Liar'
Straight out of the gate, the feisty, bring-it-on banter between The Voice Coaches has begun. See what happened after D. Smooth's Blind Audition on The Voice.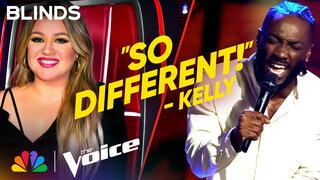 After just one round of Blind Auditions on Season 23 of The Voice, the rivalry has started to heat up between the Coaches.
Season 23 returned with Kelly Clarkson and Blake Shelton back as Coaches in the iconic swivel seats, along with newcomers Chance the Rapper and Niall Horan. A whole new group dynamic among the Coaches is taking shape in front of viewers, and that includes Shelton's seemingly self-appointed role as a mentor to Horan.
"Blake, he's like a dad to me," Horan previously said to NBC Insider. "Y'know, he's really helped me during the show."
At one point, Shelton suggested that Clarkson had accused Horan of lying when the former One Direction boy band member was trying to convince a contestant to join his team. 
It all went down after contestant D. Smooth's Blind Audition. The singer performed a cover of Ed Sheeran's "Perfect," and D. Smooth, who's 25 and from Birmingham, Alabama, scored chair spins from Clarkson and Horan.
Clarkson turned early, but Horan hit the button "with like five seconds left" on the clock, she pointed out.
Horan explained his chair-turn strategy as he tried to coax the singer onto his team.
"D. Smooth, because I knew how hard of a song it was to sing — that's why I was waiting," said Horan. "You kept taking it to new heights." 
The next statement is the one that triggered the dust-up.
"The hardest part is getting the chairs to turn," said Horan. "Now you're just smooth sailing." 
Clarkson begged to differ: "It doesn't get easier from here," she told D. Smooth. "Every single performance has to be elevated in some way."
Shelton then seized a chance to stir things up.
"Either she's saying you're wrong or she's saying you're a liar," he joked.
When Clarkson protested that was't what she meant, Shelton doubled down: "Oh, so she's calling you a liar," he told Horan.
Of course, all the jests were in good fun. 
"You know what I meant, Kelly," said Horan. "All I was saying is that the audition part is sometimes the hardest thing to do."
But when all was said and sung, D. Smooth chose Team Kelly.
Shelton, who's in his final season as a Coach on The Voice, chimed in one last time. "Kelly actually called Niall a liar. I feel like my grooming is coming along nicely," he said, telling Clarkson, "When you pointed out what a liar he is … you had him at that moment."
Clarkson again insisted that wasn't what she meant. What was her aim, then? To point out that she knows the business inside out — and what it takes to win. 
"I saw a chance and I took it," Clarkson said.
Bottom line: The stakes are sky-high on The Voice.
Watch The Voice on NBC Mondays at 8/7c and Tuesdays at 9/8c and next day on Peacock.