NBC Insider Exclusive
Create a free profile to get unlimited access to exclusive show news, updates, and more!
Sign Up For Free to View
The Coach Kelly Clarkson Argued Most With on The Voice Season 23 Is Surprising
"I feel like we kept turning for the same people," Clarkson told NBC Insider. Watch The Voice on NBC.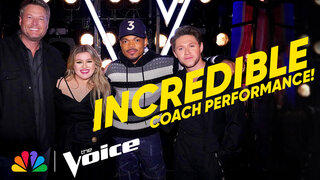 While lifelong fans of The Voice are well familiar with the consistent playful banter between Kelly Clarkson and Blake Shelton, an exciting new addition to the show will shake up the rivalry dynamic between the Coaches. In an interview with NBC Insider, Kelly Clarkson revealed who she went head to head with the most in Season 23, and the Coach in question is likely not who you might think.
"My strategy this season? I think I just had to wait to see who I was gonna have to argue with the most to get somebody on my team. And I feel like it was Niall [Horan] mostly. I feel like we kept turning for the same people, and I feel like we equally lost," Clarkson explained to NBC Insider.
"There was one day where I was like, 'Oh my God, I'm gonna quit.' And there was another day I felt like I was flying through it, doing awesome. But I think, for me, the strategy always just changes depending on the Coaches and who auditions and who to fight against to get people," she added regarding the ultra-competitive nature of Season 23.
Horan agreed that he and Clarkson will go up against each other frequently in Season 23. "Ooh, my biggest competition this year is definitely Kelly [Clarkson]. We have very similar tastes in music, same kind of taste in voices. Yeah, I think she's going to be a massive threat to me," he said in a separate interview with NBC Insider. "But you never know, I could win the thing."
On the flip side, Horan also says that he appreciates Clarkson in many ways despite the competitiveness between the two on the show.
"It's been amazing to work with Kelly Clarkson and Blake Shelton. Meeting them for the first time, the bond that I've grown with them has been amazing. It's been so funny to dive into that Southern sense of humor with them and see the stuff that goes on behind the scenes. It's been hilarious," he told NBC Insider. "Kelly's an absolute sweetheart at the end of the day. She's like a big sister to me. She's just a lovely lady." 
To see what unfolds between Clarkson and Horan this season, watch The Voice on NBC Mondays at 8/7c and Tuesdays at 9/8c and next day on Peacock.