NBC Insider Exclusive
Create a free profile to get unlimited access to exclusive show news, updates, and more!
Sign Up For Free to View
How NariYella's "Shockingly Powerful" Voice Earned Her a 4-Chair Turn
Tumbled stones might have helped 20-year-old singer NariYella wow the Coaches with her "insane" onstage performance.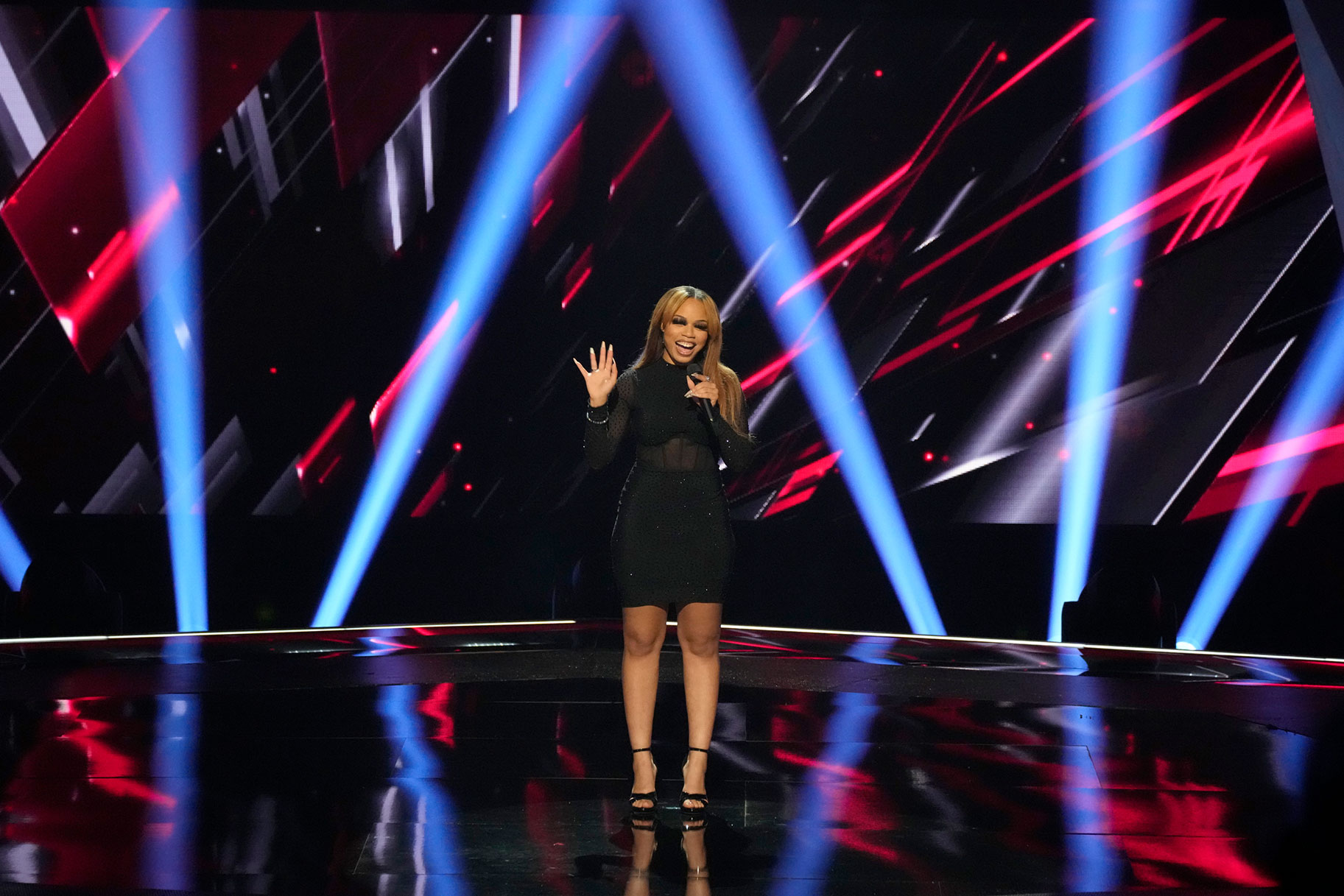 It was the last day of Blind Auditions on The Voice, and as the Coaches completed their teams, one woman earned all four chair turns after singing her rendition of "One Night Only."
Coaching for the first time for Season 23 of The Voice, Chance the Rapper beat longtime Coach Kelly Clarkson by a hair when pressing his button to face 20-year-old NariYella of Elkins Park, Pennsylvania. Alum Coach Blake Shelton followed suit, with newbie Coach Niall Horan trailing just behind.
Host Carson Daly jokingly rolled his eyes at the four-chair turn, saying, "They're going to fight."
"Your voice is actually shocking to me; how powerful you are," said Shelton. "Anybody that can be that open and connected to the moment, those are the artists that make it all the way."
Horan and Clarkson both reflected on their own experiences with onscreen musical competitions, with Clarkson noting that NariYella seemed to have an "incredibly captivating" personality and appeared "comfortable and confident" by waving to the Coaches as they turned during her performance.
Clarkson said, "That kind of passion is what it takes to win a show like this."
Despite Shelton pulling his final season card and Clarkson offering NariYella a Team Kelly jacket, Chance also fought to have the contestant on what will be his first-ever team.
"I was obviously blown away by the performance," said Chance. "I think technically, your skill level is way, way, way beyond your years, way, way, way beyond your experience."
NariYella told the Coaches she began singing around the time she learned to talk.
"I've been taking it seriously for a majority of my life, the past decade," said NariYella. "I'm 20, so you know the math."
While gifting the Coaches with her singing talent, NariYella — who says she's "very big on energy" — also came bearing tumbled stones: Specifically, blue kyanite, which is believed "open up your throat chakra so that everything can flow when you're on stage," according to the singer.
"My whole team dynamic is about individualism and just letting these people tell their own stories," Chance continued. "If I was lucky enough to have you on my team, I would just spend time with you figuring out what you're about, what your influences are, and I'll let you be yourself."
Horan referred to NariYella's performance as "insane," commenting that she sounded as though she'd been singing "for years and years and years."
RELATED: Why Niall Horan Called Ryley Tate Wilson's Audition the 'Best One' the Coaches Have Seen
But when left with the decision of having all four Coaches to choose from, NariYella picked Chance, completing his 10-person team.
"She just blew me away," Chance said of NariYella. "She had an almost Jennifer Hudson, early days charisma. She's genuinely a star."
Joining Daly and NariYella's mother and boyfriend backstage, Chance gave his 10th and final team member his signature "3" hat, which you can read all about here. The contestant and her supporters cheered as NariYella placed it on her head and did a small dance.
"NariYella is gonna do crazy things in this competition," said Chance. "And it feels good to just beat the other Coaches, you know? To beat all three of them at one time is crazy."
NariYella joins a diverse team, including a trio, a singer with an "operatic tone," and a handful of artists focusing on varying music genres such as rock, pop, R&B, and gospel. Chance wished the other Coaches luck but said his team was "the one to beat."
"Everybody's their own person with their own story, and each voice is so unique," Chance said of his team members. "I think it happened exactly how it was supposed to happen."
You can catch up on Blind Auditions before the teams go into Battle on The Voice, airing Mondays at 8/7c and Tuesdays at 9/8c on NBC and streaming the next day on Peacock.