NBC Insider Exclusive
Create a free profile to get unlimited access to exclusive show news, updates, and more!
Sign Up For Free to View
Blake Shelton Got Jennifer Hudson's Son the Wildest Christmas Present
You'll never guess what the Voice Coach got his former colleague's son for the holidays.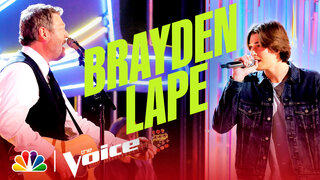 Blake Shelton is the G.O.A.T in more ways than one.
In December 2022, the country star sat down with former The Voice Coach Jennifer Hudson on her talk show to reminisce about their favorite past memories together on the series.
"You got any more pets for me?" Hudson asked Shelton while playfully narrowing her eyes. But what, exactly, was she referring to?  
"Y'all know Blake sent me a whole goat? Me and my son?" she told the audience as a picture of an adorable goat came onscreen and everyone burst into laughter.
Shelton then told the whole hilarious backstory behind the special gift. "So, I walk into the studio everyday and we used to have the trailers around, and it's not like that anymore. So many people on the show had kids, it was like a playground," he explained.
He continued, "And one day I remember I walked in a little behind you, and I heard you say, 'I don't know, why don't you go ask him?' to your son [and nephew], and so they come over and they're like, 'Mom says you can get us a goat,' because I'm the country guy on the show. Y'know, let's just call one out from the barnyard back there." 
Shelton added, "So, they started asking, 'What are they like?'...It was the fall season, and I remembered—I think at some point I asked you, I said, 'I really would like to get him a goat for Christmas,' and so I got him a pygmy goat."
Then, Shelton went above and beyond for his fellow Voice Coach. "The season was over, and I wasn't going to see y'all, so I had to, like, get an airplane to fly this freaking goat from Oklahoma to Chicago. I mean, this goat had a first class like ride," he said.
"And we named him Prancer, and that is one of the most memorable Christmases for my kids ever," Hudson gushed.
Sounds like it. How can you top a live goat for Christmas? 
Watch The Voice on Peacock and NBC. Season 23 of the show premieres March 6.