NBC Insider Exclusive
Create a free profile to get unlimited access to exclusive show news, updates, and more!
Sign Up For Free to View
Why Blake Shelton First Thought The Voice Was 'Stupid' and 'Goofy'
Shelton later described The Voice as "the best decision maybe I've ever made in my life."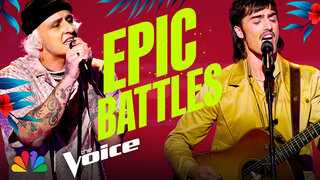 Although the OG The Voice Coach Blake Shelton is now a staple of the show, he recently admitted to Access that he was initially hesitant about the idea of the singing competition series. 
"The first time I was pitched The Voice, I thought it was the stupidest idea I've ever heard in my life. I mean I…that's the truth, I just thought, 'Well what the hell is this? Like a combination of Wheel of Fortune and music and, like, these spinning chairs, what is that?'" he told the outlet.
However, he just needed a little nudging to get on board. "My manager, y'know, he wouldn't let it go, and thank God, because he said, 'Just watch this DVD,'" Shelton explained.  "And he had a DVD of the Holland version of The Voice, which is where it came from, and I watched it. And I thought, 'OK, that does look super fun. I gotta admit.' You know, as goofy as the idea is, it looks like it could work." 
He then explained how the opportunity did wonders for his career. "I remember asking my manager at the time, I was like, 'Well, who else is doing this?' and the first name that he said was Christina Aguilera, and I remember going, 'OK, I'm in!'" he said. "I mean I've heard of her. Who am I to say no? I was nobody y'know? And to know that she had already signed on, I was like, 'I want to work at that level, so I'm in.' And thank God, y'know, I didn't let my stupidity get in the way of what ended up being the best decision maybe I've ever made in my life."
That wasn't the only benefit from being on the show. "I met my wife at The Voice, which is the greatest thing that I'll take away," he said. "It completely changed my career and trajectory. I was a country Artist that was having some hits on the radio and having some success and things were going great, but to step into that role on The Voice and right when it was taking off and to be a part of that, it just took my career to a level that I didn't even know was possible for me, and it completely changed my life."