NBC Insider Exclusive
Create a free profile to get unlimited access to exclusive show news, updates, and more!
Sign Up For Free to View
See Why Kelly Clarkson Compared Mary Kate Connor's 'Tender' Audition to Brandi Carlile
Coach Kelly Clarkson told Artist Mary Kate Connor she "nailed" her blind audition on The Voice Tuesday night.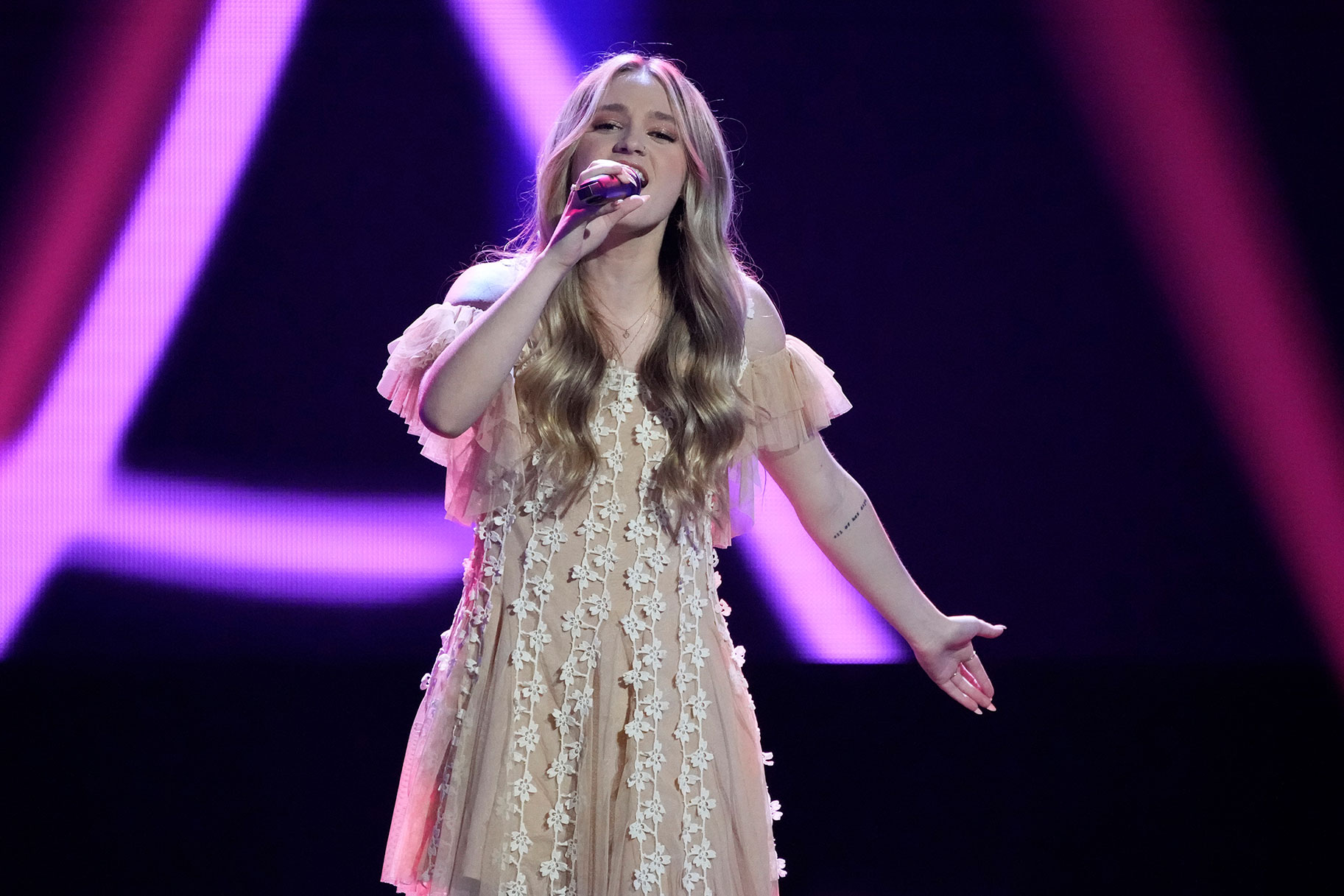 Mary Kate Connor's "tender" performance Tuesday night on The Voice was giving Coach Kelly Clarkson Brandi Carlile vibes.
Clarkson conjured images of the successful singer/songwriter during Connor's performance of "Stars" by Grace Potter and the Nocturnals in the blind audition, which featured some difficult high notes.
"I loved how beautiful and tender it was. Usually people slide into it to make it a bit easier so they don't sound pitchy and you just like nailed it, like dead on, like a younger Brandi Carlile," Clarkson remarked. "I love this. I really want you on Team Kelly."
But Clarkson wasn't the only one vying for the 17-year-old from Ashburn, North Carolina.
Veteran Coach Blake Shelton also wanted Connor on his team for his final season, after first poking fun at his own connection to Clarkson and Carlile.
"I ran into Kelly Clarkson at a Brandi Carlile concert like 10 or 12 years ago. I was like, 'What are you doing here?'" he said.
"It wasn't 'cause you were there," Clarkson quickly shot back, before hopping out of her chair to give Shelton a hug. "I'm just kidding, I'm just kidding. It was a good time."
RELATED: Why Kala Banham's 'Impeccable' Audition Got Kelly Clarkson to Physically Hit Niall
"My God, you were hitting on me that night? What are you talking about?" Shelton joked, as Clarkson was quick to point out that "was not" happening.
Turning the focus back to Connor, Shelton momentarily confused the teen's home state of Virginia for North Carolina before complimenting her on her authentic sound.
"North Carolina, Kentucky, Virginia there's a thing that happens up there and it's an Americana thing and you can hear it in your approach because you do swing for the fence with that song," he said, calling her voice "very soft and angelic."
While Clarkson hoped his slip up and lack of attention to detail would cause him to lose out, Connor ultimately decided to go with Team Blake.
"You didn't remember a damn thing about her. You didn't know what she was singing, you didn't know anything … and you still won," Clarkson lamented.
"Blake is killing it his last season and I suspected that would happen," Clarkson later remarked. "Don't tell him I said this, but he is like The Voice, he's the king of The Voice, so it's going to be really weird that he's not here. He will be missed."
The performance was a full circle moment for Connor who has been a fan of the show since she was young.
"I think I'm dreaming. I can't believe that this is happening," Connor said of getting the opportunity to audition. "I started watching the show when I was really little, and actually the first time I heard the song that I'm singing for my Blind Audition, 'Stars' by Grace Potter and the Nocturnals, was on The Voice. That dream that I had, it's really coming true 'cause I'm singing the song now on the show."
Connor grew up watching her dad practice in the basement for their church's worship band and later perfected her own vocal skills in musical theater. As a child, she performed the role of little Cosette in Les Misérables at the Kennedy Center.
"I remember running with my little broom, like across the stage sweeping. I had the smallest little part but like I remember going to school and just like being like 'Yeah, I was at the Kennedy Center,' like I was so awesome. It was so funny," she said.
After her first foray into theater, Connor was hooked and "really just ran into musical theater hard and loved it so much." But on Tuesday, she had to find a way to bring her own persona to the stage.
"I am so incredibly excited to just go out and be myself and not have this whole script and this whole character already planned," she said. "I just get to be me."
The move paid off. Shelton was eager to see where her voice would take her on the singing competition.
"Mary Kate's probably not completely aware of what she's even capable of," he said. "She has like a cool Appalachian sound and I love that. I think America is gonna love it."
Watch The Voice on NBC Mondays at 8/7c and Tuesdays at 9/8c. It's available the next day on Peacock.