NBC Insider Exclusive
Create a free profile to get unlimited access to exclusive show news, updates, and more!
Sign Up For Free to View
Inside Blake Shelton's Emotional 1st Day Filming His Final Season of The Voice
Will Shelton win his final season of The Voice? Find out by watching Mondays at 8/7c and Tuesdays at 9/8c on NBC.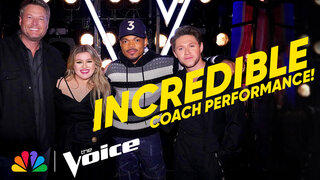 Season 23 of The Voice is here! And while Coaches Blake Shelton, Kelly Clarkson, Niall Horan, and Chance the Rapper are duking it out to recruit a winners-worthy team of Artists, Shelton is reflecting on his 12 years on The Voice as he prepares for his final season in the red chair. 
"It's my first day of my last season of The Voice," Shelton declared in the Season 23 premiere during a behind-the-scenes clip. "I'm having a damn good day. I was nervous I was gonna be sad, but I'm not. I'm just having a blast."
Part of what makes Shelton's final season so exciting is the lively studio audience watching the drama unfold. "I'm so glad we have the audience back for my last season," Shelton revealed as we saw the self-proclaimed king of the competition mingle with the crowd. At one point, an audience member flagged Chance down to tell Shelton they love him. "It's always fun to come into the room and interact with them and joke around," he said. 
Later, another adoring audience member revealed that he'd pick Shelton as his Coach. Shelton was honored by the remark and made him an honorary member of Team Blake by giving him one of his iconic new T-shirts.
"My man!" Shelton exclaimed. "Since you said you would pick me, I'll just give you the gift that I give people that pick me on their team." The man was taken aback by Shelton's kind gesture, but the Coach insisted, showing him the message that reads, "I'm on Blake's LAST team...and all I got was this lousy T-shirt." We're jealous! 
"This season is the last time I'm going to get to hear a voice that moves me and turn this chair," Shelton reflected. While mingling with his rival Coaches, they compared Shelton's 12-year red chair reign to a child's journey from kindergarten to high school graduation. Shelton is truly one of the OGs, and The Voice won't be the same without him. "It's going to be an emotionally crazy season," he said. 
Overhearing Shelton's confession, his rival Clarkson couldn't help but interrupt. "Is it because I'm back?" Clarkson teased. "Is it because I'm back? Is that what it is?"
Shelton's last season has already kicked off with an exciting start. Will he bring home the glory for the last-ever Team Blake? We can't wait to find out!
Watch The Voice on NBC Mondays at 8/7c and Tuesdays at 9/8c and the next day on Peacock.