NBC Insider Exclusive
Create a free profile to get unlimited access to exclusive show news, updates, and more!
Sign Up For Free to View
Gwen Stefani Shared the Most Heartfelt Birthday Tribute to Her Son, Apollo
Apollo has an amazing mother! Watch The Voice Mondays and Tuesdays on NBC.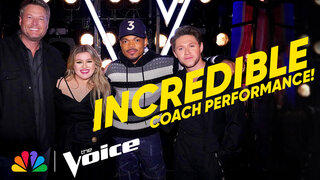 On March 1, proud mama (and Voice alum) Gwen Stefani took to her official Instagram page to make an adorable tribute honoring the birthday of her son, Apollo. The heartwarming post featured a collage of pictures and videos of Apollo as a newborn baby and a young tot. Better yet, the post included a snapshot of Stefani, Apollo, and her hubby Blake Shelton all smiling at the camera.
"my world is so much bigger with u in it, happy birthday, apollo ♥️♥️ i love u so much" Stefani gushed in the caption.
Happy birthday, Apollo!
Blake Shelton has proven himself to be a supportive stepdad to Apollo. In fact, he cited his devotion to his wife Gwen Stefani and her children to be a major reason he chose to step away from The Voice after 23 seasons.
"I think being a stepdad has changed my perspective in that I'm not the first person that I think about anymore," Shelton told Access. "Even to the small little things when you go, 'I think I'll do this,' the very next thought is always, 'Well, wait a minute. How's that going work?' Or, 'What will they think?' Or, 'How will that affect a schedule?'"
"I think the only way for me to really do that right is to step away from being committed to something like The Voice that demands a lot of your time," he elaborated. "There's no way around it. If you're going to do it and do it right, you have to be 150 percent in. And I just feel like those days are behind me for now. I got a more important job."
Stefani backed up Shelton's reasoning in an interview with Extra. "[The Voice is] a lot of brain power, it's a lot of time away from the family, those kinds of things. I think he just got to a point where he just wants time in his ranch, like time to just do the other things that he loves to do," she told the outlet. 
"I'm excited for him because we have lives outside of work, and it's a really good life. It's really fun, and we have so much fun! We have Oklahoma, which is something I never knew I needed and wanted. We planted a garden, we do all kinds of fun stuff. So we're looking forward to doing some of that family stuff together. It's 'gonna be great," she explained.
Watch The Voice on NBC Mondays at 8/7c and Tuesdays at 9/8c and next day on Peacock.