NBC Insider Exclusive
Create a free profile to get unlimited access to exclusive show news, updates, and more!
Sign Up For Free to View
This Throwback Pic of Gwen Stefani's Mom Proves the Two Look Like Twins
Stefani wished her mother a happy birthday with a nostalgic throwback pic!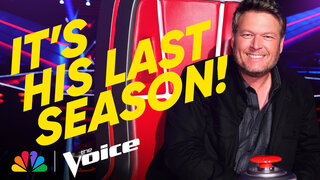 Gwen Stefani is a style icon and powerhouse performer, and when she isn't serving looks in The Voice's red chair, the "Hollaback Girl" singer is posting throwback pictures with the fam. In late February, Stefani took to Instagram for a heartfelt birthday tribute to her mother, and the picture is simply adorable.
Stefani posted a throwback pic to her Instagram, and from the looks of it, Stefani is truly her mother's mini-me. Stefani's mother, Patti Stefani, looks lovely as she smiles for the camera while holding a toddler Stefani. Baby Gwen beams from ear to ear while sporting an adorable green dress. Captioning the heartwarming photo, "Happy birthday to my beautiful mom ♥️ love u!! Gx." Stefani wished her mom a happy birthday with a perfect splash of nostalgia. Look how cute Stefani and her mom look in their matching embroidered outfits by checking out the post here!
Stefani and her husband, Blake Shelton, got married after meeting on set for The Voice, and the powerhouse couple has been thick as thieves ever since. With Season 23 of The Voice being Shelton's final rotation, the couple is preparing for more time for fun outside of work. And with 22 seasons under Shelton's cowboy belt, the Coach deserves it! 
"It's a lot of brain power, it's a lot of time away from the family, those kinds of things,"  Stefani told Extra following the announcement of Shelton's departure. "I think he just got to a point where he just wants time in his ranch, like time to just do the other things that he loves to do."
"And I'm totally speaking for you, Blake, sorry! I'm married to you, so I can say whatever I want!" Stefani teased. "But it's just, I'm excited for him because, you know, we have lives outside of work, and it's a really good life, it's really fun, and we have so much fun! We have Oklahoma, which is something I never knew I needed and wanted, you know? We planted a garden, we do all kinds of fun stuff. So we're looking forward to doing some of that family stuff together. It's 'gonna be great."
Watch Shelton's final season of The Voice when it premieres Monday, March 6 at 8/7c on NBC and the next day on Peacock.