NBC Insider Exclusive
Create a free profile to get unlimited access to exclusive show news, updates, and more!
Sign Up For Free to View
Blake Shelton Played One of His Classic Deep Cuts in Concert and Sounded Dreamy
"Who remembers this one?!" Shelton captioned the video on Instagram. Watch The Voice on NBC.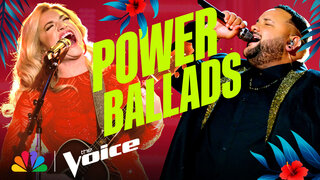 During his Back to the Honky Tonk Tour, Blake Shelton whipped out a deep cut song that diehard Shelton fans definitely remember. The tune is called "Playboys of the Southwestern World," and it's off his 2003 album The Dreamer. And on February 21, he uploaded a video of himself performing the song in front of an excited audience.
"John Roy was a boy I knew, since he was 3 and I was 2, grew up two little houses down from me," he started the song by gently strumming on his guitar.
"The only bad apples on our family tree, kinda ripened and rotten-ed in our puberty; two kindred spirits bound by destiny," he continued the melody.
"Well, now I was smart but I lacked ambition; Johnny was wild with no inhibition, was about like mixin' fire and gasoline," he sang the song's clever lyrics.
"Got a pocket full of cash and that old Ford truck, fuzzy cat hangin' from the mirror for luck," he continued to croon with his signature twang.  
"Never know when we might break out some of the old stuff on the #BackToTheHonkyTonk Tour.. who remembers this one?!" Shelton captioned the Instagram video of the performance. 
Shelton's Back to the Honky Tonk Tour kicked off on February 16, 2023 and will continue until March 25, 2023, performing in over 15 cities across the United States. His most recent album is 2021's Body Language, which includes the duet "Happy Anywhere" with his wife, Gwen Stefani.
When it comes to the setup of his tour, Shelton revealed some interesting information to Access. "The stage is a bar," Shelton said. "People buy a bar stool to sit at the stage if you can get those tickets. And that's the one I would want if I'm going to a concert: to be right there in front of the stage, sitting on a bar stool."
He has one person to credit for this interesting idea: fellow The Voice Coach Kelly Clarkson. "It's a really cool concept. It's something that I proudly stole from Kelly Clarkson," he said. "She's busy with her show now, so she doesn't get to tour as much. So I'm stealing as much of her creative ideas as I possibly can."
"And I'm not looking back, I don't feel bad about it at all," he joked.