NBC Insider Exclusive
Create a free profile to get unlimited access to exclusive show news, updates, and more!
Sign Up For Free to View
Kelsea Ballerini Covered Blake Shelton's 'God Gave Me You'—And Sounded Breathtaking
A heartfelt performance for a good cause. Watch Blake Shelton on The Voice on NBC.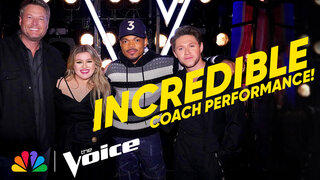 Blake Shelton's tunes have always been gorgeously written, and a throwback cover of his touching song "God Gave Me You" that was performed by Kelsea Ballerini will have you reaching for the tissues.
In 2017, the country singer Kelsea Ballerini went on The Bobby Bones Show to sing an acoustic rendition of Shelton's 2011 track, and her soulful interpretation will make you immersed in the lyrics.
"I've been a walkin' heartache, I've made a mess of me," Ballerini started the song in a low, breathy tone. "The person that I've been lately ain't who I wanna be," she continued to croon.
"But you stay here right beside me, and watch as the storm blows through, and I need you," she sang before hitting a beautifully sustained note.
When it was time for the emotional chorus, Ballerini utilized some raw rasp in her voice. "God gave me you for the ups and downs, God gave me you for the days of doubt," she sang.
"And for when I think I lost my way, there are no words here left to say; it's true, God gave me you, gave me you," she riffed softly.
Her guitarist then sang the second verse and chorus while Ballerini swayed to the music. Then, she joined back in for the bridge, this time using a lovely subtle twang.
"On my own, I'm only half of what I could be. I can't do without you; we are stitched together, and what love has tethered, I pray we never undo," they harmonized together effortlessly.
The two then continued to repeat the chorus with passion before coming to a confident ending with Ballerini's heavenly vocal flips.
Ballerini has also caught the attention of another The Voice Coach, Kelly Clarkson, in recent years. Clarkson covered Ballerini's hit "Peter Pan" on The Kelly Clarkson Show in May 2022. A few months later, Ballerini, Clarkson, and Carly Pearce all performed the sassy tune "You're Drunk, Go Home" together at the Country Music Association Awards.
Ballerini's 2023 endeavors have been very exciting. She'll be the musical guest on Saturday Night Live for the first time on March 4, 2023 and will kick off her Heartfirst tour the same month.
Watch Saturday Night Live on NBC Saturdays at 11:30/10:30c and next day on Peacock, and be sure to tune in on March 4 to catch Ballerini.
And also: Watch The Voice on NBC Mondays at 8/7c and Tuesdays at 9/8c and next day on Peacock.