NBC Insider Exclusive
Create a free profile to get unlimited access to exclusive show news, updates, and more!
Sign Up For Free to View
Jej Vinson Just Returned to The Voice in a Trio—And Got a Three-Chair Turn
"This is the first time ever that an Artist has come back on the show with a group," Coach Kelly Clarkson reveals.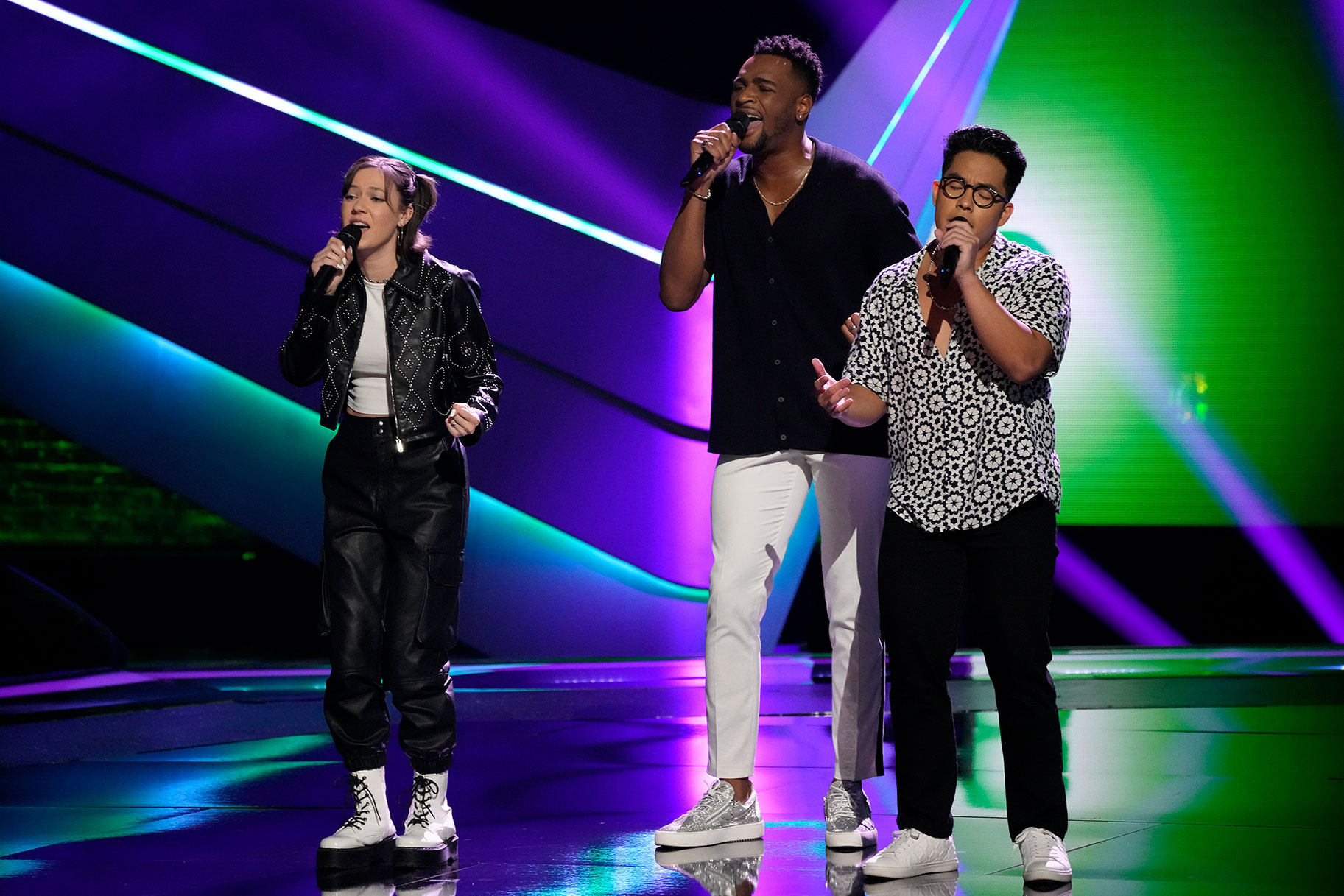 The Voice Season 23 is here, and after a nail-biting second night of Blind Auditions, yet another musical trio has entered the ranks of Team Kelly.
Coaches Kelly Clarkson, Niall Horan, and Chance the Rapper were blown away by Sheer Element's jaw-dropping rendition of "Leave the Door Open" by Silk Sonic, earning the group a befitting Three-Chair turn. 
Some context: Sheer Element is composed of Izzy Kaye, Tabon Ward, and Jej Vinson. Vinson was a solo Artist on The Voice in Season 16, going all the way to the Top 13 as a member of Team Kelly. "It was just such a humbling surreal experience. As a singer, I learned a lot of new techniques," Vinson said, speaking of his original Voice run. "It was such a dope once-in-a-lifetime opportunity until we formed this group [Sheer Element]." 
Vinson, Kaye, and Ward met while performing together at the University of Southern California, later creating the trio Sheer Element. "I don't think anyone has ever been back here that's been on the show before," Vinson commented. "So to be the first person to be back with my best friends, I'm just so excited to share this experience again with them."
"I can tell you guys have done this together for a while because it sounds so tight...I was never in a band, but obviously, I know a lot about threes," Chance joked, referencing his "3" hat. "I've also produced music for a few different groups, and I think I could see exactly where you guys could go with your style, with your aesthetic, and with the three of you guys as a group. So if you want to win, come get down with Team Chance."
"It was so good, and I turned around and saw Jej, I was like, 'Wait, what?'" Clarkson exclaimed. "You're incredible! I already love Jej's voice, I just think you're so incredibly tight, and you know your vibe. You're not picking a Coach really to teach you anything about that. You're picking a coach for song selection, and that's really key."
At the end of the day, Sheer Element chose Clarkson. "Sheer Element sounded incredible. The harmonies were so tight. I know what Jej is capable of, that dude is an incredible singer," Clarkson mused after recruiting the group. "This is the first time ever that an Artist has come back on the show with a group, and I have taken a group to win. I'm really excited about it."
Watch The Voice on NBC Mondays at 8/7c, Tuesdays at 9/8c, and the next day on Peacock.