NBC Insider Exclusive
Create a free profile to get unlimited access to exclusive show news, updates, and more!
Sign Up For Free to View
A Live Recap of The Voice Season 23 Premiere—With Spoilers
Everything you need to know about the team results of the latest season.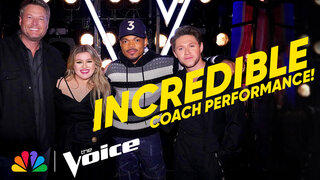 The Voice Season 23 is officially here! The newest season of NBC's long-running music competition series kicks off with its two-hour premiere on Monday, March 6 at 8/7c. And as soon as it begins, you can check back right here on NBC Insider for live updates with a recap of the night's spoilers.
The premiere marks the first time we'll see our brand new panel of Coaches: newbies Niall Horan and Chance the Rapper, and veterans Kelly Clarkson  and Blake Shelton. This season also happens to be Shelton's very last. And after nine wins since 2011 (the most of any Coach in history), this year has the potential for the country star to take home his 10th victory.
"I've been wrestling with this for a while, and I've decided that it's time for me to step away from The Voice after Season 23," Shelton said in an October 2022 statement. "This show has changed my life in every way for the better, and it will always feel like home to me. It's been a hell of a ride over these 12 years of chair turns, and I want to thank everyone at The Voice from NBC, every producer, the writers, musicians, crew and catering people; you are the best."
He continued, "It takes a lot of work, passion, and adult beverages (Ha!) to pull off a live show twice a week. I've made lifelong bonds with Carson and every single one my fellow Coaches over the years, including my wife, Gwen Stefani! I have to give a huge shoutout to the singers–the 'Voices,' who come on this stage season after season and amaze us with their talent, and a special thanks to those who chose me to be their Coach. Lastly, it's about y'all, the fans, who watch and support these Artists, us Coaches, and everyone at The Voice who are chasing their dreams. It would not happen without you!"
With that in mind this time around is already extremely bittersweet, and it's only just begun. Check back here on NBC Insider for real-time live updates about The Voice Season 23 premiere, beginning at 8/7c. 
9:59 p.m. ET. - It's time for the last Blind Audition of the night! 
 
Seconds into his emotional performance of Sam Cooke's "A Change Is Gonna Come," each Coach turned their chairs for NOIVAS. In the end, he "went with his gut" and chose Team Chance. 
9:48 p.m. ET - British country/rocker Alex Whalen took the stage with a stirring rendition of Sammi Smith's "Help Me Make It Through the Night." Shelton ended up turning his chair near the end of the performance, with Chance following quickly after just as Whalen was finishing up.
After a convincing argument from Shelton (with the help of Horan), Whalen chose Team Blake.
9:36 p.m. ET - Next up was Emily Rhyne, who hailed from Shelton's hometown of Ada, Oklahoma. But despite the connection, Rhyne unfortunately didn't get a chair turn from any of the Coaches. However, she still had a couple gifts for Shelton, including a signed T-Shirt from the citizens of Ada and an old recording of one his first songs from when he was 13 years old.
"Man. if I could ever go back in time it would have been for Emily," he said. "It just didn't move me enough, but knowing the backstory, if I had known it, I definitely would have hit my button. That's a heartbreaker for me."
9:28 p.m. ET - Birmingham, Alabama native D. Smooth earned a Chair Turn from Clarkson and Horan with his...smooth take on Ed Sheeran's "Perfect". He ultimately ended up picking Team Kelly! 
9:16 p.m. ET - Horan was the only Coach to turn around for Michael B., who sang The Weeknd's hit "Save Your Tears", automatically earning him a spot on Team Niall.
9:06 p.m. ET - Father of two, Ross Clayton, returned to performing after nearly five years with a powerful Four-Chair Turn Blind Audition. His rendition of Keith Urban's "Blue Ain't Your Color" even motivated Horan to turn every other Coach's chair around in his bid to have Clayton join his team. The tactic worked, and Horan finally gained his first team member. 
8:53 p.m. ET - Soca singer and St. Thomas U.S. Virgin Islands native Star Martin is next up. The 34-year-old mother sang Bob Marley & The Wailers' "No Woman No Cry." Sadly, she did not score a chair turn from any of the Coaches, meaning she was eliminated from the competition. 
8:48 p.m. ET - Tasha Jessen, who immigrated from Pakistan to Colorado, sang Leon Bridges' soulful "River." Horan and Shelton nearly turned their chairs at the same time, followed by Chance.
Ultimately Jessen chose Shelton, making her the first member of #TeamBlake. 
8:32 p.m. ET - Twenty-two-year-old Meridian, Mississippi native Holly Brand is next up. She reveals that she actually opened for Shelton at a show when she was just 10 years old. Clarkson was the first to turn around for Brand while Horan and Chance followed. Unfortunately, Shelton was the only Coach not to turn.
Despite a lot of begging from Horan, Brand ultimately chose #TeamKelly.
8:21 p.m. ET - Next we meet Madi, Ana, and Bella—a.k.a. sister trio Sorelle—from Lexington, Ohio. Their unique take on Queen's "Good Old-Fashioned Lover Boy" earned chair turns from Shelton and Chance.
In a surprise turn of events, despite Shelton repeatedly pointing out that it was his last season, Sorelle decided to pick Chance as their Coach.
8:08 p.m. ET - Neil Salsich is the first Audition of the season with a take on Hank Williams' "Honky Tonk Blues." Shelton is the first to turn his chair, swiftly followed by the rest of the Coaches, making Salsich the first Four-Chair Turn of Season 23. However, Clarkson was taken out of the running when Shelton used his Block on the talk show Host.
In the end, Salsich chose #TeamBlake.
Watch The Voice on NBC Mondays at 8/7c and Tuesdays at 9/8c and next day on Peacock.