NBC Insider Exclusive
Create a free profile to get unlimited access to exclusive show news, updates, and more!
Sign Up For Free to View
This Audition Made Blake Shelton Realize Niall Horan Could Replace Him on The Voice
Ross Clayton shined while singing Keith Urban's "Blue Ain't Your Color" in the Season 23 premiere of The Voice.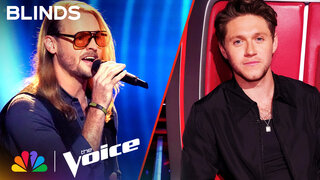 The Voice is back! Season 23 is here, and Coaches Blake Shelton, Kelly Clarkson, Niall Horan, and Chance the Rapper have begun choosing from a new, jaw-dropping lineup of Artists. 
The first night of Blind Auditions on March 6 was mind-blowing, with many Artists leaving the Coaches speechless by their performances. It's Shelton's final season on The Voice, so the stakes are higher than ever as he recruits the very last Team Blake. Meanwhile, Horan was struggling to recruit star power for Team Niall until he met Ross Clayton, a powerhouse country singer from Oklahoma who had the crowd hooked from the moment he grabbed the mic. 
Clayton chose Keith Urban's "Blue Ain't Your Color" for his mind-blowing Blind Audition, which had Shelton's interest piqued from the get-go. Following his performance, Clayton revealed to the Coaches that his Blind Audition was one of the first times he performed in the past five years after taking a prolonged hiatus to spend time with family.
"Well, you're back on stage now!" Chance cheered. "Welcome to The Voice, my boy! I love the fact that you have such a unique tone. As somebody who's a father of two daughters, I can completely understand. But also, I understand that hunger and that destiny that calls you to be who you are. And so I would love to help you win this whole thing, because why not?"
Clarkson was equally impressed with Clayton's "beautiful" sound. "My main thing with you, because you already have this huge, beautiful gift, is to really pick songs that showcase you emotionally. Because you already have a lot of depth, but if you show people the vulnerable side as well as that power, I think that would be really rad," Clarkson told him. "I love your voice."
Chance and Clarkson may have meant well, but Horan had a trick up his sleeve that no one expected. "Ross, these two have spoken. I need to pitch to you properly," Horan said while standing. "I need a bit of privacy."
"Well, now this got awkward," Clarkson quipped. 
"Privacy?" Shelton asked. "This is for television."
But Horan wasn't hearing any of that...literally. The Voice newbie strolled right up to Shelton's chair and slammed his button, spinning him away from the stage.
"Whoa! I didn't know you could do that!" Chance screamed with joy as Horan slammed his button as well. Clarkson was delightfully dumbfounded as she was spun backward, too. Voice history is already being made with Coach Horan! As soon as he flipped his rival Coaches, he got real with Clayton about their potential future together, even getting down on his knees to beg the Artist.
"Your voice is absolutely incredible. You have that country tone to your voice, but to me, I was hearing so much soul. I came up onto a show like this when I was 16 years old. I've got fans of mine in this room. Fans of mine that would really love to take you under their wing. But I'm telling you, please, please forget about whatever any of them said. That's why I spun them around, I don't wanna hear any more crap," Horan joked before breaking into an uncanny impression of Shelton. "He was just about to call, 'This my last season on this show, it would be an honor and a privilege.' So please!"
Horan's tactics proved successful because even after Shelton attempted to pull the "I'm from Oklahoma, too" card, Clayton ultimately went with Team Niall.
"Woo!" Horan cheered. "Got my first Artist. I've been waiting for a long time. Ross has so many dynamics and took us on a real journey through the song. The people of America are going to fall in love with this guy."
"Niall needed that, I'm actually happy for Niall. I feel like Niall is going to take my seat on this show," Shelton mused. "Playing those kinds of dirty tricks gives me confidence that he can be the liar he needs to be to cover for Team Blake from now on."
Watch The Voice on NBC Mondays at 8/7c, Tuesdays at 9/8c, and the next day on Peacock.