NBC Insider Exclusive
Create a free profile to get unlimited access to exclusive show news, updates, and more!
Sign Up For Free to View
See Why Gina Miles' "Giant" Singing Voice Stunned Kelly Clarkson
Coaches Niall Horan and Kelly Clarkson were pitted in "a battle to the death" to secure soft-spoken teen Gina Miles — or at least that's how Blake Shelton described it.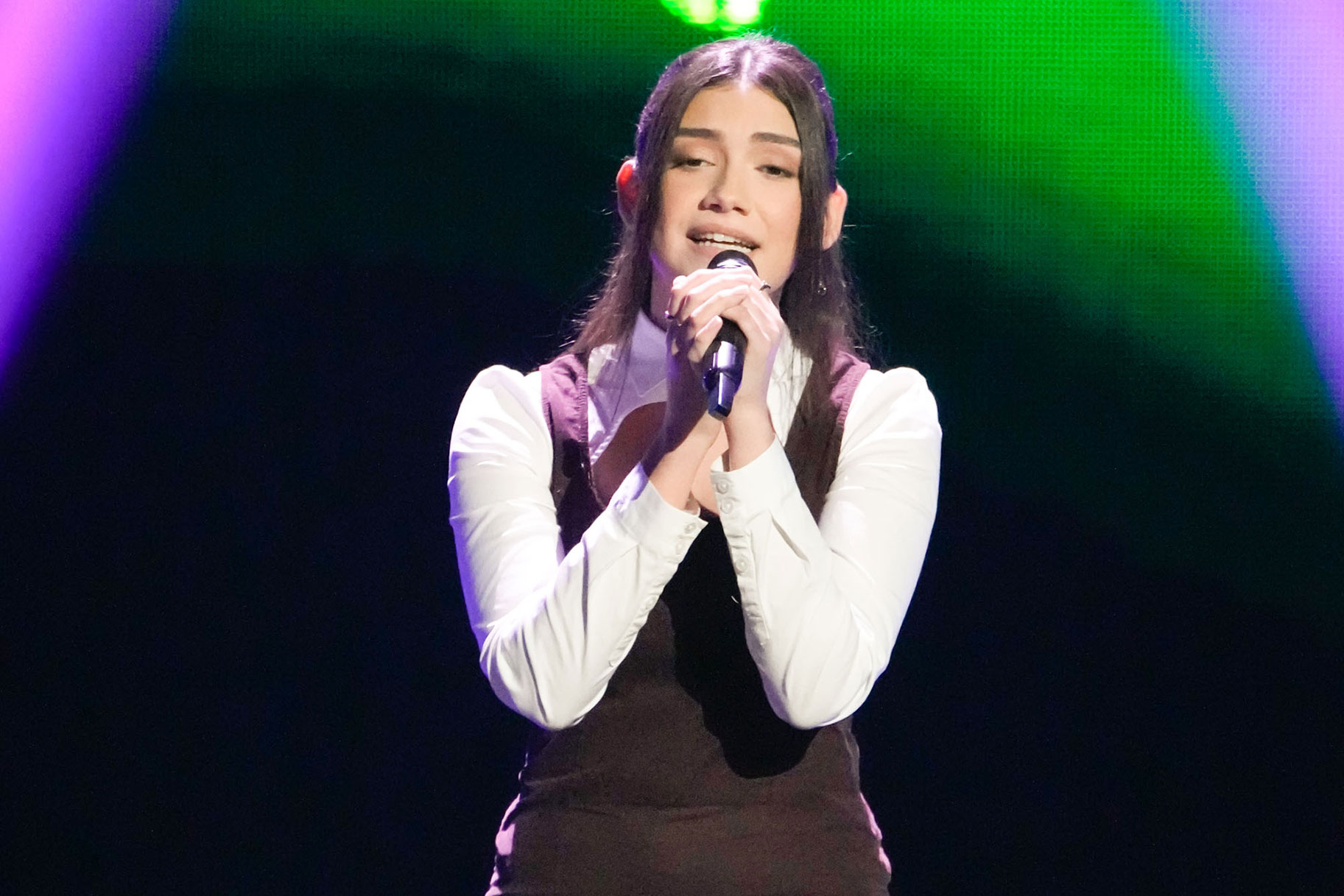 There's nothing tiny about Gina Miles' "giant" singing voice — but it's a stark contrast from her usual voice.
The 18-year-old's deep, rich voice filled the studio Monday on The Voice as she sang "The One That Got Away." But when the final notes of the song faded away, Miles' tone was shockingly quieter while introducing herself to the Coaches.
"Wait, you have that small speaking voice and this giant singing voice? What just happened?" a baffled Coach Kelly Clarkson asked.
It turns out, Miles' killer vocals are her hidden superpower.
"I'm not super crazy confident normally, but when I sing, I'm a very different person," Miles said. "A lot of people are shocked by the contrast of my singing voice and my normal voice."
While, growing up in Paxton, Illinois, Miles admitted she "never needed to be the loudest in the room."
"I am pretty shy normally," she said.
But from an early age, she was drawn to music, often accompanying her dad, Ryan, to his DJ gigs.
"When I was 14 I started doing fun little shows here and there," she said. "I did bars, hotels, basically anywhere they would let me sing."
The experiences helped her craft her own vocal footprint.
"I really have spent a lot of time trying to hone in on a sound for myself and I really enjoy expressing confidence in that way," she said.
Boldly stepping onto the much larger stage of The Voice paid off for Miles, who got chair turns from Clarkson and first-time Coach Niall Horan.
"I love voices with so much like character, like you've got," Horan said. "That was incredible to see you get up there and really hit those notes with proper control. Like, for such a young girl, it's incredible."
Horan also said he could "sense nerves" which brought back memories of his own past as a teen contestant on The X Factor.
"I can see you holding the mic with like two hands because I used to be like barely able to go on stage, gripping the mic stand, holding onto the mic like you were doing right now and you're going to grow into this competition," he said. "[I] feel like you've got so much more to give. This is very exciting."  
Clarkson complimented Miles on her "beautiful" voice.
"Your beautiful eyes were closed, but I turned around like way before him," she said. "I was like OK, I don't know if that's nerves or if it's her just really loving this message and wanting to be the vessel for it. You had me in the beginning when it was a beautiful whisper how you were sounding and then it exploded in the chorus."
To tackle her nerves, Clarkson recommended perfecting her vocal ability.
"I am great at teaching vocalists breath control, bubbling before you get out there, like really making sure that you are so solid with your vocal ability that by the time you're out here, you're not nervous, because you've done it so much," she said. "I'm a really big fan of your voice."
Clarkson may have had a shot at winning Miles over — until Coach Blake Shelton, who is in his final season, devilishly intervened and passed Horan a note.
"Are you giving him help? What are you doing?" Clarkson asked.
"I'm giving him my phone number," Shelton tried to casually imply.
But Clarkson wasn't falling for it and Horan read the note out loud.
"Kelly can't coach nerves. She admits it," Shelton had written.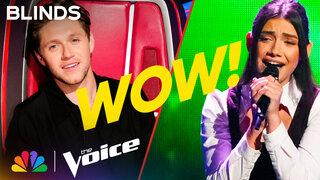 "He's right. I'm not good at it," Clarkson admitted. "I try so hard, but I fail every time."
Seizing an opportunity to jump on Clarkson's weakness, Horan doubled down on his own past in a second attempt to pitch to Miles.
RELATED: Gwen Stefani Crashed Blake Shelton's Latest Show in a Sparkly Crop Top and Performed
"Kelly is one of the best singers of the last 10 generations, and she can do the vocal ability stuff with you. I personally am not the biggest singer that ever walked the planet, but I feel like I try to sing with a bit of feel and a bit of character, and you have both of those things," he said.
"You went for the big chords, but you were so amazing in the early moments of the song. They are the moments that are like, oh God, you know when you hear a good verse sung by someone who really means what they're singing, there's no better feeling," he continued. "I've been there, I've walked through a competition like that."
Shelton admitted it "has truly been a battle to the death" between the two Coaches to win Miles over.
"The gloves have really come off on this one, I tell ya," he quipped.
It appeared his well-timed intervention on Horan's behalf paid off and Miles ultimately chose to go with Horan — but just don't expect Shelton to help out the first-time Coach again.
"I don't know if in Ireland it's common practice to be passed a note about somebody and then read the note allowed to the person," Shelton said, after taking flack from Clarkson. "I'm gonna get him back. That is the last time I'm helping that kid out."
To see who else the Coaches will fight to have on their teams, tune in to The Voice, airing Mondays at 8/7c and Tuesdays at 9/8c on NBC and streaming the following day on Peacock.