NBC Insider Exclusive
Create a free profile to get unlimited access to exclusive show news, updates, and more!
Sign Up For Free to View
Meet the British Country Singer Whose 'Wild' Voice Hooked Blake Shelton
Watch The Voice on NBC Mondays at 8/7c and Tuesdays at 9/8c and the next day on Peacock.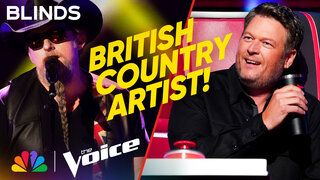 Season 23 of The Voice kicked off March 6. And after a jaw-dropping night of Blind Auditions, we're more excited than ever for what's to come.
Coaches Blake Shelton, Kelly Clarkson, Niall Horan, and Chance the Rapper witnessed some truly mind-blowing performers. Among them was Alex Whalen, the country singer from London with an unforgettable sound and trademark look.
From the moment Whalen began his Blind Audition of Sammi Smith's "Help Me Make It Through the Night," the Coaches were captivated. And with a country singer entering the mix, all eyes were on Shelton to see if he would spin that chair. Whalen has a timeless voice, which Clarkson noticed as soon as the song began. 
Shelton was the first Coach to spin his chair, with Chance following during the song's final moments. Shelton thought he had Whalen in the bag, but it wasn't so easy!
"You have a gorgeous voice. When you go low, that's your superpower, man. That storyteller in you, it's really nice," Clarkson said before playfully adding, "And I'm so stoked to see you work with Chance; it's just the coolest thing ever."
"it will be!" Chance echoed. "That was really good, man."
Shelton nudged Horan, "Here's the part where you take up for me, son."
"Alright, let me tell you about my old man here..." Horan teased before adding that Whalen's style is right up Shelton's alley. The father-son bond is strong between these two Coaches! 
"In all these years, I've never had a chance to work with a country singer from London," Shelton said. "And you've braided your beard nicely for television. I mean, you just look badass. Listen, man. I'm going to go ahead and say it...this is my last season as a Coach on this show, and I want you on my last team."
"But this is actually my last season, too," Chance hilariously countered. "I'm just kidding. I honestly think your voice is just so unique, man. Your tone! You're a natural tenor, but you can move around. And then I like your swag, man. I like the hat, I like the glasses on the hat, and I think that you could do well with Chance the Rapper."
So, who did Whalen choose as his Voice Coach? After careful consideration, Whalen became a member of the last-ever Team Blake, and Shelton is pretty pumped about it.
"Alex has got that thing about him," Shelton reflected. "His voice is a little bit wild, kind of had a rock edge to it." 
Watch The Voice on NBC Mondays at 8/7c, Tuesdays at 9/8c, and the next day on Peacock.