NBC Insider Exclusive
Create a free profile to get unlimited access to exclusive show news, updates, and more!
Sign Up For Free to View
Every Celebrity in SNL's Five-Timers Club
24 people have graced the Studio 8H stage (at least!) five times over 48 seasons of Saturday Night Live, earning them that sweet velvet jacket. 
Each episode of Saturday Night Live features a Host who takes center stage, co-starring in sketches with the cast after a frantic week of meetings, writing sessions, table reads, and rehearsal. The Hosts who are asked to return four more times to do it all over again become part of an exclusive group: The Five-Timers Club.
While the overwhelming majority of SNL Hosts could be considered celebrities—largely actors, musicians, and athletes, such as Season 48 Host Travis Kelce—that wasn't always the case in the show's first few seasons. In the show's early days, it also wasn't unusual for sharp, up-and-coming comic performers to host twice a season (looking at you, Steve Martin).
There are 24 members of the Five-Timers Club. That figure includes one member admitted on a technicality, who has donned one of the famous, robe-like Five-Timers Club jackets in a sketch nonetheless. Read on to see every person in Saturday Night Live's Five-Timers Club.
Which Five-Timer has hosted SNL the most times?
The 30 Rock actor has hosted 17 times since 1990, most recently in 2017.
Buck Henry was the first Five-Timer
Became a Five-Timer on: November 19, 1977
The concept of the Five-Timer's Club wasn't introduced until December 8, 1990, when fifth-time Host Tom Hanks was "inducted" during a sketch. But Hanks wasn't the first person to notch five SNL hosting gigs: That would be Buck Henry.
Best known for creating the TV series Get Smart and writing the 1967 film The Graduate, Henry hosted not once but twice during each of Saturday Night Live's first five seasons—so 10 times in total by 1980. Henry also played Liz Lemon's dad on 30 Rock.
Steve Martin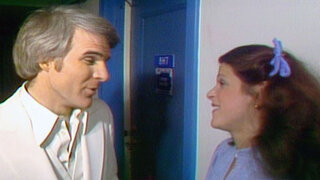 Became a Five-Timer on: April 22, 1978
Steve Martin has never been an SNL cast member. But he's hosted and appeared on SNL so often (three times in the 1978 calendar year alone!), you'd be forgiven for thinking he was.
RELATED: SNL's Longest-Running Cast Members
Elliott Gould
Became a Five-Timer on: February 16, 1980
Long before Elliott Gould played Ross and Monica Geller's dad on Friends, he hosted SNL six times between 1976 and 1980.
Paul Simon
Became a Five-Timer on: May 10, 1986
This one would be debatable, as Simon has hosted just four times—including the second-ever episode, back when it was simply titled NBC's Saturday Night. But, a.) he's been a musical guest 13 times, and b.) he was the first Five-Timer to greet Tom Hanks while wearing the jacket, so he's indisputably in. 
Chevy Chase
Became a Five-Timer on:  December 6, 1986
A member of the show's original Not Ready for Prime Time Players cast, Chase returned to host eight times between 1978 and 1997. He hosted his fifth episode alongside his Three Amigos! costars Steve Martin and Martin Short. 
Candice Bergen
Became a Five-Timer on: May 19, 1990
The Hollywood icon was the fourth and eighth-ever host of SNL. Bergen has returned for several Five Timer's Club sketches. 
RELATED: Watch the Most Memorable SNL Cold Opens in History
Tom Hanks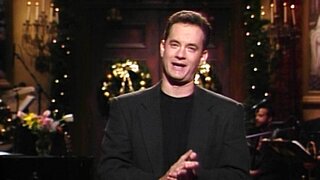 Became a Five-Timer on: December 8, 1990
Hanks's fifth episode famously introduced him—and viewers—to the Five-Timer's Club, where he joined Paul Simon, Steve Martin, and Elliott Gould. You'll notice that the Five-Timer's jacket, called a "club robe" here, has slightly different details than its newer versions. 
Danny DeVito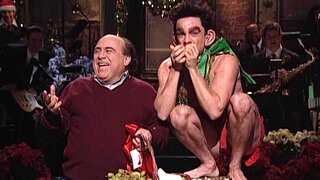 Became a Five-Timer in: January 9, 1993
Danny DeVito acknowledged becoming a Five-Timer in his 1999 monologue, but it was technically his sixth time hosting. The December 11, 1999 episode marked DeVito's fifth time as a solo Host, as he'd also co-hosted with his wife, actress Rhea Perlman, in 1983.
John Goodman
Became a Five-Timer in:  May 7, 1994
The Roseanne and The Righteous Gemstones star is in fact a 13-Timer. First hosting in 1989 and most recently in 2013, he's also made a dozen cameos over the years. 
Alec Baldwin
Became a Five-Timer on: December 10, 1994
Baldwin's record-setting amount of shows as Host (17) don't include his cameo appearances as characters like former president Donald Trump. 
Bill Murray
Became a Five-Timer on:  February 20, 1999
While former cast member Bill Murray is indelibly associated with SNL, he's hosted exactly five times. 
Christopher Walken
Became a Five-Timer on: May 19, 2001
Walken, Will Ferrell's co-star in the famous "More Cowbell" sketch, has hosted SNL seven times.
Walken's also fondly remembered for playing the world's worst ladies man in his recurring sketch "The Continental" (not to be confused with The Continental, Peacock's John Wick spinoff series, available on September 22, 2023). 
Drew Barrymore
Became a Five-Timer on: May 19, 2001
At seven years old, Drew Barrymore was the youngest person ever to host SNL in 1982. She returned to host six times in total over the years.
Justin Timberlake
Became a Five-Timer on: March 9, 2013
Timberlake first appeared on SNL as musical guest performing with NSYNC in 2000. No one could've guessed he'd go on to host five times—and score four Emmy Awards for his work on the show, including writing on "D*** in a Box." 
Ben Affleck
Became a Five-Timer on: May 18, 2013
Fun fact about Five-Timer Ben Affleck on SNL: Prior to becoming a "Weekend Update" fixture, Bill Hader's Stefon made his debut in a sketch as the strange brother of Affleck's character.
Tina Fey
Became a Five-Timer on: December 19, 2015
As a former Saturday Night Live head writer, "Weekend Update" anchor, and creator of the SNL-inspired 30 Rock (to say nothing of her many appearances as Sarah Palin, it should come as no surprise that Tina Fey has hosted six times.
Scarlett Johansson
Became a Five-Timer on: March 11, 2017 
Scarlett Johansson has hosted SNL six times, most recently in 2019. She also first met her husband, co-head writer and "Weekend Update" Host Colin Jost—while hosting the show in 2010.
NEXT: Colin Jost Has an Update on Pete Davidson's Ferry
Melissa McCarthy
Became a Five-Timer on: May 13, 2017 
For Melissa McCarthy's fifth (and most recent) time as Host, Steve Martin surprised her during the show's goodnight credits to gift her Five-Timer's jacket as Martin's fellow Five-Timer and faux nemesis Alec Baldwin looked on.
Dwayne "The Rock" Johnson
Became a Five-Timer on: May 20, 2017 
Johnson received his Five-Timer's jacket from Tom Hanks and Alec Baldwin during his opening monologue, which turned into a debate on whether Hanks or Johnson would make a better president. 
Jonah Hill
Became a Five-Timer on: November 3, 2018
Tina Fey, Drew Barrymore, and Candice Bergen welcomed Hill into the Five-Timer's Club.
Will Ferrell
Became a Five-Timer on: November 23, 2019
Though Ferrell has "only" hosted five times since his departure as a cast member in 2002, we're still hoping he'll return for a sixth time. 
Paul Rudd
Became a Five-Timer on: December 18, 2021
External circumstances made Paul Rudd's Five-Timer induction a bit different than the others: Due to the pandemic, there was no live studio audience, and several cast members were out sick.
In brighter news, Tom Hanks and Tina Fey were there in person to present Rudd with his velvet jacket, while Steve Martin and Martin Short put in a hilarious video appearance. 
John Mulaney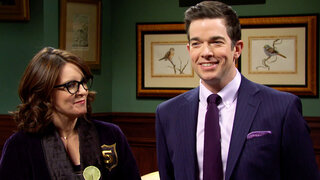 Became a Five-Timer on: February 26, 2022
Former SNL writer John Mulaney's Five-Timer's sketch was a star-studded one, with Paul Rudd joining Tina Fey, Steve Martin, Candice Bergen, Elliott Gould, and Conan O'Brien. Though he was an SNL writer at the start of his career, O'Brien's not a Five-Timer—but he did appear as the doorman in the very first Five-Timers sketch.
Woody Harrelson
Became a Five-Timer on: February 25, 2023
During his fifth run as SNL Host in Season 48, Woody Harrelson wondered aloud whether Jack White would also get a Five-Timer's jacket for being musical guest five times...
Jack White
...And sure enough, both White and Harrelson got theirs during the closing credits, courtesy of Scarlett Johansson.