NBC Insider Exclusive
Create a free profile to get unlimited access to exclusive show news, updates, and more!
Sign Up For Free to View
Will Ferrell on SNL: His Greatest Moments
The Strays star created a host of unforgettable characters during his seven seasons on Saturday Night Live.
Will Ferrell is an iconic Saturday Night Live cast member, admired for a seven-season run that birthed many iconic characters. Even if you can't recall the actual name of, say, the overzealous percussionist who delivered "More Cowbell," you'd instantly recognize him—or any of the larger-than-life personas Ferrell created—by a certain tilt of his head, a hyper-specific vocal inflection and, frequently, a wild wig.
Let's take a look back at 10 of the best moments from Will Ferrell's time on SNL, featuring his most memorable characters from the show.
When was Will Ferrell on SNL?
Ferrell was a Saturday Night Live cast member from 1995 to 2002 over seasons 21-27.
An alumna of L.A. comedy school The Groundlings, Ferrell's first SNL episode was on September 30, 1995.
Why did Will Ferrell leave SNL?
Ferrell left Saturday Night Live because he simply felt it was "the right time to go," as the comedian described it in the 2010 documentary Saturday Night Live in the 2000s: Time and Again.
"It's kind of like dog years," he told the Chicago Tribune in 2002, describing his relatively long tenure on the show.
Seeking a pivot from TV to film, Ferrell starred in Old School, Anchorman, and the modern holiday classic Elf in the two years following his SNL departure. In 2023, Ferrell had central roles in the films Barbie and Strays, co-starring Jamie Foxx and Isla Fisher. In addition to TV roles on shows like The Office, Ferrell has returned to SNL several times over the years—and he's a member of the "Five Timers" club of SNL Hosts. 
RELATED: Strays director on casting Will Ferrell and Jamie Foxx
Gene Frenkle gives 'em "More Cowbell"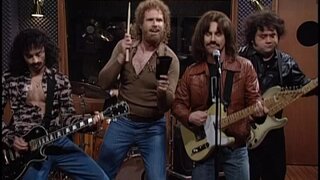 This sketch took us back to a fictional moment in the 1970s, when producer Bruce Dickinson (played by Host Christopher Walken) told Blue Oyster Cult that their "Don't Fear the Reaper" song needs…well, you know. Will Ferrell's Gene Frenkle rattles his band members as he takes the "more cowbell" command to the next level.
Alex Trebek is Sean Connery's nemesis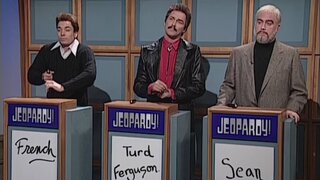 Will Ferrell's Alex Trebek ranks among his funniest impressions, alongside George W. Bush, Janet Reno, and James Lipton.
This particular sketch's contestants were Third Rock from the Sun star French Stewart (Jimmy Fallon), Burt "Turd Ferguson" Reynolds (Weekend Update Host Norm MacDonald), and Sean Connery (Darrell Hammond), whose hostile dynamic with Ferrell's Trebek never failed to entertain.
Craig Buchanan, Spartan cheerleader
When Miles Teller hosted SNL in Season 48, he shared that he and his sister used to recreate Will Ferrell and Cheri Oteri's high-energy Spartan cheers. And who can blame him, when they made this look so fun?
Dr. Beaman, baby misplacer
"Dr. Beaman's Office: Test Results" is a cult favorite SNL sketch, with an absurdly escalating premise and joyously unhinged energy. It's also one of the rare times Ferrell ever broke character, while portraying a pompous and rude doctor who tells a couple (Molly Shannon and Chris Parnell) that he "flat-out lost" their newborn baby.
RELATED: "Now I Have a Will Ferrell Running Around My Home" - How to Direct Dogs with Strays' Josh Greenbaum
Roger Klarvin, hot tub "love-ah"
As one half of the Klarvin couple with Rachel Dratch, Ferrell struck a perfect balance between creepy and well-meaning as a guy you'd rather not acknowledge in a hotel hot tub.  Ferrell also seemed to delight in trying to get Jimmy Fallon, who usually co-starred in the sketch, to break.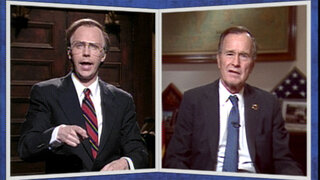 Angry baseball dad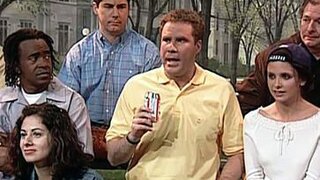 Ferrell's parody of a too-invested Little League dad is hilarious, especially if you've met overly-competitive parents like him in real life. 
The Jeffrey's manager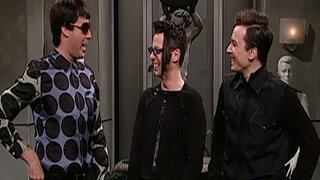 No sketch about Jeffrey's, an uber-trendy men's fashion boutique that really existed until 2020, was complete until Ferrell appeared as the store's painfully hip manager. In this sketch, Jimmy Fallon and Host Sean Hayes can barely keep it together when Ferrell (literally) rolls up.
George W. Bush
Wielding a subtle array of confused expressions, Ferrell leveraged his passing resemblance to George W. Bush to create a political impression to rival Tina Fey's Sarah Palin.
Harry Caray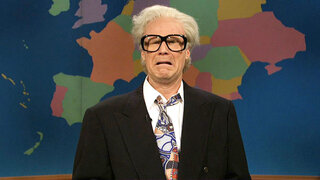 Did you know that Will Ferrell's Harray Caray was part of his original SNL audition? His zany take on the legendary sports broadcaster was popular enough that he returned in character for a Weekend Update visit in 2013.
The sensitive drill sergeant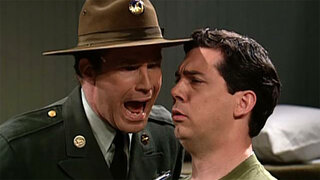 This sketch co-stars Tracy Morgan, David Spade, Chris Parnell, and Tim Meadows as boot camp soldiers who are forced to counsel their tough-talking sergeant (Ferrell) through his intimacy issues—in the most macho way possible, of course. Watching Ferrell try to make his scene partners laugh by getting thisclose to their faces makes it all the more fun.
Bonus: Will Ferrell and Britney Spears go off the grid
Ferrell returned to SNL in 2003 to tell Weekend Update Hosts Tina Fey and Jimmy Fallon about his new life with fellow retired-from-Hollywood star Britney Spears.