NBC Insider Exclusive
Create a free profile to get unlimited access to exclusive show news, updates, and more!
Sign Up For Free to View
SNL Weekend Update Hosts Through the Years
From Chevy Chase to Michael Che, here's a look back at 15 "Weekend Update" anchors who've sat behind the desk. 
Saturday Night Live's first "Weekend Update" segment aired during its premiere episode on October 11, 1975. The mock newscast has been a staple in nearly every season since, save for a few years in the 1980s (more on that below).
Every era of "Weekend Update" has been unique, its tone set by the segment's anchor —or, in the case of Colin Jost and Michael Che or Amy Poehler and Tina Fey, co-anchors. Tasked with commenting on the news of the day, "Weekend Update" Hosts have entertained and, in particularly turbulent times, even comforted audiences at home with topical humor that's ranged from vulnerable and thoughtful to absurdly silly. The segment's also served as a launchpad for dozens of unforgettable SNL characters, from Gilda Radner's Roseanne Roseannadanna to Bill Hader's Stefon.
RELATED: The Hilarious History of Bill Hader's Stefon
Over nearly five decades, a total of 34 people have served as faux-news anchors at SNL, on both "Weekend Update" and several related formats. Below, we're looking back at the 15 regular "Weekend Update" Hosts that earned loyal fans during their tenure behind the desk.
Chevy Chase (1975-1976)
Chevy Chase was the first "Weekend Update" anchor. Originally hired by SNL co-creator Lorne Michaels as a writer, Chase became a member of the original SNL cast, aka the Not Ready for Prime Time Players, before the premiere.
Chase co-created "Weekend Update" with SNL writer Herb Sargent, pioneering the format as we know it: A satirical news report, featuring cast members appearing both as themselves and as wild characters.
"He certainly got the show off to a great start," James Andrew Miller, co-author of the book Live from New York: An Uncensored History of Saturday Night Live, told Charlie Rose in 2003. "During the first five or six weeks of the show, Chevy was the only one who got to say his name," Miller added, referring to a signature "Weekend Update" greeting: "I'm Chevy Chase and you're not."
Jane Curtin (1976-1980)
Original cast member Jane Curtin was the second official "Weekend Update" anchor after Chevy Chase's departure, and hosted solo through season 2.
Known for her deadpan delivery, Curtin told the Hollywood Reporter in 2019, "I could do the comedy, but they needed a straight person. And I knew I could do that, too."
Jane Curtin and Dan Aykroyd (1977-1978)
Dan Aykroyd spent one season behind the "Weekend Update" desk, joining Jane Curtin as the segment's first co-anchor. Their run together is best remembered for their 60 Minutes satire "Point/Counterpoint," in which Aykroyd played Curtin's hotheaded conservative foil.
Jane Curtin and Bill Murray (1978-1980)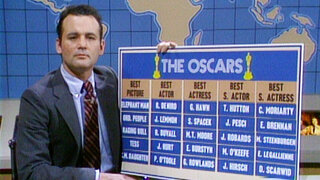 Bill Murray took the co-anchor spot in SNL seasons 4 and 5, helming the desk alongside Curtin. Like most of his fellow anchors, he'd return to "Weekend Update" in future seasons for segments like "Bill Murray's Oscar Predictions.
Charles Rocket (1980-1981)
Charles Rocket's one-season stint as "Weekend Update" anchor marked a period of huge change for SNL following the departure of the original cast and creator Lorne Michaels. Rocket hosted the broadcast, both as a solo anchor and alongside cast member Gail Matthius, for most of season 6. Ultimately, Chevy Chase returned to the desk as a special guest anchor for the season finale alongside staff writer Al Franken.
Rocket's "Weekend Update" would be the last for several years. In seasons 7-10, the show experimented with different news formats (such as "SNL Newsbreak" and "Saturday Night News") featuring a rotating roster of cast members including Eddie Murphy, Brian Doyle-Murray, Mary Gross, Christine Ebersole, Brad Hall, and Christopher Guest.
Dennis Miller (1985-1991)
"Weekend Update" returned in SNL season 11, when Lorne Michaels came back to the show as executive producer and hired comedian Dennis Miller to host the segment. Miller's popular run was the longest-running solo stint prior to Seth Meyers', and he was known for the signoff, "Guess what folks? That's the news, and I'm outta here!"
Kevin Nealon (1991-1994)
Kevin Nealon hosted "Weekend Update" for three of his nine seasons on SNL. As an anchor, Nealon welcomed characters such Adam Sandler's Cajun Man and Chris Farley's Bennett Brauer, and was best known for his segments as Mr. Subliminal.
Norm MacDonald (1994-1997)
Known for edgier humor than many of his "Weekend Update" predecessors—and his "note to self" bits—Norm MacDonald helmed "Weekend Update" during seasons 20-23.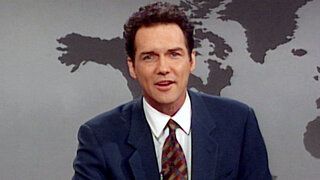 Colin Quinn (1998-2000)
Colin Quinn took over "Weekend Update" midway through Season 23, hosting through Season 25. Quinn had previously appeared behind the desk in character appearances as Joe Blow (a curmudgeonly precursor to Bobby Moynihan's Drunk Uncle).
Jimmy Fallon and Tina Fey (2000-2004)
Tina Fey was SNL's first woman head writer when she first became known to TV viewers through co-hosting "Weekend Update" with Jimmy Fallon. Though Fey wrote in O, the Oprah Magazine that she was "petrified" to accept the anchor seat, she said her answer was "Yes, thank you, of course!"
Tina Fey and Amy Poehler (2004-2006)
When Amy Poehler replaced Jimmy Fallon after he exited SNL, it was the first time "Weekend Update" was co-hosted by two women. Though Poehler and Fey only co-anchored for two seasons, they've reunited many times over the years, returning to the "Update" desk together, co-hosting The Golden Globes four times, and headlining on a comedy tour in 2023.
RELATED: Tina Fey and Amy Poehler Are Going on a Comedy Tour for the First Time 
Amy Poehler and Seth Meyers (2006-2008)
SNL continued its duo streak in season 32 with Amy Poehler and Seth Meyers, who charmed viewers with recurring features such as "Really!?! with Seth and Amy."
Seth Meyers (2008-2013)
In the years before becoming the Host of Late Night, Seth Meyers got plenty of practice cracking politics-focused jokes on late night TV: He set the record for longest-serving "Weekend Update" anchor. The onetime SNL head writer received 11 Emmy nominations and one win for his writing on the show over the years.
Seth Meyers and Cecily Strong (2013-2014)
In Season 39, Meyers was joined by co-anchor Cecily Strong, who is also remembered for popular "Weekend Update" characters such as Cathy Anne and The Girl You Wish You Hadn't Started a Conversation with at a Party.
RELATED: Every Tonight Show Host Through the Years
Cecily Strong and Colin Jost (2014)
SNL head writer Colin Jost replaced Seth Meyers, who left to host Late Night with Seth Meyers. As for why Cicely Strong didn't continue hosting "Weekend Update" the following season, she told the WTF with Marc Maron podcast in 2020, "I like doing characters. That's really fun. That's what I want the bulk of what I do on the show to be." 
Colin Jost and Michael Che (2014–present)
Colin Jost and Michael Che are the current hosts of "Weekend Update," first appearing as co-anchors in the season 40 premiere. The duo are known for their onscreen dynamic, particularly the "joke swaps" segment that finds them reading jokes each has written for the other.
Jost broke Meyers' record for longest-ever host of "Weekend Update" in October 2021, which Meyers acknowledged on Late Night. "A few people have come up to me and said, 'Did that make you sad, having your record broken?'" Meyers joked that it didn't, because as someone with a nightly gig, "I've hosted like 1,200 of these while Jost has done his 155." All kidding aside, Meyers also said, "I think he and Che do a great job."