NBC Insider Exclusive
Create a free profile to get unlimited access to exclusive show news, updates, and more!
Sign Up For Free to View
Tina Fey and Amy Poehler's Best Moments Together on SNL
Fey and Poehler's creatively fruitful friendship dates back to 1990s. Revisit their best Saturday Night Live sketches from their time on the show and their multiple returns since. 
Tina Fey and Amy Poehler's friendship has produced a lot of collaborations over the years: The two have co-starred in movies like Wine Country, Baby Mama, and Sisters, co-hosted the Golden Globes four times, and embarked on a 2023 comedy tour. But while the two actually began working together nearly three decades(!) ago, most fans first got to know Fey and Poehler through their work on Saturday Night Live.
During the five years in which Fey and Poehler were SNL cast members at the same time from 2001-2005, they served as the first female "Weekend Update" hosting duo. They also starred in hysterical sketches together both during their original time on the show and their multiple returns since. The two even share a 2016 Outstanding Guest Actress In A Comedy Series Emmy for their turn co-hosting SNL.
Here, we're revisiting some of the best sketches from Tina Fey and Amy Poehler's time together on SNL.
How did Tina Fey and Amy Poehler meet?
As Poehler explained in her 2014 book, Yes Please, Fey and Poehler met at Chicago's ImprovOlympic in 1993, introduced by Chandra Halpern, the comedy theater's co-founder.
"She said there was another new improviser in another one of her classes whom she thought I would really like," Poehler wrote. "Her name was Tina and she was like me but with brown hair."  Fey, she continued, "was sharp, shy, and hilarious."
Fast friends, the two would go on to write and perform together in Second City's touring company. By 1997, both Poehler and Fey had moved from Chicago to New York City, with the former co-founding the UCB Theater and Fey joining SNL as a writer.
Poehler joined the Saturday Night Live cast herself in 2001. "I was so happy," Fey wrote in her own book, 2011's Bossypants. "Weirdly, I remember thinking, 'My friend is here! My friend is here!'"
The Bush Twins' Secret Language
Years before Fey would roll out her famous Sarah Palin impression, she and Poehler played two prominent figures from the political landscape of 2005: George W. Bush's twin daughters, Jenna and Barbara. 
Sharing the "Weekend Update" desk
From that time they gave Lindsay Lohan career advice to the 40th anniversary special co-anchored by Jane Curtin and Emma Stone as Gilda Radner's Roseanne Roseannadanna, Fey and Poehler delivered the faux news like no one else could time and again. 
Mom Jeans
Fey told Sirius XM that she wrote this iconic SNL commercial, which co-stars Poehler, Maya Rudolph and Rachel Dratch,  after purchasing "an unfortunate pair of jeans" for herself at a store in the 30 Rock building. 
Annuale
Fey and Poehler are standouts in this 2008 ad from one of Fey's returns to the show.
Katie Couric Interviews Sarah Palin
This 2008 parody of a real-life interview remains one of the most memorable SNL cold opens of all time... 
Sarah Palin and Hillary Clinton Address the Nation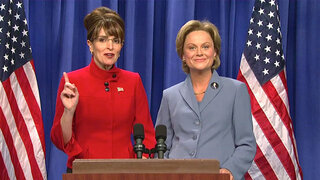 ...and so does this cold open from the same year. 
Amy Poehler's Anxiety Dream
When Poehler hosted SNL in 2010, Fey showed up in her monologue's "anxiety dream" about how the night would go (as did Seth Meyers, Rachel Dratch, Justin Timberlake and Jimmy Fallon). 
Tina and Amy's Dope Squad
Taylor Swift's "Bad Blood" video was a star-studded faux action trailer starring the likes of Selena Gomez and Mariska Hargitay. Fey and Poehler's parody reveals they share the same gynecologist, and features a confused Amy Schumer asking, "wait, who are we mad at?"
Movie Set
This sketch from the duo's 2015 co-hosted episode proves that they're extremely fun to watch, even when they're simply sputtering nonsense.