NBC Insider Exclusive
Create a free profile to get unlimited access to exclusive show news, updates, and more!
Sign Up For Free to View
Debbie Downer: A History of Rachel Dratch's Iconic SNL Character
An awkward vacation interaction inspired Rachel Dratch to create a character—and a sad trombone noise—that Saturday Night Live fans still love.
On May 1, 2004, a Saturday Night Live character made their debut in a sketch starring Host Lindsay Lohan and SNL cast members Jimmy Fallon, Amy Poehler, Kenan Thompson, Horatio Sanz, Fred Armisen and Rachel Dratch. The character's name was Debbie Downer.
In the scene, Debbie's dismal, conversation-stopping one liners bummed her family out. Onstage, though, Dratch and her co-stars couldn't stop breaking into laughter, cementing its place as one of SNL's most memorable sketches.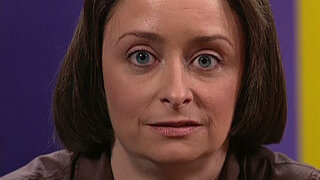 "I held it in, up to the end," Fallon recounted to People in 2018. But as Dratch delivered Debbie Downer's final line—"It's official: I can't have children!"—the Tonight Show Host said he lost it along with everyone else. 
"The whole studio vibrated," Fallon said, "and I started crying laughing."
Debbie Downer would make seven more show appearances over the years (not counting the eighth unaired sketch!), even finding love with a character played by a certain star of The Office. Here's a history of the Debbie Downer sketch, from its origins to famously-bleak character's final appearance.  
Who played Debbie Downer on SNL?
The origin of Debbie Downer
Rachel Dratch came up with the idea not in the halls of 30 Rockefeller Plaza, but on a trip to Costa Rica. 
RELATED: Will Ferrell's Greatest SNL Moments
"I was on a vacation and there was this communal dining table and someone was like, 'Oh, where are you from?' and I said, 'New York,' and then they said, 'Were you there for 9/11?' And everything just screeched to a grim halt," Dratch told Salon in 2015. 
"I didn't think of it that second, but then a week later it just popped into my head, this character Debbie Downer," she said.
Dratch wrote the first sketch with SNL writer Paula Pell. Originally set in an office, "it wasn't really working, so we thought we needed to set it somewhere really happy and we put it in Disney World." This led to an especially hysterical moment in which Debbie makes Pluto sad. 
What is the Debbie Downer sound?
The sad trombone-esque sound that follows Debbie's hilariously depressing revelations began as a joke between Dratch and Pell.
"As we were writing we started going 'wah-wah' just to ourselves. And then we were like, 'what if we actually put the horn sound effects in there?'" Dratch explained to Salon. "That was just a joke we were doing to each other, but we put it in and it did really well at the table."
Every Debbie Downer sketch, in order
Following the first Debbie Downer sketch in Season 29, her character returned for eight more sketches, including one featuring Betty White that was cut for time.
October 2, 2004
[EMBED] <iframe width="560" height="315" src="https://www.youtube.com/embed/Aek_t8GT6bg?si=62MnPwgVdikuc1PW" title="YouTube video player" frameborder="0" allow="accelerometer; autoplay; clipboard-write; encrypted-media; gyroscope; picture-in-picture; web-share" allowfullscreen></iframe> [/EMBED]
In the second installment, Host Ben Affleck played a birthday party guest of honor who's trying to have fun with his friends and family (Armisen, Poehler, Sanz, and Maya Rudolph) despite Debbie Downer's sad commentary on a hostage crisis, juvenile diabetes, and her potassium deficiency. 
November 20, 2004
Debbie returned for a Thanksgiving dinner with Host Luke Wilson, where she informed him that feline AIDS is "the number one killer of domestic cats [sad 'meow-meow' sound]." Seth Meyers grabbed a seat at the table this time around, too. 
February 19, 2005
Safe to say Debbie ruined Host Hilary Swank's Oscars night.
October 1, 2005
In the Season 31 premiere, Debbie finally met her sad match in Host Steve Carrell's character Bob Bummer. Aww!
December 17, 2005
In "A Very Downer Christmas" from Season 31's holiday episode, Debbie gets her own version of "You're a Mean One, Mr. Grinch," and meets Santa Claus (Host Jack Black). 
April 15, 2006
Lindsay Lohan returned for Debbie Downer's final appearance during Dratch's run as a cast member, crashing a bachelorette party for her sister (Lohan) in Vegas.  
RELATED: Two People Inspired Bill Hader's Stefon on SNL 
May 8, 2010
Dratch returned to SNL to play Debbie Downer in a cut-for-time sketch costarring Kristen Wiig, Maya Rudolph, Amy Poehler, Tina Fey, Molly Shannon, and Ana Gasteyer. When Poehler's character asks Debbie what made her this way, we're treated to a flashback where we meet Debbie's buzzkill grandma (Host Betty White). 
March 7, 2020
In what turned out to be a somewhat prescient sketch from the beginning of the Covid-19 pandemic, Dratch's Debbie returned to the wedding scene in a gas mask, surprising the audience with the reveal.