NBC Insider Exclusive
Create a free profile to get unlimited access to exclusive show news, updates, and more!
Sign Up For Free to View
Seth Meyers Knew About Cecily Strong's SNL Exit Before Her Announcement
"She was one of the best," he said.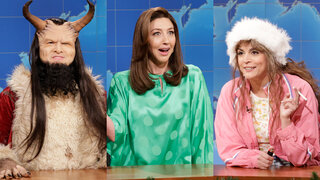 Cecily Strong announced her departure from Saturday Night Live in December 2022, much to the surprise of many. However, when asked about Strong's announcement on Watch What Happens Live With Andy Cohen, Late Night  Host Seth Meyers revealed he knew about what was going to happen beforehand. 
"I will admit I was aware that she was gonna push off that night," he said.
Meyers then went on to praise Strong's career and talent. "And I would just say, she had such a remarkable run, and there are very few people who hit the ground with as much self-assurance as she had," he added.  "I was just in awe of her, being there for her first year and sticking around and watching every week as she just had this incredible career. So I think the show will miss her a great deal, but mostly I think we should all just count ourselves incredibly fortunate we got to watch so many great years from her. She was one of the best."
Andy Cohen then played a fun game titled "SN-Yell" with Meyers, where he threw out the name of some Saturday Night Live greats and had Meyers say the first thing that came to his mind. The hilarious list went as follows:
Amy Poehler? "The glue that holds it all together," Meyers said.  
Tina Fey? "Incredible writer."
Jimmy Fallon? "Charisma in a bottle."
Kristen Wiig? "A great observer of humanity."
Keenan Thompson? "Always good for a laugh."
Aidy Bryant? "Pure courage, brass balls."
Bill Hader? "Comedy scientist."
Kate McKinnon? "Deepest eye contact I've ever held. And I think the reason people love her is I've never seen anybody stare into a camera like Kate McKinnon. I think when people watched her on 'Weekend Update,' it was like a trance."
Jay Pharoah? "A million voices."
Maya Rudolph? "A jack of every trade."
Andy Samberg? "Eh." Meyers said jokingly, while adding that he and Samberg are still in touch via The New York Times Spelling Bee.
Watch Saturday Night Live on NBC Saturdays at 11:30/10:30c and next day on Peacock. 
And as always, Watch Late Night With Seth Meyers on NBC weeknights at 12:35/11:35c and next day on Peacock.