NBC Insider Exclusive
Create a free profile to get unlimited access to exclusive show news, updates, and more!
Sign Up For Free to View
SNL's Longest-Running Cast Members
Each of these dynamically-talented performers graced the Studio 8H stage for (at least!) a decade. 
From crafting detailed costumes on mere days' notice to shooting pretaped sketches, a lot of work goes into making each episode of Saturday Night Live. For the performers tasked with trying to make people laugh in real time every week, there's the additional pressure that comes with being in front of the camera—often after writing and rehearsing sketches at a famously warp-speed pace. 
As many current and former cast members have shared, while making the weekly show is exhilarating, the gig is as physically demanding as it is creatively rewarding. 
"I mean, I could do it for the rest of my life, happily, if the schedule were not so grueling, and if I was not naturally a person who liked to wake up at 8 a.m. and go to bed at midnight," Kate McKinnon told Vulture's Good One podcast, explaining why she left SNL at the end of season 47. 
McKinnon is just one of Saturday Night Live's longest-serving cast members. Here is every SNL performer who spent (at least!) 10 years on the show.
Which cast member has been on SNL the longest?
Already a sketch comedy veteran when the All That alum joined as a featured player in 2003, Kenan Thompson has been an SNL cast member for 20 years. 
Darrell Hammond
Darrell Hammond was the second longest-running SNL cast member, with a tenure that lasted 14 seasons from 1995-2009.
But wait: While he departed as a performer at the end of Season 35, Hammond is currently SNL's announcer, replacing original announcer Don Pardo after he died in 2014. 
Seth Meyers
Seth Meyers was part of the SNL cast for 13 seasons from 2001-2014, ultimately leaving to host Late Night with Seth Meyers. Meyers was also head writer for nine seasons, and a longtime "Weekend Update" Host. 
RELATED: Every Saturday Night Live "Weekend Update" Host, in Order
Cecily Strong
Cecily Strong was Saturday Night Live's longest-running female cast member, starting as a featured player during Season 37 in 2012 and leaving midway through Season 48 in 2022. 
Kate McKinnon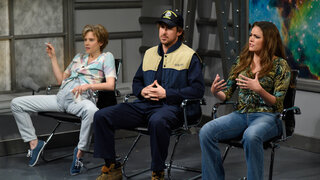 Kate McKinnon also spent 11 seasons at Saturday Night Live from 2012-2022. The actress-comedian's run ended in Season 47, ahead of Strong's departure half a season later. 
 

Fred Armisen

Fred Armisen was on Saturday Night Live for 11 seasons, from 2002-2013. He started as a featured player in Season 28, and exited the show at the end of Season 38.

But like fellow SNL alums Seth Meyers and Jimmy Fallon, he didn't travel far when it came to one of his next gigs: Also a longtime musician, Armisen moved from Studio 8H to Studio 8G to be the band leader for Late Night with Seth Meyers. 
Aidy Bryant
Aidy Bryant joined SNL in 2012 during Season 38. She was part of the cast for 10 seasons, leaving at the end of Season 47 in 2022.
RELATED: A History of Rachel Dratch's Iconic "Debbie Downer" Character
Tim Meadows
Tim Meadows had another famously-long stint as an SNL cast member, appearing for 10 seasons from 1991-2000. One of his recurring SNL characters even got a 2000 feature film of their own, The Ladies Man. 
Al Franken
Al Franken was one of the show's writers at its inception, but he didn't log 10 consecutive years as a performer on SNL. His years as part of the cast occurred in two five-year stints: He was a featured player in Season 5 from 1979-1980, and appeared again in 1986 after a four-year absence from the show.
Franken then returned as a featured player from 1988-1995, mainly to play the character he was best known for, self-help enthusiast Stuart Smalley.
Colin Jost
A writer for SNL since 2005, Colin Jost was a head writer from 2012-2015, and co-head writer alongside cast member Michael Che from 2017-2022. Jost is also the longest-running "Weekend Update" anchor, since 2014. Though Jost has technically only been a cast member for nine years, he's appeared in sketches since 2006.