NBC Insider Exclusive
Create a free profile to get unlimited access to exclusive show news, updates, and more!
Sign Up For Free to View
Stefon on SNL: A History of Bill Hader's Hilarious Character
The Weekend Update fave, who "married" Seth Meyers on SNL, actually first appeared in a 2008 sketch with Ben Affleck. 
Stefon is a fan favorite character from Saturday Night Live's "Weekend Update," known for his hilariously bizarre descriptions of New York's hottest club of the moment. 
But when Stefon made his first "Update" appearance on April 24, 2010, no one was more surprised than the two people who'd created the character: Bill Hader, who played Stefon, and standup comedian and actor John Mulaney, who wrote on SNL from 2008-2013.
As Mulaney recounted in a 2018 "Behind the Sketch" video for SNL, what they'd written "was so weird that I so assumed it would be cut. And I said, 'when you cut this, can we try it again?' Because we thought it was just not going to be liked by anyone." 
What's more, Stefon's "Weekend Update" debut wasn't even the first time Stefon had appeared on the show. Here is a complete history of SNL's Stefon, according to Hader, Mulaney, and his onscreen "husband" Seth Meyers.
Stefon first appeared in a sketch with Ben Affleck
In a November 1, 2008 sketch titled "Movie Pitch with Stefon," Hader played Stefon Zolesky, wild brother to Host Ben Affleck's David Zolesky. "It barely worked as a sketch," Hader later recounted on Late Night with Seth Meyers. 
"Weekend Update" producers asked if they wanted to write a Stefon appearance the following season, and it soon became clear Stefon had found the perfect showcase—and the perfect foil in "Weekend Update" Host Seth Meyers. 
Who is the character of Stefon based on?
In a 2014 interview at the New Yorker Festival, Hader explained that Stefon was inspired by two people.
The first was a club promoter who had emailed John Mulaney, writing a four-word phrase that every Stefon fan knows: This club has everything. "The club was called, like Push, or something," Hader said. "One of the things in the email was rooms full of broken glass."
RELATED: Will Ferrell's Greatest SNL Moments
Hader based Stefon's speech and mannerisms on a barista at his local coffee shop. He told The New Yorker that he learned that his barista was aware of his influence on Hader's Stefon when he returned to the coffee shop a year after he'd left SNL in 2014.
"The minute I walked in, the cashier was like, 'he don't work here no more," Hader said, musing, "I hope he's thrilled."
Styling Stefon (and choosing his shirt)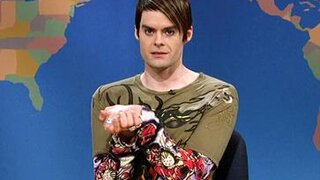 When it comes to Stefon's shirt design, Mulaney said that he'd pictured an Ed Hardy shirt. Except, "I did not know what an Ed Hardy shirt was—I was picturing something from that MacCaulay Culkin/Seth Green movie Party Monster, like a latex shirt or something." Nevertheless, he and Hader were happy with the "weird snake tattoo art" Stefon wound up wearing.
John Mulaney would try to make Bill Hader break as Stefon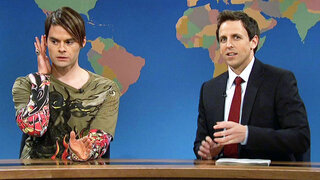 "The first time we did it at dress, Bill started laughing a lot," Mulaney said in his Behind the Sketch interview. "And then afterwards he was apologizing to me because he has a strong work ethic and stuff, and thinks that it's bad to mess up. And I think it's very funny to mess up."
Mulaney made it a personal goal to make Hader laugh while in character as Stefon. "I started changing the lines before he would go out there," he continued. "Just a little—not all the lines, but just a little bit."
RELATED: SNL's "Mario Kart Movie" sketch is up for two Emmys
"I'm someone that goes over my lines kind of obsessively," Hader told Howard Stern in 2013, "and John knows this." He added that Mulaney would also tell Hader a new line just as he was about to go on, in hopes that he'd break when he knew it was coming. 
Stefon and Seth Meyers' "wedding"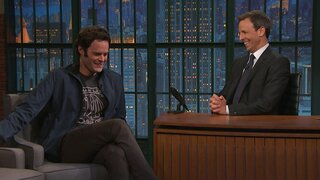 May 18, 2013 marked Stefon's final appearance as a "Weekend Update" regular (and Hader's last episode as a cast member). 
In the goodbye sketch, Stefon told Meyers—who he'd flirted with many time in segments, eventually sharing a kiss and a summer vacation—that he was finally over Meyers and planning to marry someone else. Recreating The Graduate's climactic scene, Meyers interrupted his wedding to CNN anchor Anderson Cooper at St. Patrick's Cathedral.
The church pews were full of almost every character Stefon had described, and in an easter-egg callback to Stefon's first SNL appearance, Ben Affleck showed up to tell Stefon, "follow your heart, bro!"
Meyers and Hader remembered their fake wedding fondly on Late Night with Seth Meyers in 2014, reminiscing about holding hands and getting teary as they watched the footage on the monitor. 
When was Stefon's last SNL appearance?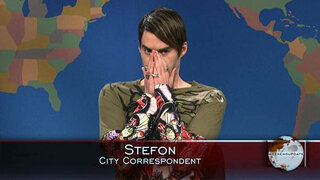 Bill Hader returned as Stefon on February 1, 2014, for Seth Meyers' final show. His two turns as Host in 2014 and 2018 also included Stefon segments, the latter also featuring Mulaney as Stefon's lawyer, Shy. 
We can only hope that Hader will return as Stefon (and as Host?) again in a future SNL episode.