NBC Insider Exclusive
Create a free profile to get unlimited access to exclusive show news, updates, and more!
Sign Up For Free to View
7 Incredibly Memorable Seth Meyers 'Day Drinking' Celeb Appearances
From Rihanna to the Jonas Brothers, watch your favorite stars knock back a few.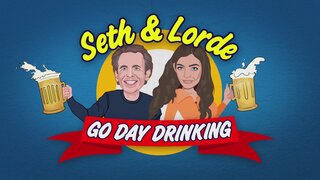 What started off as a couple alcohol-fueled adventures with his brother, dad, and mom quickly turned into a Late Night With Seth Meyers phenomenon. Yes, we're talking about Meyers' iconic "Day Drinking" segment where he enlists some of our favorite celebrities to spend the day with him at an NYC bar.
The premise is simple: Meyers interviews the stars as they down copious amounts of alcohol and play silly games. The results are delightfully uninhibited as we realize celebs are just like us when they've had a few drinks. Below, every single "Day Drinking" segment Meyers has had so far. 
Lizzo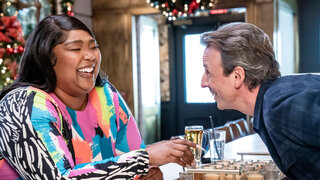 The latest hilarious iteration of "Day Drinking" sees the Grammy winner and Late Night Host get silly as they throw back festive shots of eggnog and chug box wine directly from the bag—or as they call it, "wag the bag." 
Rihanna
Robyn "Rihanna" Fenty herself has the most viral "Day Drinking" segment of all time with more than 20 million views on YouTube. During the episode, Meyers serves the billionaire drinks inspired by her chart-topping hits. ("Under My Rumbrella," "Diamonds In the Rhye," and "Bitch Better Have My Bunny"). Meyers even got an exclusive Fenty Beauty makeover that's just as amazing as it sounds.
Kelly Clarkson
The Kelly Clarkson Show Host joined Meyers at The Standard's rooftop bar as they downed cocktails that doubled as nods to her illustrious music career. Take the "Simon Cowell"—vodka and hot sauce—named for the AGT and former American Idol Judge. (Clarkson won AI's first season.) The best part, though, was when Meyers donned a pair of headphones and shamelessly belted a rendition of "Since U Been Gone." 
Ina Garten
Meyers and the beloved Barefoot Contessa faced-off in a slew of side-splitting challenges, from making Garten's very own cocktail recipes to guessing which photos of bare feet belonged to which celebrity. 
The Jonas Brothers
Meyers enlisted the help of his brother, Josh Meyers, and comedian Jack McBrayer when all three Jonas Brothers (Kevin, Joe, and Nick) joined him for "Day Drinking" at the Royal Palms Shuffleboard Club. 
Lorde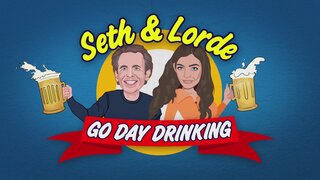 The New Zealand pop singer famously confessed to needing an IV drip after filming her "Day Drinking" segment. 
Retta
The stand-up comedian and former Parks and Recreation actress goes down in history as Meyers' first "Day Drinking" guest that wasn't a family member. The two started off light with glasses of champagne before heading into dangerous territory with inventive cocktails inspired by their favorite shows.
Watch Late Night with Seth Meyers on NBC weeknights at 12:35/11:35c and next day on Peacock.