NBC Insider Exclusive
Create a free profile to get unlimited access to exclusive show news, updates, and more!
Sign Up For Free to View
The Shocking Way Carol Burnett Found Out She's Related to SNL's Bill Hader
Burnett is a comedy superstar, and it looks like it runs in the family.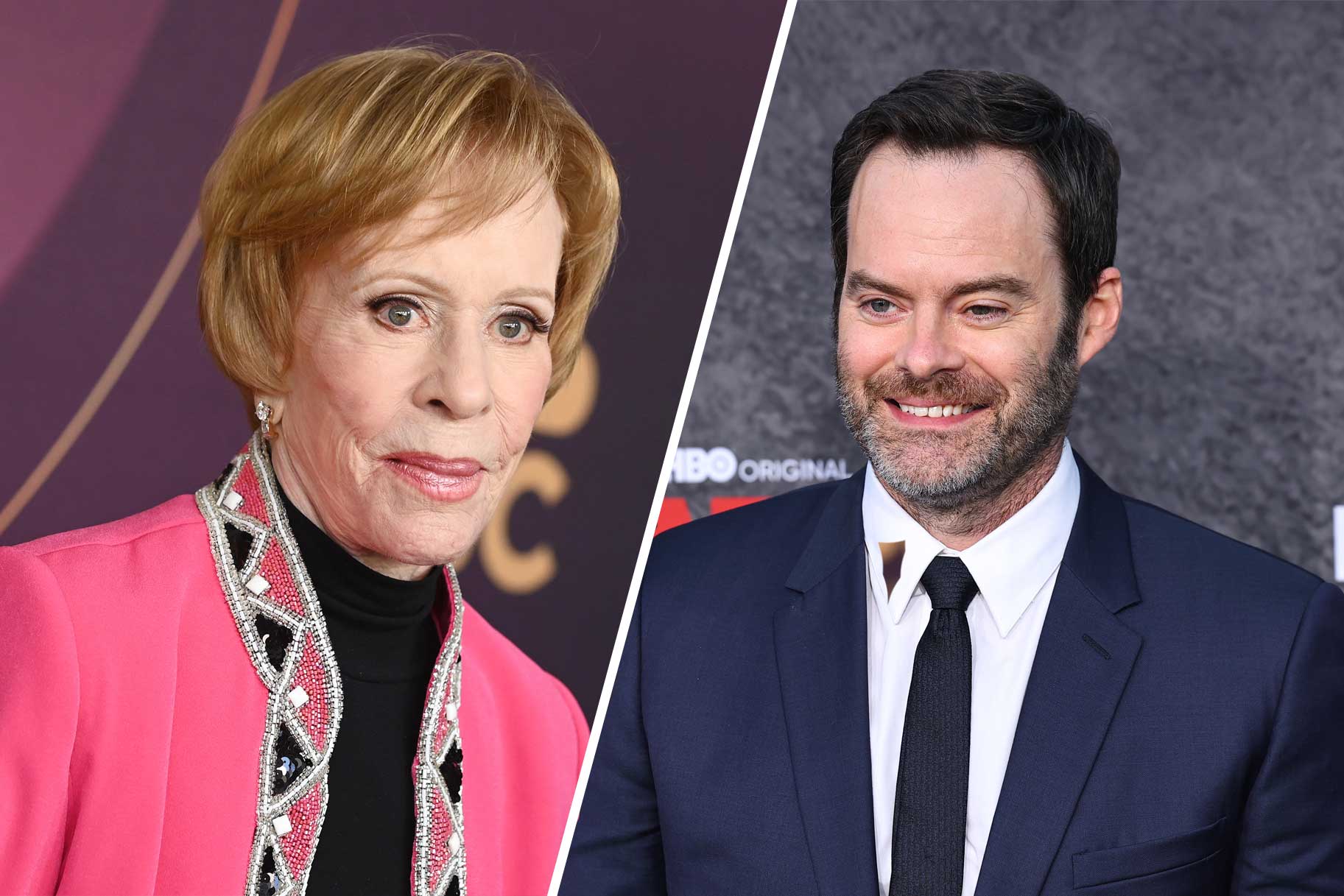 It's no secret that Carol Burnett is an entertainment icon and comedy legend, but people may be shocked to learn comedy runs in the family. Get ready for your mind to be blown, because Burnett is the distant cousin of Saturday Night Live alum Bill Hader. 
While on an exciting episode of Finding Your Roots, Burnett took a deep dive into her family history where she learned that she and Hader were related. 
"She emailed me," Hader told Entertainment Tonight about learning the news. "She emailed me and said, 'Hey, we're related.' And I went, 'What?'...I hope that I can have dinner with her."
Burnett is an accomplished comedy actress on stage, television, and film, collecting 6 Emmys throughout her distinguished career. She's also dabbled in drama, appearing in a killer episode of Law & Order: SVU. Hader is a comedy icon as well, featured in dozens of memorable SNL sketches and starring in the HBO dramedy Barry.
In an April appearance on Jimmy Kimmel Live, Burnett chatted about the humorous cosmic coincidence, she was delighted about the discovery. "We are distantly related, it's just great," Burnett told Kimmel.
When Kimmel asked whether or not there might be some form of comedy DNA that has catered to their careers, Burnett said she wasn't sure, but she's happy nonetheless. 
"I have no idea, but I'm very thrilled that we are related," Burnett explained. "He had a family reunion, he said, of the Burnett family not too long ago." Burnett wasn't in attendance, but it's the thought that counts, right?
Burnett is gearing up to host her extra-special 90th birthday celebration on NBC, Carol Burnett: 90 Years of Laughter + Love. The comedy icon will ring in a new decade with a televised special honoring Burnett's prolific career and accomplishments. Funnily, Burnett's distant cousin Hader will appear alongside a star-studded lineup of guest stars, including Bernadette Peters, Billy Porter, Julie Andrews, Jane Lynch, Katy Perry, Kristin Chenoweth, and many more. 
Burnett doesn't turn 90 every day, and everyone who is everyone showed up for the comedy mogul's birthday festivities. Plus, a little family mixed in there, too. Burnett is ecstatic about the special, and can't wait for audiences to join in on the fun. 
"It was fantastic," Carol Burnett told NBC's Mark Barger about the upcoming celebration. "As I have said before, I didn't want a birthday party with a cake and balloons and confetti. And I didn't want it to be a roast. I wanted it to be kind of an old-time variety show with live entertainment. We had a 90-piece orchestra. We had funny clips and wonderful guests who came on and were funny."
"This special is going to be the best party ever," executive producer Mark Bracco reveals. "It will be an evening of music, comedy, and dozens of big stars paying tribute to the one, the only, Carol Burnett. We cannot wait for everyone at home to celebrate right along with us."
Don't miss Carol Burnett: 90 Years of Laughter + Love when it airs Wednesday, April 26 at 8/7c on NBC and the next day on Peacock.