NBC Insider Exclusive
Create a free profile to get unlimited access to exclusive show news, updates, and more!
Sign Up For Free to View
Carol Burnett's Illustrious Career Includes a Guest Role on the Original Magnum, P.I.
The actress' impressive resume includes a recurring arc on the original series starring Tom Selleck.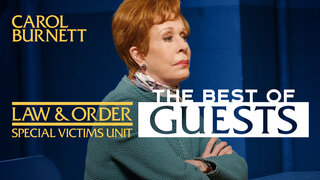 Legendary entertainer Carol Burnett has had many iconic moments in television, movies, and on Broadway over the course of her decades-long career—many of which NBC will highlight during her 90th birthday special Carol Burnett: 90 Years of Laughter + Love on April 26, 2023. (Amy Poehler, Sofia Vergara, Steve Carell, and Susan Lucci are among the stars participating in the special.)
But the comedian also appeared on the classic series Magnum, P.I. starring Tom Selleck, which was famously filmed in Hawaii. The multi-Emmy-winner, who lived on Hawaii at the time, appeared twice as Susan Johnson.
Burnett was among several big names who appeared on the hit show during its first run from 1980 to 1988, including Frank Sinatra and Angela Lansbury. A new version of the show now airs on NBC starring Jay Hernandez as the gumshoe, which has also racked up an impressive list of guest stars over the years.
Carol Burnett First Guest Starred on Magnum, P.I.
Season 4, Episode 14 ("Rembrandt's Girl"), 1984
Burnett portrayed Susan Johnson, the assistant branch manager at First Anglo Hawaiian Bank. She wanted to hire Thomas Magnum to follow her father, a notorious ex-con, because she was convinced he was about to pull off a heist. Magnum turned down the job, explaining that he could not just follow someone around waiting for them to commit a crime.  
But on Friday, Higgins (John Hillerman) asked Magnum to go to the bank, and he ran into Susan. She then accidentally trapped them in the bank vault together. They shared a bottle of wine and some chocolate, but began to suffer from oxygen deprivation. Susan's boyfriend showed up, but it turned out that he was the one planning a robbery.
Higgins, T.C. (Roger Mosley), and Rick (Larry Manetti), of course, rescued all three and Susan's boyfriend was arrested.
Susan's father, it turned out, had become reformed man who designed commemorative plates, and she gave Magnum one as a gift at the end.
Burnett Returns to Magnum, P.I.
Season 8, Episode 7 ("A Girl Named Sue"), 1988
Four years later, Burnett returned to Magnum, P.I. as Susan Johnson, who had become a private investigator competing with Magnum. (She was so inspired by her experience with Magnum at the bank that she picked up driving the same car as him—a red Ferrari.)
In the episode, Magnum was hired by Melissa Wainwright (Shelley Smith), while Susan was hired by Melissa's brother, Arthur Wainwright (John Calvin); each suspected the other of murdering their father and stealing his will.
Early on, the Magnum and Susan ended up are locked in a warehouse together, eventually deciding to work together.
They ultimately reveal that the elder Wainwright faked his own death, but also that Arthur and Melissa had both separately wanted to kill their father. The siblings, their father and Magnum all ended up in an armed stand-off that Susan interrupted, allowing the siblings to be arrested.
At the end of the episode, Susan went by the estate to say goodbye to Magnum, but ended up trapped together, once again, by a broken doorknob.
Carol Burnett: 90 Years of Laughter + Love airs Wednesday, April 26 at 8/7c on NBC and will stream the next day on Peacock.