NBC Insider Exclusive
Create a free profile to get unlimited access to exclusive show news, updates, and more!
Sign Up For Free to View
The Major Celebrities Who've Appeared as Guest Stars on Magnum P.I.
Magnum P.I., airing on NBC, has always been known for the quality of its casting.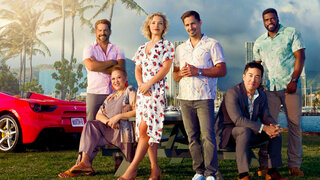 One of the joys of watching Magnum P.I. is the caliber of the guest stars: Whether lured by the tropical shooting location on the island of Oahu, the history of the series or the action-packed scripts, the series has long made it a point to have the best and the brightest take roles on the series. 
In that sense, it takes after the original, which had tons of guest stars itself — including Ol' Blue Eyes Frank Sinatra and Angela Lansbury (playing, of course, Jessica Fletcher in a crossover with her series, Murder She Wrote).
But while the coming guest stars of Magnum P.I. Season 5 have yet to be revealed, it's worth remembering all the names and faces who have already taken a turn in front of the cameras alongside series stars Jay Hernandez and Perdita Weeks.
Cyndi Lauper
Season 1, Episode Five ("Sudden Death"), 2018
Pop icon Cyndi Lauper — recently nominated to the Rock & Roll Hall of Fame — made a relatively brief appearance as defense attorney Vanessa Nero in Season 1. Magnum (Hernandez) hired her to represent a friend of T.C. (Stephen Hill)'s who had been accused of murder, after Magnum couldn't otherwise get into the police station to see the guy.
But Magnum P.I. wasn't Lauper's first acting experience! She first appeared in the 1988 movie Vibes alongside a young Jeff Goldblum, and eventually won an Emmy for her portrayal of Marianne Lugasso on the NBC sitcom Mad About You. She also played a psychic, Avalon Harmonia, on several episodes of Bones over five different seasons.
With two Grammy wins under her belt, her Mad About You Emmy and her Tony for Best Original Score for the Broadway musical Kinky Boots, she's one Oscar-winning performance away from the coveted EGOT.
Aaron Donald
Season 2, Episode 4 ("Dead Inside"), 2019
Los Angeles Rams defensive tackle Aaron Donald made his acting debut on the Season 2 episode playing himself. He enlisted Magnum's assistance in recovering his tablet with the team's game plans after it was stolen from his hotel. (They got it back.)
Donald has two years left on his 2018 contract extension with the Rams. He hasn't pursued other acting opportunities.
Brian Austin Green
Season 1, Episode 20 ("The Day It All Came Together"), 2019
Green, who is best known for having played David Silver on Beverly Hills 90210, played Special Agent Adam Kreshner on the Season 1 finale. He arrested Magnum for passing counterfeit currency, which our hero got from a client. However, when the crew arrived at the client's house, they find several dead guys and a stack of the fake currency, so Magnum was released (and went on to solve the case, naturally).
His most recent role was a cameo as himself playing David Silver in a dream sequence on That '90s Show. 
Carl Weathers
Season 1, Episode 2 ("From The Head Down"), 2018
Weathers, a former NFL player turned actor, played commercial fisherman Dan Sawyer in this Season 1 episode. Sawyer, a friend of one of Magnum's deceased Navy buddies, had a 300-pound sushi-grade tuna worth $350,000 stolen off his boat and needed Magnum to recover it. The case took Magnum and the crew down a culinary rabbit hole, at the bottom of which they found a kidnapping, a terrorist and some delicious fish.
Weathers, who is perhaps best known for his role as Apollo Creed in the first four Rocky films, was nominated for an Emmy for his work as Greef Karga in Season One of The Mandalorian. He previously portrayed State's Attorney Mark Jefferies on Chicago P.D. and Chicago Justice.
Ken Jeong
Season 1, Episode 3 ("The Woman Who Never Died"), 2018; and Season 1, Episode 12 ("Winner Takes All") 2019
Jeong, a gifted comedic actor, played private investigator Luther Gillis, one of Magnum's local competitors, on two episodes in the show's first season. In the first, he fobbed off a case to Magnum in which the client wanted more information about his fiancée, who secretively had major facial reconstruction surgery. In the second episode, Gillis, Magnum and every other P.I. on the island competed for a $200,000 reward offered by a bail bondsman for a suspect who jumped bail.
His breakout roles in Hollywood hit the same year: He's played Mr. Chow in three The Hangover movies starting in 2009 and played Ben Chang in Community. Among his other current and ongoing projects, he's been one of three judges on The Masked Singer.
Lee Majors
Season 2, Episode 7 ("The Man in the Secret Room"), 2019
Majors played Russell Harlan, the head of an Oahu hotel's security who hired Magnum to be his interim replacement. This, of course, resulted in Magnum getting pulled into the case involving a hotel guest.
The legendary actor is perhaps best known for his years playing protagonist Steve Austin in The Six Million Dollar Man, but has worked prolifically throughout his career. His largest, most recent role was as Brock Williams, the father of the titular Ash Williams (Bruce Campbell) in the television series Ash vs. Evil Dead.
Deontay Wilder
Season 2, Episode 3 ("Knight Lasts Forever"), 2019
Wilder, a professional heavyweight boxer, played a fellow veteran named Noah in one Season 2 episode. The down-on-his-luck character was hired by Rick to work at the bar, but was late for work one day because his car — in which he sleeps — and all his possessions had been stolen.
The Olympic bronze-medal winner hasn't had any other acting roles, but he did appear on one episode of E!'s WAGS Atlanta with his fiancée, Telli Swift, in 2018.
Devon Sawa
Season 4, Episodes 6 and 7 ("Devil on the Doorstep" and "A New Lease on Death"), 2021
Devon Sawa, the '90s teen heartthrob from movies like Casper and Final Destination, played Rick's childhood friend Robbie Nelson in a tragic two-episode arc in Season 4. Robbie, who was on the run after killing a corrupt FBI agent and also trying to avoid the Albanian mob, managed to escape the FBI but not the mob, which blew him up at the end of the second episode.
Sawa appeared in both Seasons 1 and 2 of SYFY and USA Network's Chucky, though all three of the characters he played died. (That said, the show was renewed for a third season, coming in Fall 2023, and his characters' Season 1 deaths didn't preclude his inclusion in Season 2.)
Train's Patrick Monahan
Season 2, Episode 8 "He Came By Night," 2019
Train members Pat Monahan (with a small speaking role), Jerry Becker, and Luis Carlos Maldonado along with solo artist Skylar Grey appeared at Rick's bar in Season 2, singing the band's hit song "Hey, Soul Sister" and their collaboration with Grey, "Mai Tais," which they released commercially the day the episode aired.
Maldonado left the band in 2021 to join Foreigner.
Jordana Brewster
Season 1, Episodes 15 and 20 ("Day the Past Came Back" and "The Day It All Came Together"), 2019
Fast and The Furious franchise alum Brewster played Magnum's ex-fiancée, Hannah, in two episodes before her character's untimely death. In the first episode, viewers learn that it was Hannah, when she was Magnum's fiancée, who betrayed his team in Afghanistan and caused their capture and POW status. In the course of the episode, she attempted to steal a truck full of stolen Iraqi gold, fought and shot Magnum and escaped. 
In the second episode — the Season 1 finale in which Magnum is momentarily arrested for trafficking in counterfeit currency — it emerged that Hannah had secretly used counterfeiters to hire Magnum to assist in the search for her kidnapped father. Instead, they betrayed her and she shot them before taking a hit herself. She admitted that both his betrayal in Afghanistan and the gold heist were part of a years-long effort to recover her dad from a rogue CIA team. During the ensuing operation to recover her father, she was shot and died in Magnum's arms.
Corbin Bernsen
Season 1, Episode 10 ("Bad Day To Be A Hero"), 2018; Season 2, Episode 7 and 20 ("The Man in the Secret Room" and "A Leopard on the Prowl"), 2019 and 2020; and Season 3, Episode 11 ("The Lies We Tell"), 2021
Veteran actor Bernsen played Francis "Icepick" Hofstetler" in four episodes. Hostetler was a shady underworld character served as Rick (Zachary Knighton)'s surrogate dad and father figure. He was diagnosed with terminal brain cancer in Season 2 and, despite Rick's protestations, attempted one last score, which resulted in a security guard's murder and Icepick's imprisonment. He received a compassionate release in Season 3 and then died.
Bernsens' major break came with his casting as the yuppie womanizer lawyer Arnie Becker on L.A. Law in the 1980s. He appeared as the third baseman, Roger Dorn, in all three Major League movies and played Henry Spencer, the father of the lead character, in Psych and the subsequent television movies based on the show.
Ben Vereen
Season 1, Episode 6 ("Death Is Only Temporary"), 2018
Legendary theater actor Vereen portrayed sugar tycoon Henry Barr in Season 1. Barr hired Magnum after he received an email from his long-lost girlfriend, who had been declared dead 30 years ago. Suspecting his client, who was suffering from dementia, was the intended target of a romance scam, Magnum ultimately discovered that Barr's long-time house manager had murdered the girlfriend — who'd gotten pregnant with Barr's baby and put the child up for adoption — and buried her in the woods. Magnum and Higgins (Weeks) ultimately reunited father and daughter.
Vereen, a two-time Tony Award nominee who won a Tony for his work in the original Broadway cast of Pippin, also garnered an Emmy nomination for his work as Chicken George Moore in the seminal television miniseries Roots. He's made dozens of appearances in movies and television series, including as Geordi LaForge's father in Star Trek: The Next Generation, as himself on The Nanny and on Season 7, Episode 10 ("Senseless") of Law & Order: Criminal Intent.
Willie Garson
Season 2, Episode 10 ("Blood Brothers"), 2019
Reprising his roles as kind-hearted smuggler and would-be art thief Gerard Hirsch from Hawaii Five-O, Garson appeared in one episode in Season 2 as the man who helped Magnum, T.C., and Rick find an Afghan boy they knew from their tour of service who was being victimized by human traffickers.
Garson, who is instantly recognizable as Stanford Blatch from Sex and the City and its sequel And Just Like That..., was a character actor whose breakout role was Henry Coffield on NYPD Blue. He also played Mozzie on the USA Network series White Collar. Garson passed away of pancreatic cancer in 2021.
Elisabeth Röhm
Season 1, Episode 5 ("Sudden Death"), 2018
Röhm played supposedly grieving widow Brooke Mason, whose doctor husband was found shot to death in Season 1. A friend of T.C.'s stood accused of the doctor's murder, but Magnum and his crew discovered both that the doctor was illegally selling performance-enhancing drugs and that his wife was the killer. She unfortunately had thought he was sneaking around to have an affair, not to sell illegal drugs.
Röhm played Assistant District Attorney Serena Southerlyn in Seasons 12-15 of Law & Order. She also was part of the award-winning cast of the 2013 movie American Hustle and portrayed serial killer Dr. Madison Gray on Season 7 of the rebooted Hawaii Five-O, among her many movie and television roles.
Raymond Lee
Season 1, Episode 4 ("Six Paintings, One Frame"), 2018
Raymond Lee, who is currently starring as Dr. Benjamin Song in the rebooted Quantum Leap, played a character called James Chen in the early Season 1 episode. Chen was the house manager for Higgins' and Robin Masters' wealthy art collector friend, Jack Candler. He and two associates tried to frame Magnum for the theft of the art and the murder of Candler, but ultimately Chen died while trying to kill Magnum and make his escape.
Watch Magnum P.I. Sundays at 9/8c on NBC and next day on Peacock.