NBC Insider Exclusive
Create a free profile to get unlimited access to exclusive show news, updates, and more!
Sign Up For Free to View
The Biggest Questions Fans Have About the End of Magnum P.I.
What will be the fate of our favorite private investigators? Watch Magnum P.I. on NBC. 
It's been an action-packed ride on Magnum P.I. Season 5, and fans are perched to see more as the series finale quickly approaches.
A brief recap on what's happened so far: The romance between Thomas Magnum (Jay Hernandez) and Juliet Higgins (Perdita Weeks) has sizzled throughout the entire season, especially after Magnum told Rick (Zachary Knighton), T.C. (Stephen Hill), and Gordon (Tim Kang) about their union. Despite this happy development, the murder of Buck Greene, Magnum's former mentor and captain, plagued the team. Greene's murder was solved, but not without a cost. Rick was tortured and T.C. was temporarily paralyzed in the process, so it took some time for the team to move on. 
RELATED: Here's When the Magnum P.I. Series Finale Will Air (Mark Your Calendars!)
Here's what fans are most curious about heading into the Magnum P.I. series finale: 
How will T.C. move forward from his injury? 
In the Season 5 midseason finale, T.C. miraculously survived several gunshot wounds but was unable to feel his legs in the hospital soon after. The doctor reassured him that with extensive physical therapy, there was a "good chance" T.C. could regain mobility. 
As he entered the veteran rehab center in the Season 5 midseason premiere, T.C. started building walls against those he loves. His behavior originally put his relationship with Mahina in jeopardy. However, with the support of his friends and a surprise visit from his mother, T.C. was able to realize his problems were internal as much as external, so he began to work on himself.
T.C. healed and successfully regained mobility, and soon repaired his romance with Mahina. Since his discharge, T.C. has been focused on moving onward and upwards. 
RELATED: Everything to Know About the Magnum P.I. Season 5 Cast 
Do Rick and Suzy get together on Magnum P.I.? 
Rick has been in love with Suzy, the mother of his newborn daughter, Joy, for quite some time. The two initially decided to keep things platonic for the sake of Joy. However, their attempts to snuff their feelings for each other were unsuccessful, especially after Rick was asked on a date by another woman. 
In a last-ditch effort to understand how Suzy felt for him, Rick visited her doorstep to ask whether or not he should attend that date. Suzy caved, telling Rick to not go and, better yet, to not go on a date with anyone else, either. The pair has been thriving ever since. 
What is the future of Magnum and Higgins' relationship? 
Season 5 saw Magnum and Higgins finally make their romance official.  
With time, Magnum and Higgins have found themselves tackling many of the obstacles typical couples face, usually while dodging literal bullets or cracking a case. The pair have already waited on pregnancy test results, squabbled over finances, and even swapped their first "I Love You." 
RELATED: Magnum Tells Higgins, "I Love You" in Season 5 Preview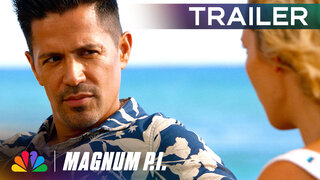 To contribute to the relief efforts for those affected by the devastating wildfires in Maui, please visit Aloha United Way at UAW.org. 
Originally published Sep 22, 2023.