NBC Insider Exclusive
Create a free profile to get unlimited access to exclusive show news, updates, and more!
Sign Up For Free to View
Magnum and Higgins Have Their Most Adventurous Kiss Yet in New Season 5 Trailer
It's been a jam-packed season.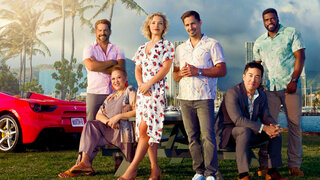 Season 5 of Magnum P.I. on NBC has been a wild ride. After a long wait since the Season 4 finale, the action-packed latest season has definitely lived up to fans' expectations. And more of Season 5 is coming fall 2023! 
So, what can we expect? Well, so far we've seen everyone's favorite private investigator, Thomas Magnum (Jay Hernandez), tackling some hard-hitting cases with his partner, Juliet Higgins (Perdita Weeks). The season has come with many twists that you'll want to catch up on before new episodes return. Here's everything you need to know about Season 5 of Magnum P.I. so far: 
In the official trailer for Season 5, Part 2, Magnum and Higgins have their most adventurous kiss yet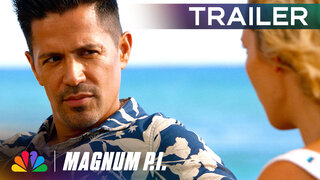 Naturally, it happens when they're on the clock and burst into a room at the same time looking for a bad guy.  These two! 
When does Magnum P.I. Season 5 return? 
Magnum P.I. Season 5 returns Wednesday, October 4 at 9/8c on NBC. 
Where to watch NBC's Magnum P.I.
Starting October 4, watch new Magnum P.I. episodes Wednesdays at 9/8c on NBC and next day on Peacock.  
The first Magnum P.I. Season 5 teaser dropped in September 2023 
We're so excited to see Higgins and Magnum back in action — and it looks like Higgins has some big news. She's "late," she says, but what does that mean? Is a Miggins baby on the way? 
Only time will tell, but watch the teaser for yourself, below: 
And here's a little more from that "late" scene: 
Magnum and Higgins are now official
After four seasons of "will-they-won't-they" tension, Magnum and Higgins finally sealed the deal. While they originally kept the status of their romance on the DL at first (per Higgins' request), Magnum eventually couldn't keep it to himself anymore and spilled the beans to Rick (Zachary Knighton), T.C. (Stephen Hill), and Gordon (Tim Kang). Everyone was happy for the pair, as they have been encouraging this from the sidelines for years. 
In an interview with NBC Insider, showrunner Eric Guggenheim explained why he and the writers chose to get Magnum and Higgins together during Season 5. 
RELATED: Wait, What Happened to Thomas Magnum's Daughter Lily in the Original Magnum P.I. Series?
"I have to say, it is, I think, really one of the best decisions we've ever made on the show. It's really taking us to some interesting places. It has added a whole new dimension to the show that has been incredibly satisfying," he told us. 
However, the newfound relationship between the two has made their working dynamic more complicated. The always-practical Higgins is now more worried about Magnum getting in danger now that the two are emotionally involved, while Magnum remains equally protective over Higgins in life-or-death situations. 
"I'm just trying to make little tweaks to massage how those moments play out, because it is something different," Jay Hernandez explained to NBC Insider. "Say we're about to get into a gunfight; do I want my woman to go in and potentially take a bullet? It's, like, no, I think Magnum's is a chivalrous guy; he's going to want to go first, right? So those kind of things we gotta talk through and figure out the best way forward."
In a new teaser for the second half of Season 5, Magnum tells Higgins, "I love you." 
When Magnum makes the declaration, Higgins looks surprised. "You don't have to say anything," Magnum tells her. 
But will Higgins say it back? Fans will just have to tune into NBC on Wednesday, October 4 at 9/8c to find out. 
At the end of Season 4, we see Katsumoto getting fired from the HPD, much to his devastation. This is because he was blackmailed into killing a former officer named Whelan after a group of men kidnapped Gordon's ex-wife and threatened to murder her. While Gordon didn't end up killing Whelan, he had to kill the kidnappers to free the mother of his children. 
When the situation was unveiled to HPD, Gordon was suspended without pay. Although he acknowledged what he did was highly illegal, his back was against a wall. Therefore, he decided to contest the decision and fight to get his badge back in Season 5.
RELATED: Why Magnum P.I.'s Signature Red Ferrari Is Still All the Rage
Although multiple people warned him that his odds were unlikely, he stuck to his guns, and ended up getting his wish. As of Season 5, Gordon Katusmoto is now officially a detective in the Hawaii Police Department again. 
Former CIA Agent Nadine Amherst staged her own death to cover up her romantic involvement with Aman Hadid, whom she had a child with. She then became the mastermind behind the team who killed Captain Buck Greene. Then, she sought after the deaths of Magnum (Jay Hernandez),  Rick (Zachary Knighton), and T.C. (Stephen Hill), as they were all part of the team that took down Hadid.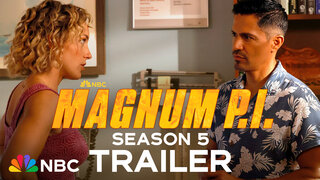 To contribute to the relief efforts for those affected by the devastating wildfires in Maui, please visit Aloha United Way at UAW.org. 
Originally published Sep 25, 2023.