NBC Insider Exclusive
Create a free profile to get unlimited access to exclusive show news, updates, and more!
Sign Up For Free to View
Wait, What Happened to Rick's Girlfriend on Magnum P.I.? A Show Romance Refresher
Magnum P.I.'s Rick Wright is experiencing fatherhood for the first time this season, but his romantic life is still up in the air.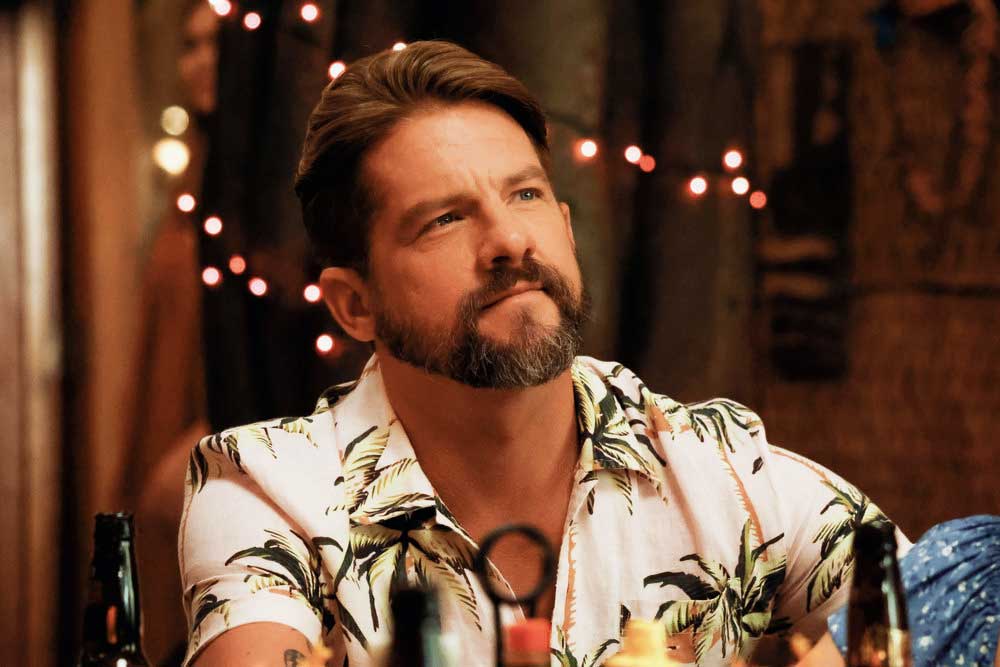 Magnum P.I.'s Rick Wright is a man who can get you what you want. 
With connections all around the island, Wright, portrayed by Zachary Knighton, is able to conjure up virtually anything, whether it's a possible buyer for a 300 lb tuna or inside information on a prison — but when it comes to the tiki bar owner's love life, things are a bit more complicated. 
Rick has long been crushing on La Mariana's former bartender-turned-mother of his child, Suzy, but the romance has hit its share of obstacles. (Fun fact: In real life Betsy Phillips, who plays Suzy, is Knighton's wife and the couple share two kids, according to her Instagram). 
Who is Rick's Girlfriend Suzy on Magnum P.I.?
Suzy makes her first appearance in the second season episode "May the Best One Win" after Rick discovers her estranged father, Justin Madison, dead in a booth at the bar, but the only clue to his identity at the time is an off-hand reference Madison made before his death to a waitress about needing to "get back to Suzy."
The medical examiner is able to positively identify the body as Madison, discovering he died of a heart attack, and Rick sets out to notify his daughter.
While Suzy initially fails to feel much sympathy for her father (he walked out on her and her mom years ago), she makes peace with his death after discovering he named his houseboat in her honor and filled it with her photos and artwork.
Suzy comes back onto the scene the next season when Rick hires her to paint a mural on one of the bar's outdoor walls. She starts working as a bartender, where she makes a name for herself with her popular signature cocktails. 
There's an undeniable spark between Rick and Suzy, but since he's technically her boss and they don't want to complicate matters, any hopes of a romance have to wait. 
What Happens to Rick's Girlfriend on Magnum P.I.
At the start of the fourth season, Suzy is thrilled when she gets awarded a six-month residency at an artist co-op in San Diego. She puts her notice into Rick and just minutes after they sever the employee relationship, the pair can finally release the building sexual tension in a nearby supply closet. 
Suzy has to head to California just a few days later. While she's away, the pair keep up through FaceTime and text but, according to Rick, the exact nature of their relationship is left up in the air. In one video call, Rick is happily surprised to learn that he and Suzy are expecting a baby. 
RELATED: Does The Original Thomas Magnum, Tom Selleck, Appear In The New Magnum P.I.?
Suzy returns to Hawaii at the end of the season after the residency ends to an eager Rick, who hopes to rekindle their romance. 
But Suzy has other ideas. While she admits that she's "crazy" about him, she doesn't want a romantic relationship to jeopardize their role as soon-to-be parents.
"Look, all our past relationships ended and this one, it can't. We have to be in each other's lives forever and I'm sorry, this is — I think this is what's best for our kid," Suzy said, adding that she believed the "only way to make sure we don't end badly is to never start at all." 
Rick later confided to his buddy and silent partner in the bar Theodore "T.C." Calvin, played by Stephen Hill, that the meeting didn't exactly go as he planned. 
"You know, it started great. We're talking, we're laughing, it's everything I wanted it to be and then she says we should be friends. Total curveball," he lamented.
T.C. reminded Rick that many of the greatest things in his life — including the baby and Suzy — were "curveballs" and encourages his friend to just let Suzy set the pace.
"Always be flexible," T.C. said. "Maybe stop stressing about where you and Suzy end up and just see where it goes." 
Things take a dramatic turn at the end of the fourth season when Suzy almost dies after complications from labor. She's rushed into emergency surgery after the birth of their daughter and while things are touch and go for while, Suzy ultimately survives. She and Rick decide to name their daughter Joy.
Will Suzy and Rick Get Back Together on Magnum P.I.?
As the new parents adjust to their new responsibilities, they share time with Joy and have kept things strictly platonic since the birth — at least for now. 
In the Season 5 episode "Dead Ringer," Rick admitted he's still hopeful something more will bloom.
"I'm in love with the mother of my child, but she shot me down. I'm a grown-a– man living on my friend's couch and now I have a new baby, who I don't get to see every day, because I don't live with her mother, who I'm in love with, but she shot me down," he told T.C. and Teuila "Kumu" Tuileta, portrayed by Amy Hill.
Even though the romance has struggled to get off the ground, Rick is still hopeful, especially after discovering that Thomas Magnum and Juliet Higgins have finally turned their years-long partnership into a romantic relationship.
"OK, Thomas and Juliet have had a lot of back and forth over the years, right? They've been in limbo and now they're not," he said. "The thing is if they can get out of it, so can I. So, maybe, me, Joy and Suzy can live together like a family."
Whether Rick's hopeful plan will ever come to fruition remains to be seen.
Watch Magnum P.I. Sundays at 9/8c on NBC and the following day on Peacock.