NBC Insider Exclusive
Create a free profile to get unlimited access to exclusive show news, updates, and more!
Sign Up For Free to View
Magnum Revealed His Relationship With Higgins in the Latest Magnum P.I.
"We have been rooting for this for years!" Rick says. Watch Magnum P.I. on NBC.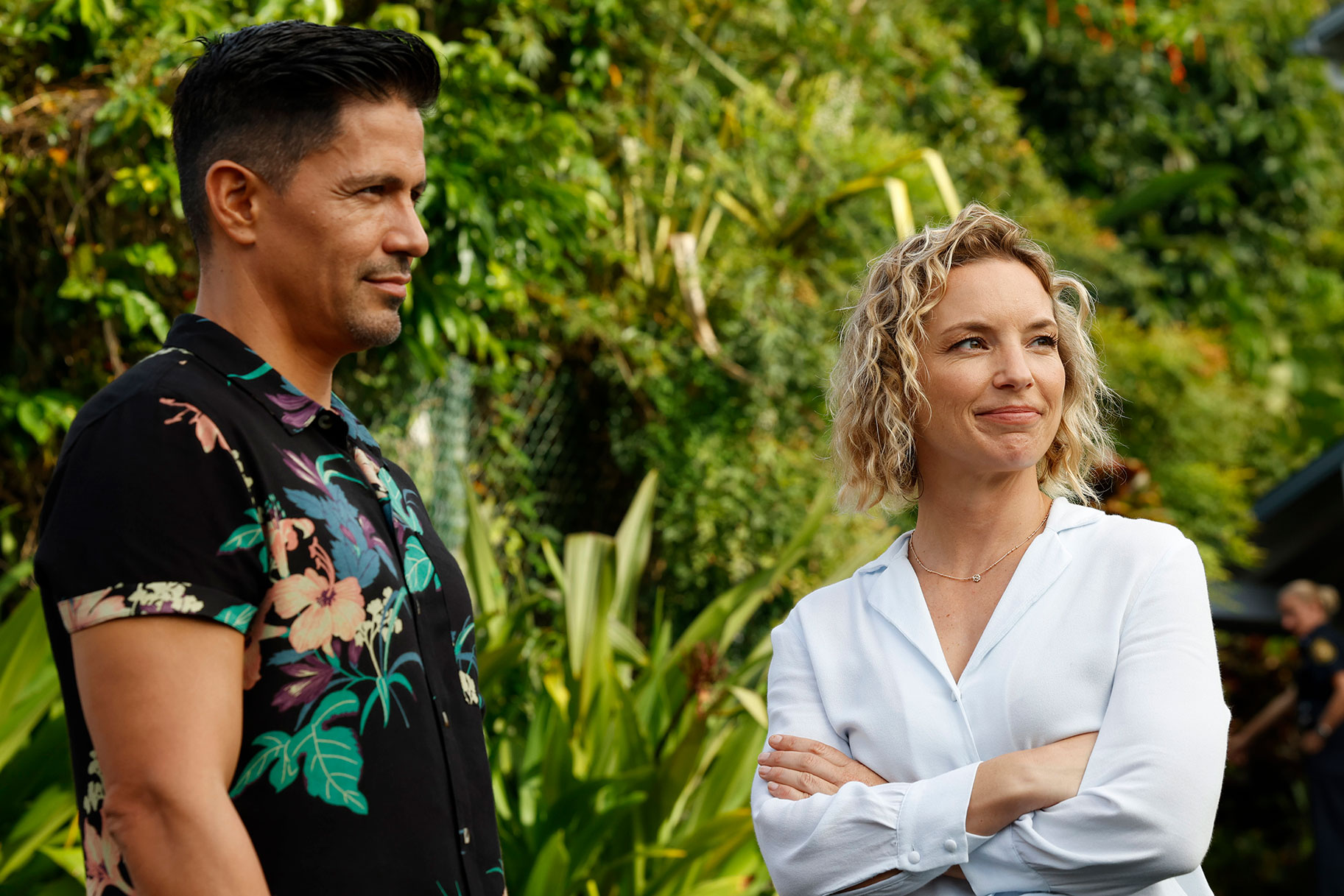 While Juliet Higgins (Perdita Weeks) may have insisted that she and her new beau Thomas Magnum (Jay Hernandez) initially keep their relationship on the DL, the persistence of their friends made this much more difficult.
In Season 5, Episode 6, Rick Wright (Zachary Knighton) begins to have his suspicions after he finds Higgins' necklace under Magnum's bed. "I'm telling you, they're totally doing it!" he exclaims to Kumu (Amy Hill) and T.C. Calvin (Stephen Hill)."Guys, we have been rooting for this for years!" 
"Its none of our business, Rick, you gotta let it go," Kumu responds.
"Thomas and Juliet would tell us if they wanted us to know, right? But I need to know!" Rick later says to Kumu. "So I've been racking my brains to come up with how to figure it out."
"What part of you gotta let it go wasn't clear?" Kumu says with a sigh.
"I can't!" Rick responds defiantly before attempting to come up with an elaborate scheme to catch them in the act.
"Look, I'm rooting for them too, but you're going off the deep end," T.C tells Rick while giving him a side eye.
"I practically live with them now. So I need to know if they're together so I know how to act around them," Rick defends his case.
Rick later explains why he's so invested in the potential couple: "Thomas and Juliet have had a lot of back and forth over the years. They've been in limbo. And now they're not."
"So you want hope," T.C says with a nod. "That's a good reason to want them together. So why don't you just go ahead and ask them?"
"What if I'm wrong?" Rick says in a concerned tone.
When the squad is out to dinner at the end of the episode, Rick and T.C pull Magnum aside for a private conversation.
"When Roberto got out, we went looking for him, and we found Higgy's necklace under your bead," T.C began. "Now we gotta ask…are y'all together?"
After a suspenseful pause, Magnum spills the beans. "I can't keep it from you guys anymore. It's too important, and honestly, I'm too happy," he said while gazing over at Higgins.
Rick and T.C then give a supportive congratulations to Magnum.
"I saw you talking to Rick and T.C at the bar. You told them, didn't you?" Higgins asks Magnum after the revealing conversation.
"I'm sorry," Magnum admits. "They asked, and I couldn't keep it from them anymore."
"I understand. It's good," Higgins says sympathetically.
"Well I'm glad you're not mad at me," Magnum says.
"Of course I'm not mad," Higgins responds. "The only reason that I wanted to keep this between us in the beginning was…I wasn't sure it would work out. But I'm not worried anymore. It's definitely working," she said, proving that there is hope for the couple's future.  
Watch Magnum P.I. on NBC Sundays at 9/8c and next day on  Peacock.