NBC Insider Exclusive
Create a free profile to get unlimited access to exclusive show news, updates, and more!
Sign Up For Free to View
Meet Perdita Weeks, a.k.a. Higgins on Magnum P.I.
An awesome character played by an equally awesome actress! Check out Season 5 of Magnum P.I. on NBC.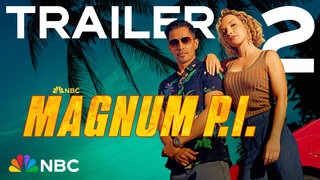 The new Magnum P.I. puts an inspired twist on the show by having the character of Higgins be a badass woman named Juliet Higgins. Better yet, the role is perfectly played by the ultra-talented Perdita Weeks. Here's everything you need to know about her as Season 5 of Magnum P.I. premiers on NBC.
Who is Perdita Weeks, a.k.a. Higgins on Magnum P.I.?
Perdita Weeks is a British actress.
Perdita Weeks movies and TV shows:
Her previous credits include Evie in Spice World, Mary in The Tudors, and Catriona in Penny Dreadful. However, she has since crossed the ocean to play the role of Thomas Magnum's crime-fighting partner and love interest, Juliet Higgins. In the new Magnum P.I., Higgins is a former British M16 agent who becomes a private investigator. Her character is known to be extremely sharp and scrappy and doesn't let anyone mess with her.
In the original series, Higgins' character was played by an actor named John Hillerman. But as far as stepping into his shoes, Weeks was not intimidated.
"[There's] a bit of female energy," Weeks said during an interview with Entertainment Tonight when asked about the differences between the old and new Magnum P.I. shows.
"They're not only in bikinis and stuff, and they kick butt," she joked.
Weeks then went on to talk about her iconic character's personality. "Higgins is a very fun character to play. She's pretty tough, she's ex-military, same as the guys. She kicks a lot of butt, she's pretty reliable, she's someone you'd want on your team, kind of at the end of the world, you know, the zombie apocalypse comes 'round, you want Higgins. She likes fast cars and adventure, and y'know, there's a bit of mystery as far as why she's in Hawaii," she added.
Weeks also said playing the role of Higgins is very physically intense. "I didn't know quite how extensive it was gonna be," she also told TVLine in 2018. "But, you know, as soon as there was a mention of, like, stunts and stuff I just was signed up. And [I] said, 'Hey, you know all the rehearsal time you need, like I want to do as much as I possibly can' because it's just so fun. The stunt teams are always amazing, and, yeah, it's no different on this show." 
Is Magnum P.I. coming back?
Yes! To see Higgins kick some serious butt on the new series, watch the Season 5 premiere of Magnum P.I. on Sunday, February 19, 2023 at 9/8c on NBC with back-to-back episodes. After that, episodes will air on Sunday nights at 9/8c on NBC and also be available for streaming next day on Peacock.