NBC Insider Exclusive
Create a free profile to get unlimited access to exclusive show news, updates, and more!
Sign Up For Free to View
See the First 3 Minutes of the Magnum P.I. Season 5, Part 2 Premiere Right Now
Magnum flexes his supernatural investigation skills in this high-thrill preview. 
The Magnum P.I. Season 5 spring finale was an action-packed ride, full of satisfying twists and turns that had viewers on the edge of their seats. Magnum (Jay Hernandez) and Higgins (Perdita Weeks) are stronger than ever, but their team took some hard hits. We're eager to check in on T.C. (Stephen Hill), whose medical diagnosis was grim after he was attacked in the finale. We also need to follow up with Rick (Zachary Knighton) amid his ongoing unlucky-in-love streak. 
The countdown to the nail-biting Magnum P.I. series finale has begun, with Season 5, Part 2 premiering  Wednesday, October 4 at 9/8c on NBC.  And we have a preview of what's to come. Read, below, for details. 
RELATED: Where to Watch Magnum P.I. Season 5
Watch the first three minutes of Magnum P.I. Season 5, Part 2
In an exclusive preview via TV Line, Season 5, Part 2 starts by switching the Hawaiian horizon for a shimmering Dubai skyline. We find the lovable Higgins looking dashing while sipping champagne in bed with a mysterious Russian man. As Higgins gives him a fake name, it's clear she's a woman on a mission. As the man passes out from his spiked drink, this is confirmed.
Moments after Higgins sends a text, the dynamite duo of T.C. and Rick arrive dressed as paramedics to whisk their target away. As they make their getaway, their cover gets blown, and they find themselves surrounded by seedy gunmen. They throw their hands up in surrender.
Right when we think the bad guys have them backed into a corner, our main man, Magnum, bursts out of an ambulance to save the day. But is it Magnum, really?
RELATED: Everything to Know About the Magnum P.I. Season 5 Cast
Magnum shines as the "White Knight"
"You boys are in trouble now," T.C. tells the gunmen. "You do know why they call my brother 'The White Knight'?"
Yes, T.C. is referring to the literary legend from the White Knight series, written by Magnum's famously faceless boss, Robin Masters. Magnum/White Knight joins his fearless crew, who flip their lifted hands of surrender into power poses against the bad guys.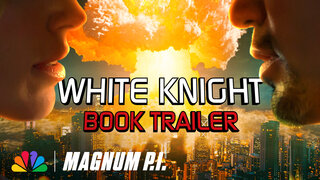 A crescendo of action film music plays as an electrified Magnum summons a blinding lightning beam from the skies to zap away the opps. The enemies go flying as Magnum takes them down with each Zeus-like counterattack. If you think the entire scene seems a tad too Marvelous to be true, you're not alone. Magnum's voice cuts through the chaos to say this tall tale is getting out of hand. Jump to yet another sunny day at Robin's Nest, where Magnum and Jin Jeong (Bobby Lee) are entertaining Rick's 6-month-old baby, Joy. 
Don't miss the rest of the action on Magnum P.I. this season! Tune in Wednesdays at 9/8c on NBC after October 4.