NBC Insider Exclusive
Create a free profile to get unlimited access to exclusive show news, updates, and more!
Sign Up For Free to View
Where to Watch Magnum P.I. Season 5
The fifth season has been an action-packed affair—here's how you can catch up.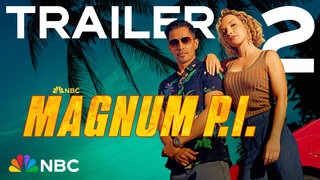 Season 5 of Magnum P.I. on NBC has been one for the books since its premiere in February 2023. We've seen our favorite "will-they-or-won't-they" couple Thomas Magnum (Jay Hernandez) and Juliet Higgins (Perdita Weeks) finally get together and also got to watch the unfolding of some action-packed private cases. 
In an interview with NBC Insider, showrunner Eric Guggenheim gave us the inside details as to why he made the creative choice to make Magnum and Higgins official when he did.
"Heading into this season, we felt strongly that we had great stories," Guggenheim said. "Putting them together just gave us some great stories and great scenes that we wanted to explore. So we went forward with it. I have to say, it is, I think, really one of the best decisions we've ever made on the show. It's really taking us to some interesting places. It has added a whole new dimension to the show that has been incredibly satisfying. And we believe that the fans are really going to enjoy it."  
RELATED: Everything to Know About the Magnum P.I. Season 5 Cast
To keep you on the edge of your seat, Season 5 also debuted a new nail-biting plot: Captain Buck Greene was murdered by some mysterious men, and they are coming after Magnum, Rick (Zachary Knighton), and T.C (Stephen Hill). 
Want to find out what happens? Here's everything you need to know about where to watch Magnum P.I. Season 5 when new episodes return fall 2023. 
When does Magnum P.I. Season 5 start again? 
Season 5 of Magnum P.I. will return for another 10 episodes this fall. The first episode will air Wednesday, October 4 at 9/8c on NBC and stream next day on Peacock ​​​​​. 
Where can I watch new episodes of Magnum P.I.? 
Starting October 4, watch new Magnum P.I. episodes at 9/8c on NBC. They'll be available for streaming next day on Peacock , as well. ​
RELATED: The Biggest Questions Fans Have After the Magnum P.I. Spring Finale 
When will new episodes of Magnum P.I. Season 5 be available on Peacock?
Starting October 4, new episodes of Magnum P.I. will be available on Peacock Thursdays at 6 a.m. ET. 
To contribute to the relief efforts for those affected by the devastating wildfires in Maui, please visit Aloha United Way at UAW.org.