NBC Insider Exclusive
Create a free profile to get unlimited access to exclusive show news, updates, and more!
Sign Up For Free to View
Perdita Weeks and Jay Hernandez Have *Thoughts* on Magnum and Higgins' Future
"Magnum is more heart-led," Perdita Weeks said in a recent interview. Watch Magnum P.I. on NBC.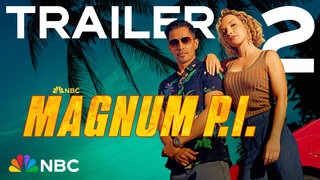 Thomas Magnum (Jay Hernandez) and Juliet Higgins (Perdita Weeks) are finally together during the fifth season of Magnum P.I.! Here's what fans should expect when it comes to how the new dynamic between the two main characters will shift the show. 
"This is probably our most emotional season," showrunner Eric Guggenheim told TV Guide for its latest issue, according to TV Insider. "The show is a little sexier."
"Higgins is more cerebral and wants to think it through," Hernandez explained of his on-screen lover.
"Magnum is more heart-led. He's the more natural romantic. Higgins is like a steel trap," Weeks chimed in.
However, there will still be conflict. "We still bicker constantly," said Hernandez.
"All their friends are somewhat invested," Weeks said about the relationship. "There is a large amount of pressure to make [this relationship] work."
Meanwhile, at NBC's Television Critics Association panel, Hernandez, Weeks, and Guggenheim all opened up about the decision to officially get the two together.
"[The] dynamic shifts a little bit when it's somebody that you're in relationship with," Hernandez said, according to TV Guide. "Sometimes, I look at these scenes, and I'm like, 'I don't know if I'd let you do that. You better stay home. I just want to protect you!'"
"The chemistry between these two actors is just amazing. It was becoming harder and harder to keep them apart," Guggenheim recalled.
"The rest of the season is showing where that goes, with two people who are meant for each other, but then having to navigate working together and being in dangerous situations," Weeks said. "[Higgins is] somewhat highly strung, [and] I thought she might be more jealous than she is. They've been very generous with her, seeing her interact with other people. It's actually going quite well thus far, so we'll see. It's definitely fun."
How do I watch the Season 5 premiere of Magnum P.I. on NBC?
To see what Magnum and Higgins get into with each other next, be sure to watch the Season 5 premiere of Magnum P.I. on Sunday, February 19, 2023 at 9/8c on NBC with back-to-back episodes. After that, episodes will air on Sunday nights at 9/8c on NBC and also be available for streaming next day on Peacock.