NBC Insider Exclusive
Create a free profile to get unlimited access to exclusive show news, updates, and more!
Sign Up For Free to View
Magnum and Higgins' Relationship History on Magnum P.I.
The two private investigators are now totally an item on Magnum P.I. Season 5 on NBC!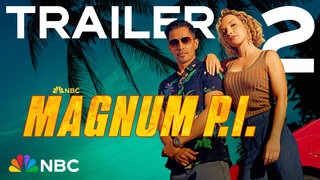 We already know that Season 5 of Magnum P.I. on NBC is going to be even steamier this time around because of the newly-kindled relationship between Thomas Magnum (Jay Hernandez) and Juliet Higgins (Perdita Weeks). But how, exactly, did the two come to be? Read all about their relationship history here.
Magnum and Higgins' relationship history on Magnum P.I. 
At the end of Season 1, we see Thomas Magnum officially asking Juliet Higgins to be his case partner; however, things are still strictly platonic at this point. (Even though everyone around them can sense the tension.)
Although Higgins is hesitant to become his case partner at the start of Season 2, she eventually agrees. But to make things more complicated, Higgins' Visa is expiring soon. In a surprising twist, Magnum suggests that the two get married so she can stay in Hawaii and they can continue fighting crime together. She agrees at first, but then changes her mind a few episodes later and backs out of the arrangement.
In Season 3, Higgins is allowed to stay in the country because she saves the life of an immigrant agent. She also gets shot in the season (but obviously survives), and the doctor, Ethan, who treats her injuries expresses romantic interest in her and asks her out. Magnum attempts to hide his jealousy; however, he is upset when Higgins later reveals that she agreed to travel with Ethan to Kenya for six months.
Season 4 shows Magnum attempting to move on from Higgins by seeing a detective named Lia Kaleo. He attempts to keep this relationship a secret, but things don't last long between the two, and they break up a few episodes later. Meanwhile, Higgins returns from Kenya because she learns that her life is in danger by MI6, prompting Magnum to feel protective of her. Higgins breaks up with Ethan shortly after, and then tells her therapist that she has reoccurring dreams about her and Magnum sharing a kiss and that she can't get him out of her mind. However, she's worried about risking their business.
Meanwhile, the feelings are mutual on Magnum's end, as he confides to Rick about his desire to have a relationship with Higgins, which Rick encourages Magnum to pursue. Magnum and Higgins then officially share their first kiss in the next episode. Spicy!
To find out what happens next with these two, watch Magnum P.I. on NBC Sundays at 9/8c and next day on Peacock starting February 19.