NBC Insider Exclusive
Create a free profile to get unlimited access to exclusive show news, updates, and more!
Sign Up For Free to View
Everything That's Happened on Magnum P.I. Ahead of the Season 5 Premiere
All the action-packed drama, explained.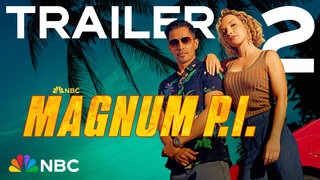 Magnum P.I. will be airing its fifth season on NBC in 2023. The first four seasons were filled with action-packed plots involving some wild and mysterious cases, with some juicy romance and personal drama sprinkled in. The finale of Season 4 left us on the edge of our seats, wondering what gripping scenarios Thomas Magnum and his friends will explore next. In case you need a refresher on what happened with Magnum and the crew, here's everything you need to know to catch up ahead of Magnum P.I. Season 5.
What happened in Magnum P.I. Season 1?
Season 1 of the show introduced us to the Robin's Nest estate. The charming Thomas Magnum (played by Jay Hernandez) is a security consultant by day and a private investigator by night. His fellow veterans, T.C. Calvin (Stephen Hill) and Rick Wright (Zachary Knighton), along with detective Gordon Katsumoto (Tim Kang), help Magnum uncover the truth behind a slew of intense cases. Disappearances, theft, grizzly murders, and deceptions layered beyond belief are all unfolded by the team, often with dire consequences. The end of Season 1 also saw Magnum asking former MI6 agent Juliet Higgins (Perdita Weeks) to become his case partner. 
What happened in Magnum P.I. Season 2?

While Higgins was still on the fence with this decision during the start of Season 2, the cases were on the rise and being pursued by Magnum with determination. When Higgins eventually agreed to be his case partner, they were immediately thrown into even more dangerous situations, narrowly escaping death on multiple occasions. Higgins soon revealed that her visa is expiring and she may be sent back to the U.K., prompting Magnum to suggest the two get married. However, she backed out of the wedding a few episodes later. Rick's father figure, a mobster named Icepick, is released from prison but is later shot when attempting to get revenge with someone he knew when he was serving time.
What happened in Magnum P.I. Season 3?
Season 3 starts off with Higgins getting shot by a client while she and Magnum fled the scene of a case gone wrong. She was immediately rushed to the hospital and survived her injuries while being asked out by a doctor named Ethan in the process. In other good news, an immigrant agent allowed Higgins to stay in Hawaii after she, Magnum and T.C. freed him and many others from a hostage situation. Much to Magnum's dismay, Higgins also chose to travel to Kenya with Ethan for six months. Rick grew closer to one of his bartenders, Suzy, and also learned that Icepick is in the hospital dying. Meanwhile, Katsumoto attempted to bond with his son, Dennis, who was hesitant to form a relationship with him.
What happened in Magnum P.I. Season 4?
In Season 4, Magnum has a mysterious new love interest, a detective named Lia Kaleo, who he attempts to keep secret from the team. Higgins returned to start helping Magnum with cases again, leaving Ethan behind after she learned from MI6 that she is in danger. She then received multiple life-threatening assignments from MI6, and despite her attempts to keep these missions a secret, Magnum eventually finds out about them. Higgins forfeits her ownership of Robin's Nest due to MI6 fast-tracking her U.S. Citizenship. Meanwhile, T.C. decided to foster a teenager named Cade who works at Rick's bar who does not have any guardians. Rick finds out that Suzy is pregnant, and she gives birth to a baby girl in the last episode of Season 4. Kaleo and Magnum and Higgins and Ethan break up, prompting Magnum and Higgins to confess their feelings for each other and share their first kiss. 
But what will happen between Magnum and Higgins? What astonishing crimes will they investigate next?
Is Magnum P.I. coming back?
Yes!
To find out what happens, tune in to the Season 5 premiere of Magnum P.I., which will air on February 19, 2023, at 9/8c on NBC with back-to-back episodes. It can also be streamed the next day on Peacock.