NBC Insider Exclusive
Create a free profile to get unlimited access to exclusive show news, updates, and more!
Sign Up For Free to View
Who Is the New Magnum P.I.? Meet Jay Hernandez
Here's the story behind Hernandez and how he came to his iconic Thomas Magnum role.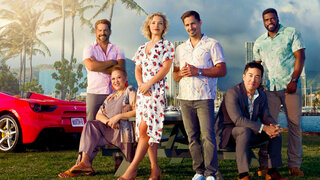 While Tom Selleck's shoes may not be easy to fill, the charmer that is Jay Hernandez manages to live up to his legacy on the new Magnum P.I., now airing on NBC. Here's everything you need to know about Hernandez, the new Magnum!
Who is the new Magnum P.I.?
Hernandez got his breakthrough in acting in the NBC sports sitcom Hang Time, where he played Antonio Lopez in Seasons 4-6. He also made a name for himself as one of the lead roles in the 2001 film Crazy/Beautiful alongside Kirsten Dunst, where he was critically praised for his performance. Other notable roles of his include Friday Night Lights, Hostel, and Suicide Squad.
He was introduced to the acting world in a very random way. "I ran into a guy literally in an elevator. He saw me walk in and he jumped in, and from, like the 10th floor to the first floor he pitched me on, like, how I was gonna be in Hollywood, I was gonna make it big, I was gonna be in movies and all this kind of stuff, and he was the guy who discovered me," he told Mario Lopez during an Access Hollywood interview.
As for his Magnum P.I. role, he is proud of his work on set. "[It's] definitely a lot of effort, and especially on hot, humid days, it's pretty intense. But I personally, I love the action," Hernandez told TV Insider about shooting the series.
"The thing I love about being this deep into the show is that there's a shorthand between all these characters and the audience, and now that we don't have to do crowd work, we can sort of go deeper into their lives," he explained in another interview with TV Insider. "Being this deep in the show and not getting bogged down and boring and doing the same thing over and over again—it's, you know, you fall into a rhythm in these kind of shows. I just want to take risks and do things that are different."
Is Magnum P.I. coming back?
Yes!
To see Hernandez put his suave-ness into action, watch Magnum P.I. on NBC Sundays at 9/8c and next day on Peacock, starting February 19.