NBC Insider Exclusive
Create a free profile to get unlimited access to exclusive show news, updates, and more!
Sign Up For Free to View
How Cade Jensen Represents the Power of Family in Magnum P.I.
Cade has stolen the hearts of Magnum P.I. fans everywhere.
The action is never-ending on Magnum P.I., but luckily Thomas Magnum (Jay Hernandez) has a fearless group of friends who always have his back. That includes Cade Jensen. 
Cade made a welcomed appearance in Season 5, Episode 13 ("Appetite for Danger") when Kumu (Amy Hill) requested his help at the cultural center. Cade provided AV assistance as Kumu interviewed a childhood survivor of the internment of Japanese Americans after Pearl Harbor. In his testimony, the survivor said he was separated from his younger sister and was never able to find her again. Insert Cade, whose experience searching for his estranged mother helped him track down the survivor's sister's whereabouts. 
RELATED: Everything to Know About the Magnum P.I. Season 5 Cast
Below, check out how Martin Martinez became a certified scene-stealer as Cade on Magnum P.I. 
Who is Cade Jensen on Magnum P.I.?
Cade Jensen is one of the newest additions to the Magnum P.I. cast, introduced in Season 4, Episode 3 ("Texas Wedge"). He first said hello after showing up to Magnum P.I. watering hole La Mariana in hopes of scoring a job at the bar. Cade struggled as a young teen, but his challenges only made him more determined, leading him to eventually steal the hearts of Rick Wright (Zachary Knighton) and T.C. (Stephen Hill), along with the entire Magnum P.I. fanbase. 
Cade was persistent in proving himself to the La Mariana's owners. After Cade proved he was a professional bar back (and T.C. and Rick realized he was homeless and living in the back of the bar), Cade was lovingly welcomed to the Magnum family.
T.C. adopted Cade as his foster son in Season 4
T.C. took Cade under his wing, even allowing him to move in to his home. The next step was getting Cade enrolled in school. However, because of their living situation, doing this would demand a teacher to file a complaint with the authorities, which could potentially put Cade back in foster care. 
RELATED: Magnum PI's Stephen Hill Talks Time with Roger E. Mosley
With no intention of  this happening, T.C. and Cade decided to make their family official. In Season 4, Episode 12 ("Angels Sometimes Kill"), T.C. became Cade's foster dad. In Season 4, Episode 14 ("Run, Baby, Run"), T.C. confirmed Cade's mother died after leaving him while struggling on the streets. It was a heart-wrenching moment for Cade to learn his mother was gone, but it allowed him to begin a new chapter.
Who is Martin Martinez from Magnum P.I.?
Outside of Magnum P.I., actor Martin Martinez is best known for his role as Oliver in the coming-of-age series Never Have I Ever.
Martinez's big break came in a 2017 episode of The Fosters. He then landed a significant role that same year in the dramedy Shameless as the struggling teen Jamie. 2018 was also an exciting year for Martinez after he starred in a string of must-watch projects, including Kevin (Probably) Saves the World, Light as a Feather, and Saving Flora. He also starred in the Grey's Anatomy spin-off series, Station 19.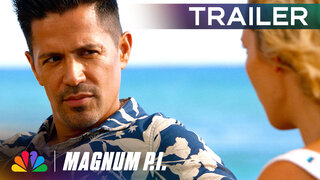 Since starring in Magnum P.I., Martinez has also appeared in Chicago P.D. as Miguel Almonte in Season 8, Episode 14 ("Safe"). In 2022, he starred as Angelo in the drama Pachinko. Some of Martinez' most recent projects include his roles in 2023's Primo and The Walking Dead: Daryl Dixon.