NBC Insider Exclusive
Create a free profile to get unlimited access to exclusive show news, updates, and more!
Sign Up For Free to View
Everything to Know About the Magnum P.I. Season 5 Cast
Your favorites are back and solving some action-packed cases!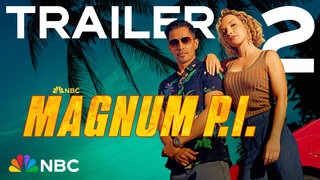 The new Magnum P.I. is back on NBC fall 2023 for Season 5, part two. 
The action-packed show follows the adventures of private investigator Thomas Magnum, who cracks some wild cases based in Honolulu. 
Here's what you need to know about the cast and characters about Season 5. 
Jay Hernandez as Thomas Magnum 
Thomas Magnum is the main character in Magnum P.I. He is a former U.S Navy SEAL who elected to become a private investigator, and he's faced much hardship in his life.
On playing the role, Hernandez told TV Insider, "It's pretty intense, but personally, I love the action." (Hernandez has also starred in films like Crazy/Beautiful, Friday Night Lights, Bad Moms, and Suicide Squad.) 
In Season 5, we've seen Magnum make his will-they-won't they relationship with his crime-fighting partner, Juliet Higgins (Perdita Weeks), official. We've also seen him help solve the mystery of who killed his mentor, Captain Buck Greene.
RELATED: Wait, How Did the Original Magnum, P.I. Series End?
Tim Kang as Detective Gordon Katsumoto
Detective Gordon Katsumoto is a strong-willed and confident police officer who has a close friendship with Magnum. Katsumoto would do anything for his family, even if that meant putting his own well-being in jeopardy.
Kang notably played Kimball Cho in The Mentalist.
This season, Katsumoto managed to convince HPD to give him his badge back after it was revoked when he was forced to kill the men who kidnapped his ex-wife. As of Season 5, Katsumoto is a detective at the Honolulu Police Department again. 
Zachary Knighton as Orville "Rick" Wright
An old friend of Magnum's, Rick Wright is a former marine who now owns a hip nightclub. Street-smart, he knows his way around and is very charming. Wright becomes a father at the end of Season 4, which gives him a new perspective on life.
In a 2020 interview with CBS News, Knighton said he wanted to put his own twist on the iconic character, who was known for providing comic relief on the show. "It was important to me that he not only be the funnier guy on the show but also that there was a lot of heart," he said.
In Season 5, Episode 10, Wright records a video after getting kidnapped saying his farewells and confessing his love to Suzy, the mother of his child. However, after he is rescued, he deletes the video, and Suzy is still unaware of his feelings for her. 
Stephen Hill as Theodore "T.C." Calvin
Another member on Magnum's team and a former Marine vet, T.C. Calvin likes to spend his free time giving back to his community. Calvin was also a POW with Magnum, along with Rick. Throughout the series, he attempts to reconnect with his father figure, a mobster named Icepick who is in prison.
The first half of Season 5 was highly eventful for Calvin. After not seeing his estranged mother for 36 years, she returns and attempts to reconcile her relationship with her son. She explained that she left the family due to struggling with mental illness and felt as if he would be better off without her. However, she's since gotten better. Calvin is hesitant to let his mother back in his life but gives her hope that they can form a closer relationship at the end of Season 5, Episode 7. 
However, in Season 5, Episode 10, Calvin is shot. The doctor told him that with extensive physical therapy, there was a "good chance" he would be able to walk again, leaving Calvin distraught. His road to recovery will be a long one that we will see when the show comes back this fall. 
RELATED: Where to Watch Magnum P.I. Season 5
Amy Hill as Teuila "Kumu" Tuileta
A new character in the series, Kumu Tuileta is a wise woman who works with Magnum and often gives him important information.
Perdita Weeks as Juilet Higgins
Juliet Higgins is a former British MI:6 agent and current private investigator. She is known to be resourceful and extremely witty. Higgins and Magnum have a "will they-won't they" romance from the start of Season 1 and finally share their first kiss towards the end of Season 2.
To contribute to the relief efforts for those affected by the devastating wildfires in Maui, please visit Aloha United Way at UAW.org.