NBC Insider Exclusive
Create a free profile to get unlimited access to exclusive show news, updates, and more!
Sign Up For Free to View
From Tom Selleck to Robert Pine–Where the Original Cast of Magnum P.I. Is Today
It's time to check in on your favorite private investigators.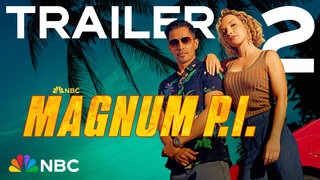 Magnum P.I. is a cultural phenomenon, taking over television sets throughout most of the 1980s—and again now with Season 5 of the new Magnum P.I.  premiering Sunday, February 19 at 9/8c on NBC with back-to-back episodes. 
Following the adventures and luxurious lifestyle of private investigator Thomas Magnum (Tom Selleck), original Magnum P.I. fans never knew what chaos might happen next. Often getting help from his group of trusted pals for the latest fun-filled adventure, Magnum did whatever it took to solve a case. And let's face it, everyone would love to live a day in the life of Magnum. But what is the cast up to today? Let's break down the beloved original cast of Magnum P.I. and what they've been doing since the series ended.
Tom Selleck as Thomas Magnum
Selleck took home an Emmy for Outstanding Lead Actor in a Drama Series for his role on Magnum P.I. Afterward, you may have caught him on Friends when he played Richard Burke, Monica's boyfriend. Nowadays, you can watch him as Frank Reagan in Blue Bloods, a drama about a family of police officers in NYC.
Roger E. Mosley as Theodore "T.C." Calvin
Many of Magnum's adventures require a trusted pilot, with Mosley's T.C. Calvin often grabbing the steering wheel. Before passing away in 2021, Mosley had dozens of television series appearances, including a cameo appearance in the new Magnum P.I. 
Larry Manetti as Orville "Rick" Wright
Fondly known as Magnum P.I.'s comic relief, bar owner, and Magnum's best friend since the Vietnam War, no one could ever forget about Manetti as Rick Wright. Since his time on Magnum P.I., Manetti has been featured in many other hit series, like the original Quantum Leap and Battlestar Galactica. Nowadays, Manetti spends his time as a Host for a talk radio show on CRN Digital Talk Radio.
John Hillerman as Jonathan Higgins
Outside of his fan-favorite role on Magnum P.I. that earned him a 1987 Emmy Award, Hillerman starred in films like Blazing Saddles, The Last Picture Show, and Chinatown, retiring in the late '90s after filming A Very Brady Sequel. Hillerman passed away in 2017 at the age of 84.
Robert Pine as Thomas Sullivan Magnum II
Since P.I., this actor has guest-starred in dozens of noteworthy projects like Star Trek: Voyager, Star Trek: Enterprise,  Match Game, Six Feet Under, and Beverly Hills 90210. Some of his most recent projects include the voice role of the Bishop of Arendelle in Frozen and appearing in Superstore, Veep, and the new Magnum, P.I. Fun fact: He's Chris Pine's dad! 
Kathleen Lloyd as Carol Baldwin
After her role on Magnum, P.I., Lloyd starred in films like The Craft and television series like 7th Heaven, Babylon 5, and The Practice. Lloyd retired in 2004.
How to watch Season 5 of NBC's Magnum P.I.
Starting February 19, 2023, watch Magnum P.I. at 9/8c on NBC Sunday nights or stream episodes the next day on Peacock.